It is paramount to decorate the bedroom well because it is the most intimate room in the house and the most important since it is where we rest and thus actually recharge our batteries.
Furniture, colors, textiles, and objects are the means that will help create the atmosphere of our rooms, and in the bedroom, this takes on even more importance.
Today I would like to tell you about 10 essential elements to consider when decorating your bedroom, which will help you feel comfortable and relaxed.
A good night's sleep will enable you to face each day in the best possible way.
1) CHOOSE THE RIGHT COLORS
I repeat myself, but color plays a really very important role in homes.
Having a psychological implication, choosing the right color becomes crucial; the risk is not feeling comfortable and, in the bedroom, not resting properly!
It is advisable to choose, in the bedroom, colors that relax and soothe.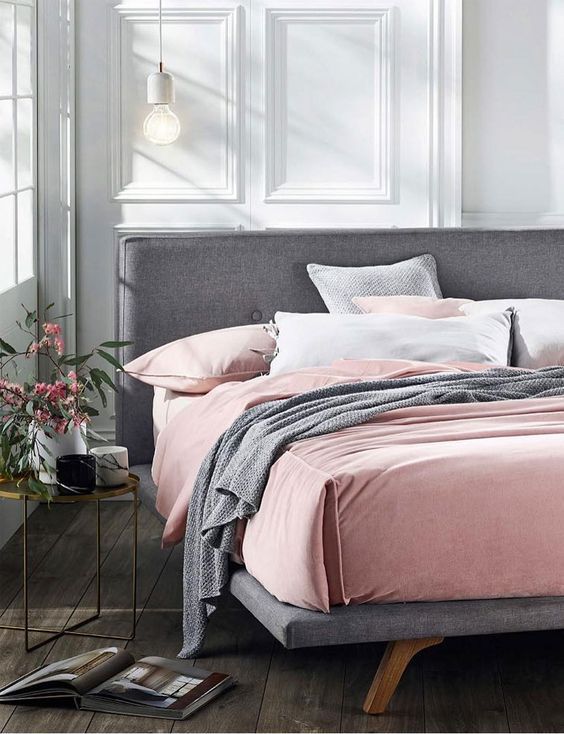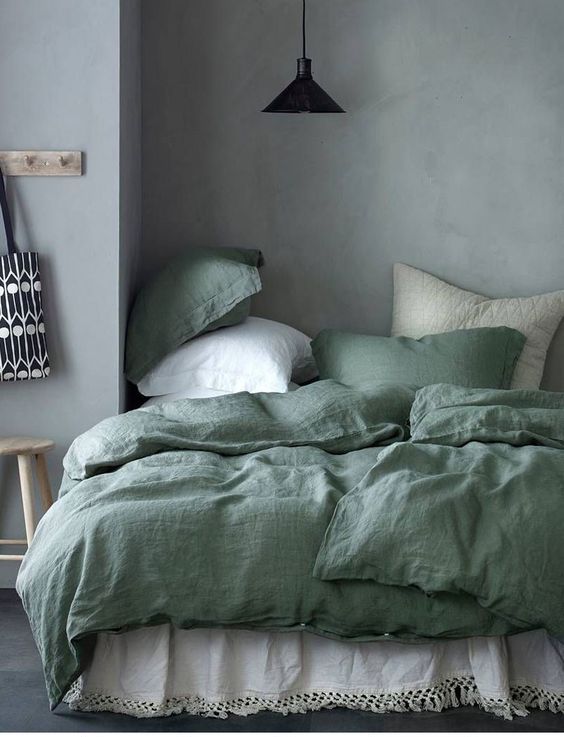 (Fabmood.com)                                                                               (Fabmood.com)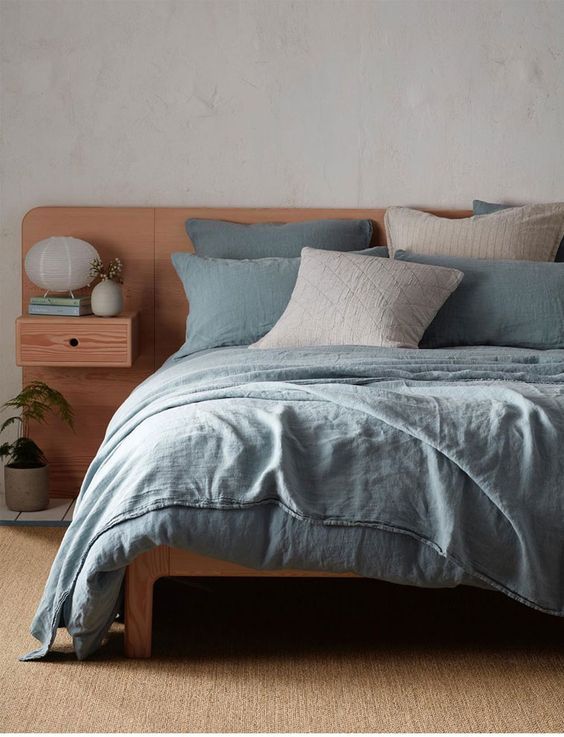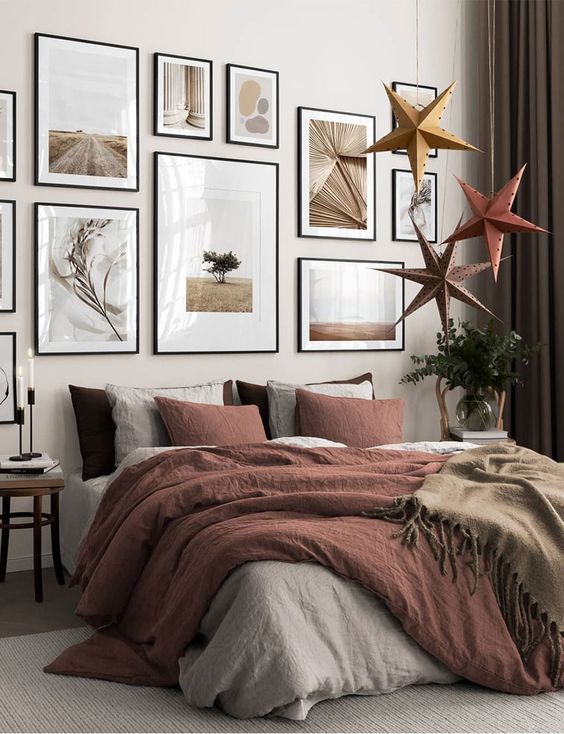 (Fabmood.com)                                                                               (Fabmood.com)
Earth tones, sand, dusty blues, greens, and soft pinks are colors that suggest tranquility and serenity.
That does not mean having to give up slightly brighter colors, in which case the ideal is to use it as an accent color, perhaps in the bedspread or pillows, while keeping more neutral colors in the rest of the room.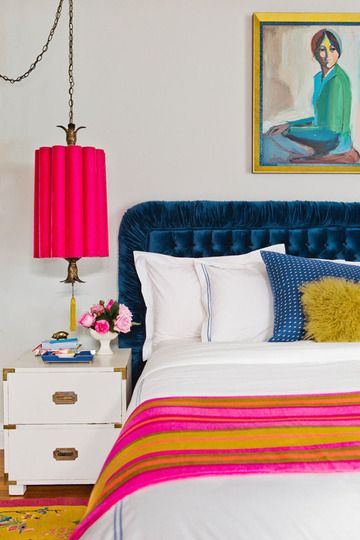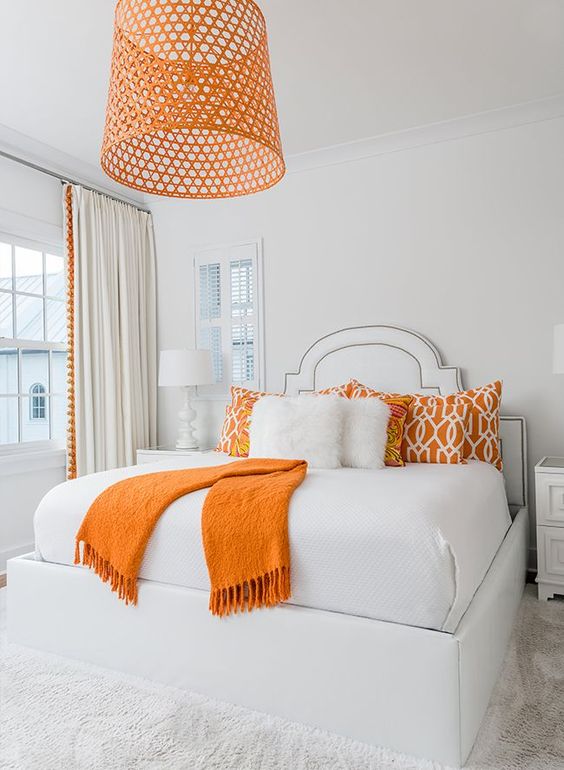 (Apartmenttherapy.com)                                                                   (caldwellflake.com)
2) MIRRORS
The mirror, especially if it is vertical, is functional because it helps you get ready for the day!
It will make the room brighter and airy, making it also look bigger by reflecting light!
It also gives style and character to your bedroom by having different shapes and sizes to choose from!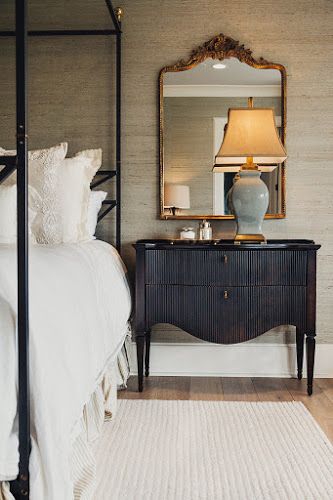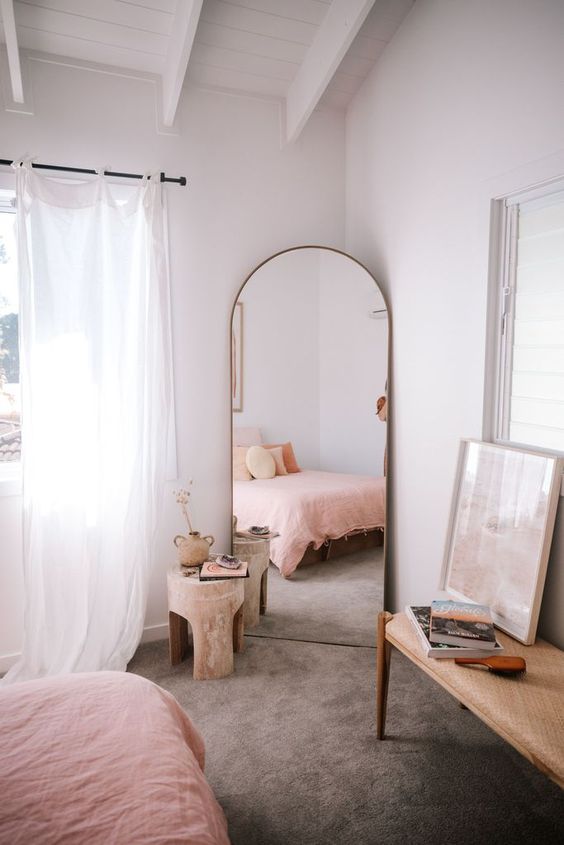 (coolchicstylefashion.com)                                                                      (songofstyle.com)
3) FRAGRANCES
As said many times, a good design is not limited to the aesthetic part; we need to experience an environment with all 5 of our senses.
The sense of smell is one of them, and it is among the most powerful because scents can influence brain activity.
It is proven that some fragrances bring benefits to our well-being.
A good fragrance in your room may help you fall asleep more easily.
Lavender, vanilla, jasmine, chamomile, bergamot, and rose are among the best essences to promote sleep because they help slow down our nervous system.
Scented candles, diffusers, and flowers are all ways to bring your favorite fragrances into your room.
These then will also be useful to give that extra aesthetic touch to the room.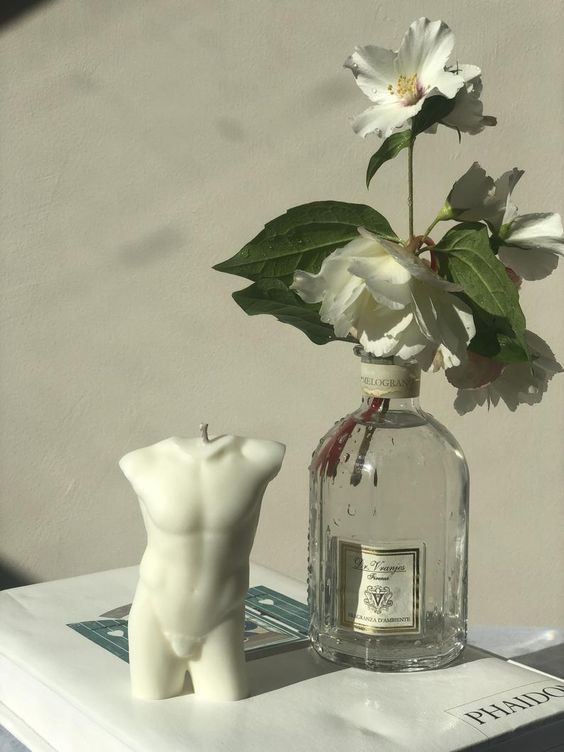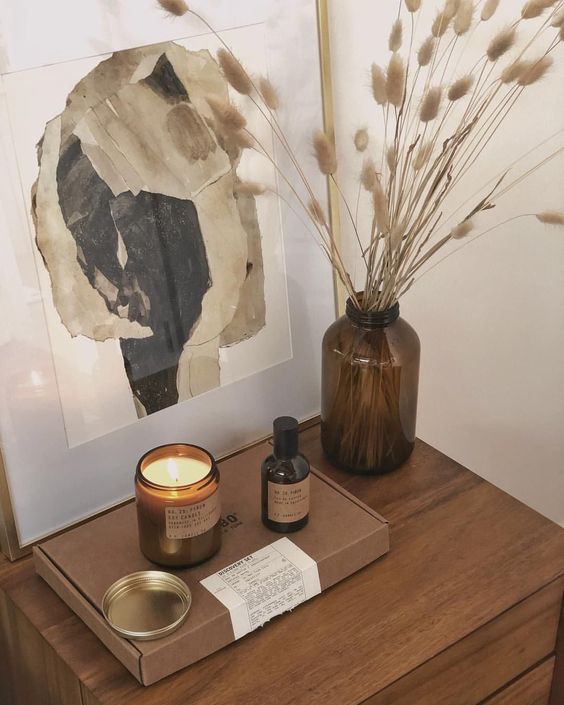 (Etsy.com)                                                                                     (pfcandleco.eu)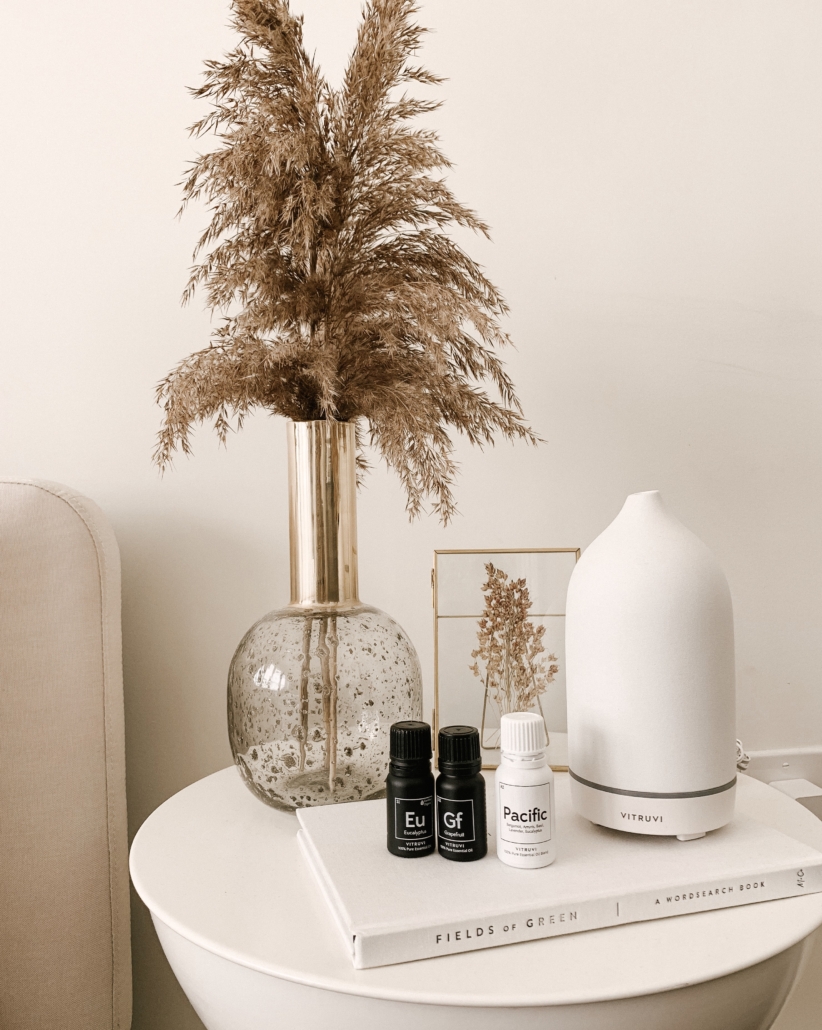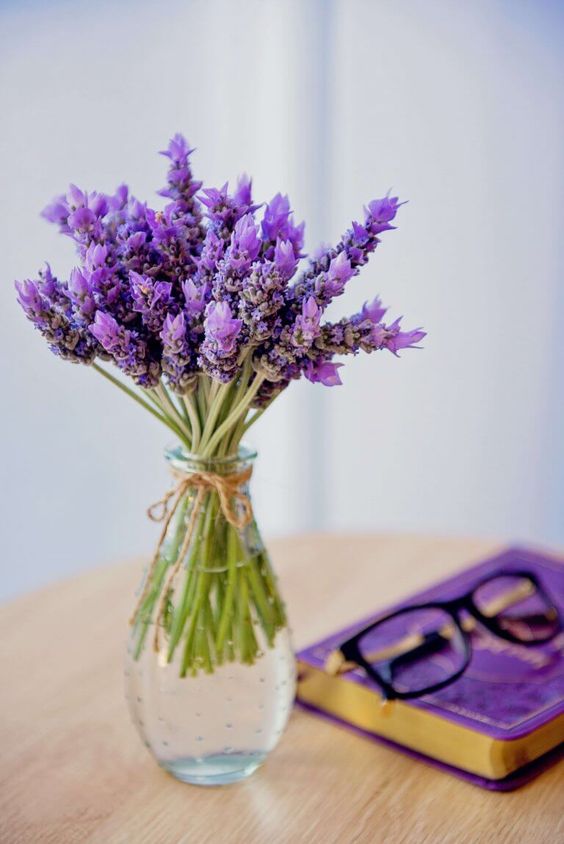 (theoakcollective.com)                                                                               (unsplash.com)
4) CURTAINS
As with the living room, curtains dress the windows, complement the whole, and give warmth.
And again, they will be the best way to introduce colors and patterns!
Curtains also will be beneficial in darkening the room and thus allowing you a better sleep.
If the light is vital during the day, you should know that at night even a little glimmer of it decreases your melatonin intake, ruining your rest.
The ideal to do this is to use two different types of curtains, one light to let light through during the day while maintaining the privacy and one thicker that can darken the room when needed, especially at night.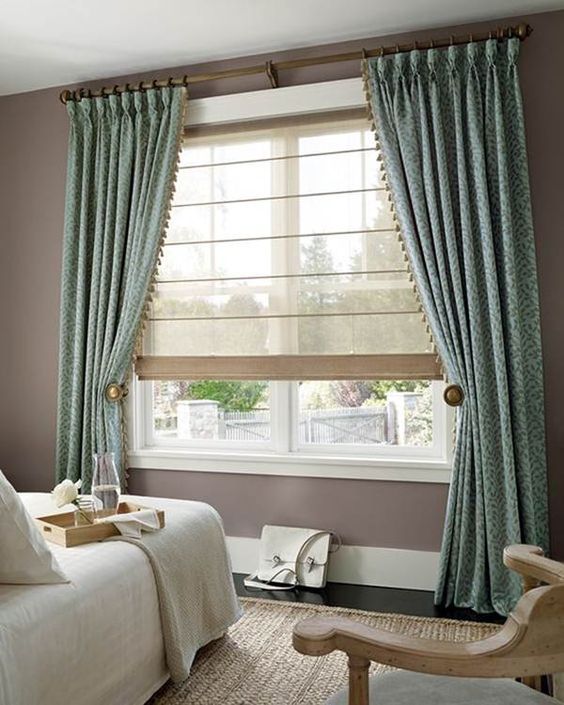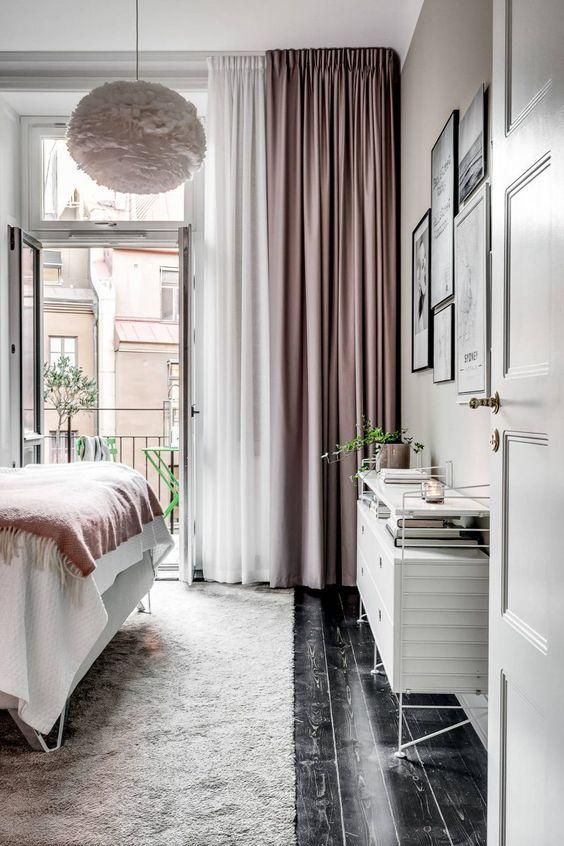 (estiloydeco.com)                                                                                       (inredningshjalpen.com)
5) PLANTS
Perhaps you, too, grew up with the idea that you can't keep plants in your room because they absorb oxygen and release carbon dioxide!
Whereas, this is not the case!
Because while it is true that they do release carbon dioxide at night, this is so little that it does not have the slightest impact on us (if you make your room a forest, maybe so, but in general…).
The positive effects, on the other hand, are many:
– they absorb harmful substances in your home environment, improving the quality of the air you breathe;
– they have a relevant psychological implications because they make you feel closer to nature…
Aloe vera, spathiphyllum, sansevieria, orchid, pothos, and lavender are ideal for the bedroom.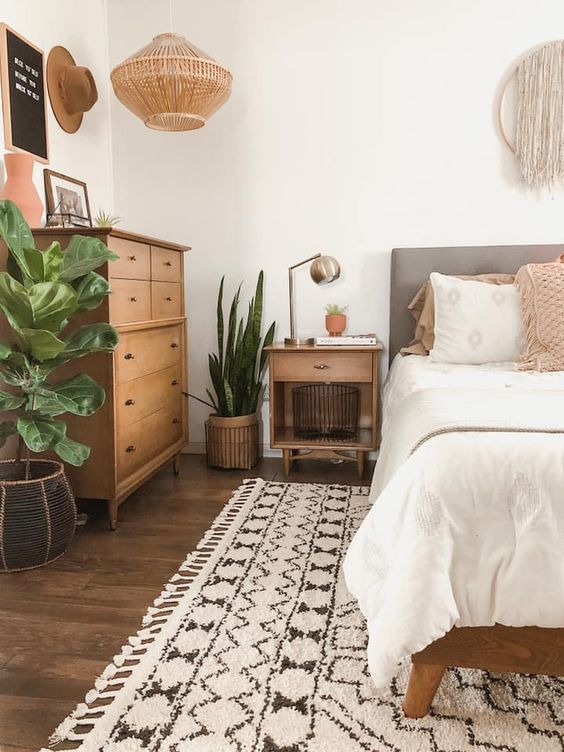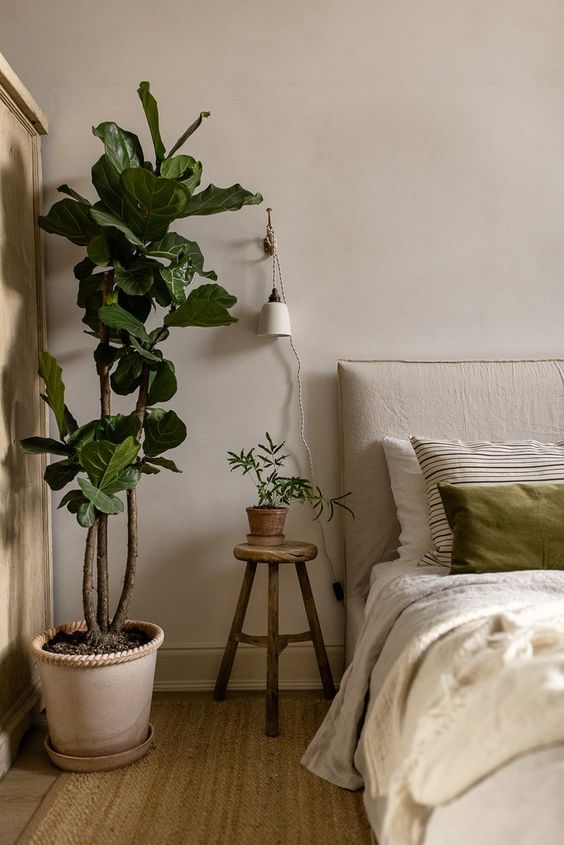 (@arrowsandapricots)                                                                              (ingredientsldn.com)
The right plant for your bedroom will not only purify the air, making you feel more relaxed and thus promote rest but will give the room freshness and liveliness.
With the right vases, you will also add a touch of design!
6) SOFT TEXTILES
Feeling wrapped and pampered before, during, and after sleep will really make a big difference!
Rugs, pillows, and bedding should feel soft and pleasant to the touch to make you 100% relaxed and always comfortable.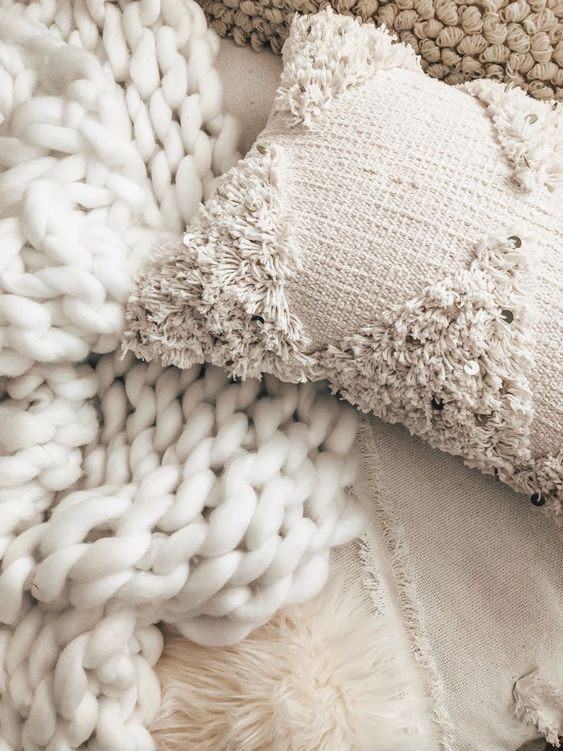 (cottage-bound.com)                                                                      (cottage-bound.com)
Adding a blanket, almost thrown in, adds warmth, softness, and color!
7) WARM LIGHT
Light is, of course, super important in every room of the house, but it takes on a prominent role, especially in the bedroom.
Warm, soft, indirect light is ideal for creating an intimate and relaxing atmosphere.
For this room, you should choose bulbs with a warm color temperature of around 2700 degrees kelvin (if you want to learn more, I talk about lighting and color temperature here)
For the bedside lamps, prefer those with shades that can soften the light and bulbs with not too high lumens-you only need them for reading, not for lighting the whole room!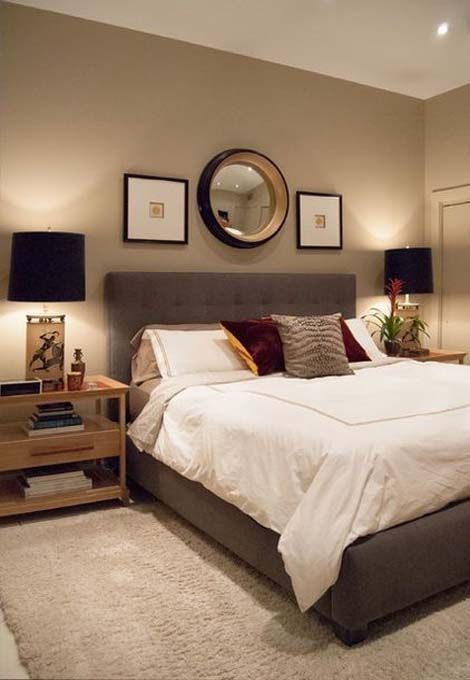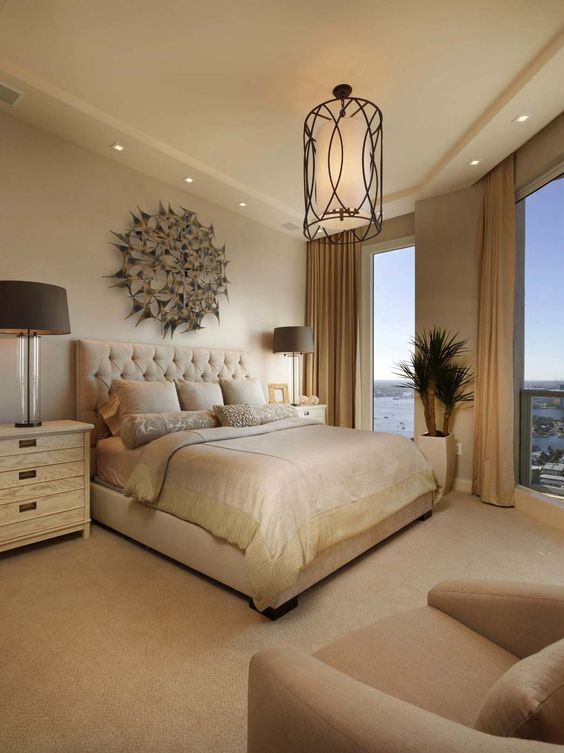 (Adrienne DeRosa ph)                                                                      (dserbadesign.com)
8) ONE MORE SEAT
An extra seat near or at the foot of the bed increases the functionality of your bedroom while also helping to add color and material.
You can use it for seating when you need to put on socks or shoes or to prop up an outfit without having to lean it against the bed: that's for sleeping!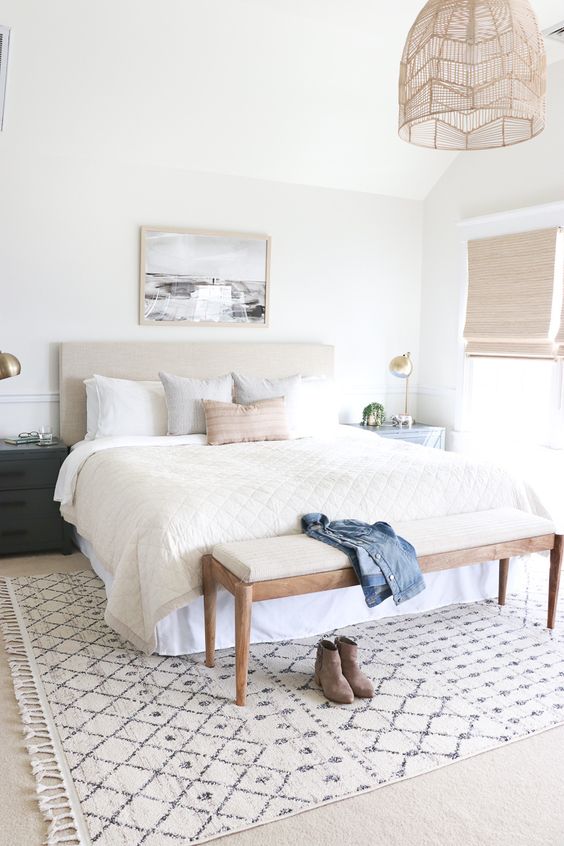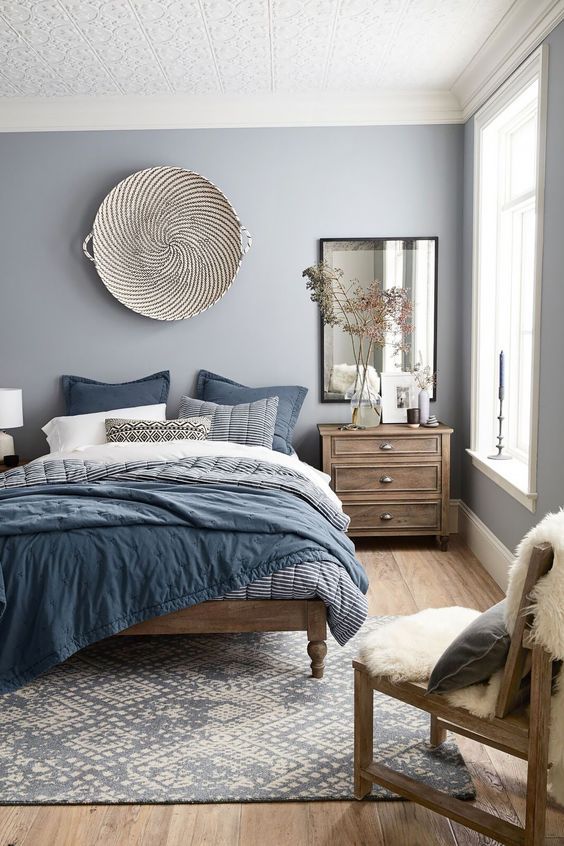 (cityfarmhouse.com)                                                                                 (mydomaine.com)
A bench, armchair, or pouf will then give that extra touch that will give character to your room.
9) STORAGE ITEMS
Clutter is definitely anti-aesthetic, so storage elements are really essential.
I'm not just talking about the closet, or the walk-in closet, for the lucky ones, but also dressers, nightstands, and why not storage benches and ottomans.
That will help to store as many things as possible, leaving the room looking large and tidy.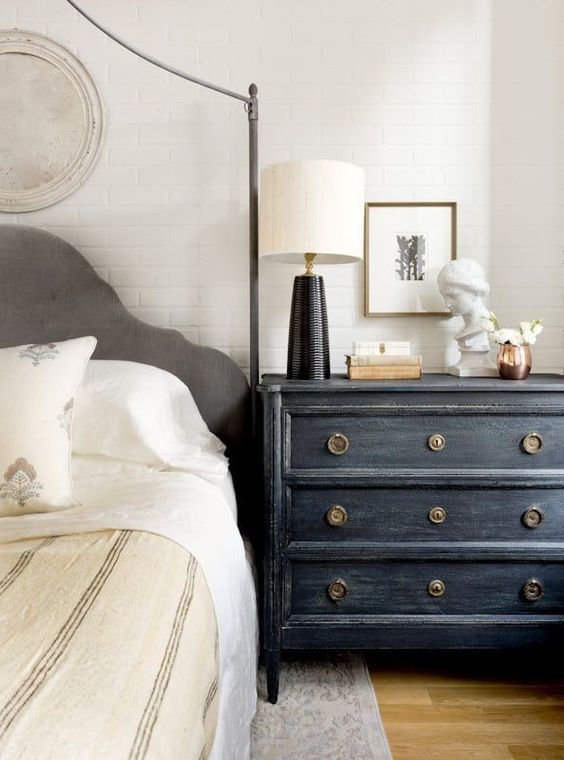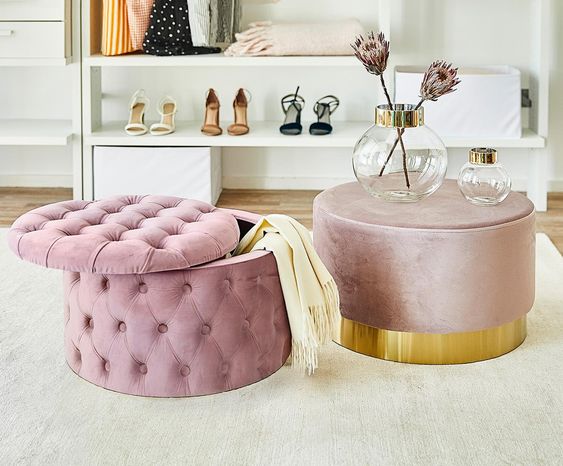 (jacquelynclark.com)                                                                (weswingnow.it)
Also, aesthetically, they will add color and material, as said in the previous point, and could be special pieces that will make your room truly unique.
10) PERSONAL DECORATIONS
Last but not least, make the space truly yours by using decorations and objects that represent you.
The personal touch can never be lacking, least of all in the bedroom, to make the environment familiar and intimate.
Photographs, paintings, souvenirs, books, and various objects that have value to you are ideal for leaving your mark on your room.
They can be the unique piece, the focal point that attracts the eye, or somehow merged by picking up colors and shapes in other parts of the bedroom.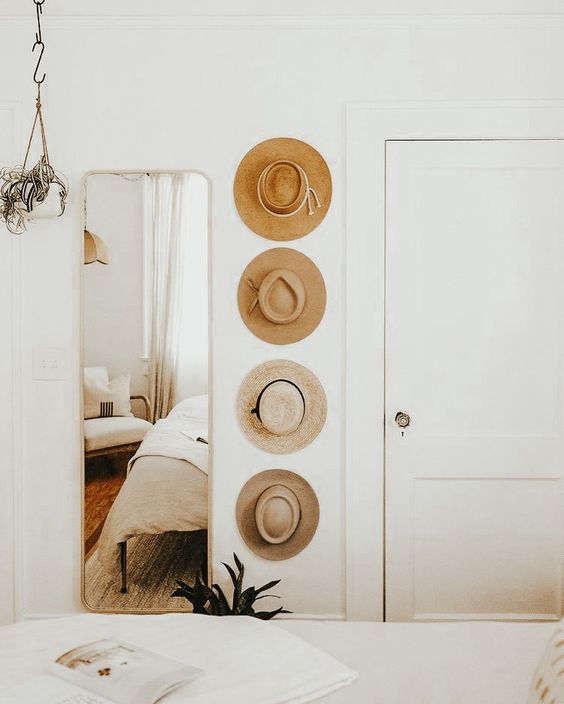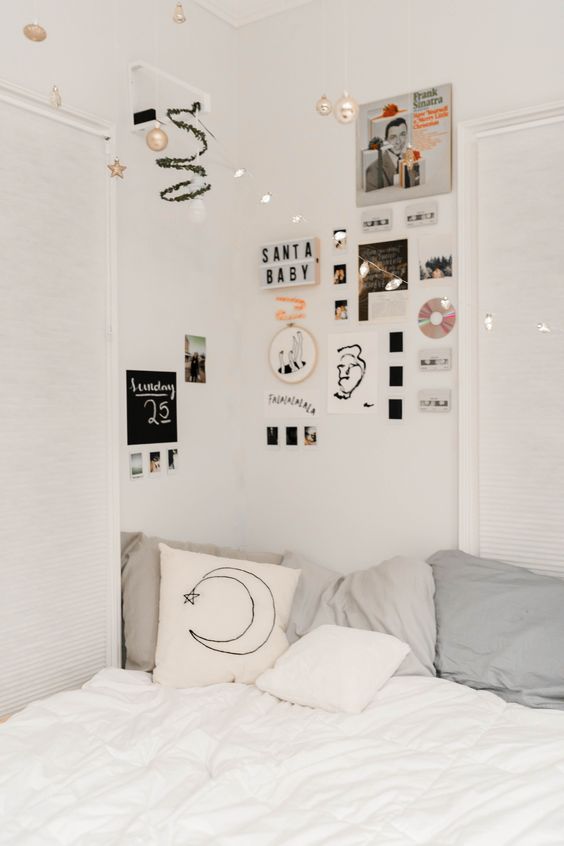 (etsy.com)                                                                                                     (society19.com)
Would you add something to decorate the bedroom?
Let me know in the comments!
If you have any doubts or need help don't hesitate to contact me!
This post is also available in: Italian
https://www.viverelostile.com/wp-content/uploads/2020/10/iStock-1160134403-1024x683-1.jpg
683
1024
Virginie Simonet
https://www.viverelostile.com/wp-content/uploads/2021/02/logo_vivere-lo-stile.png
Virginie Simonet
2020-10-19 12:56:43
2023-03-16 08:53:00
Decorate the bedroom: here are 10 essential elements!