Today I would like to address the kitchen topic by seeing together the trends for 2023!
The kitchen is the beating heart of the home, the room we experience most, not only for cooking and eating!
So it must be carefully chosen and studied.
Let's see what the coming year brings!
– GREEN COLOR
Let's face it, most of our kitchens are white, black, gray, or more or less light wood color.
Although it obviously exists, the colorful kitchen is more difficult to see.
With this intense desire to reconnect with nature, which has been increasingly felt in recent years, here are changing colors in furniture too.
In particular, the kitchen is green painted!
Last year, green, in its various shades, was the color of the year for virtually every brand.
We can say that green is considered a neutral color; this is why it will be seen much more often, especially in kitchen cabinets, whatever the style.
Green is a welcoming and calming color that, we can say, brings some life to the kitchen.
Are you about to buy or change the kitchen, but getting it all green scares you a little? Don't you want to get sick of it after some time? Well you can think about taking this color in small doses:
– you can get only the low cabinets in green and the wall cabinets in white or light wood color;
– if you are lucky and you have the island or the peninsula, you could consider it as the highlight and only do the one green;
– you can use it in the splash guard or by painting the walls, although here I would be careful because green is a color that does not help digestion, so don't paint all ones!
– you can use it in some items such as chairs or stools, some small appliances that you leave exposed, or pots and plants, or simply in towels and potholders!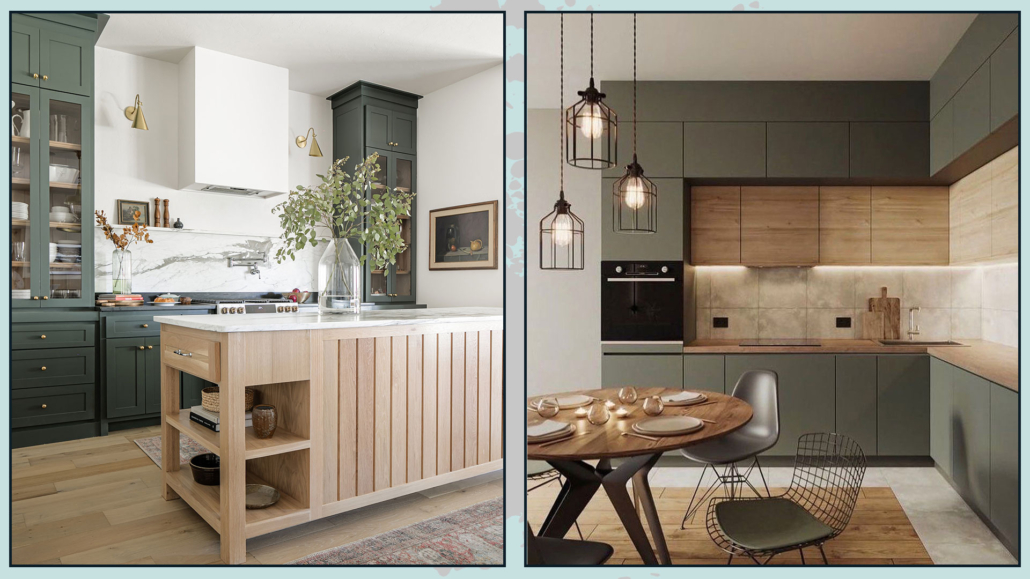 (credits: @homedesigner_passion; @mcgregorhomes)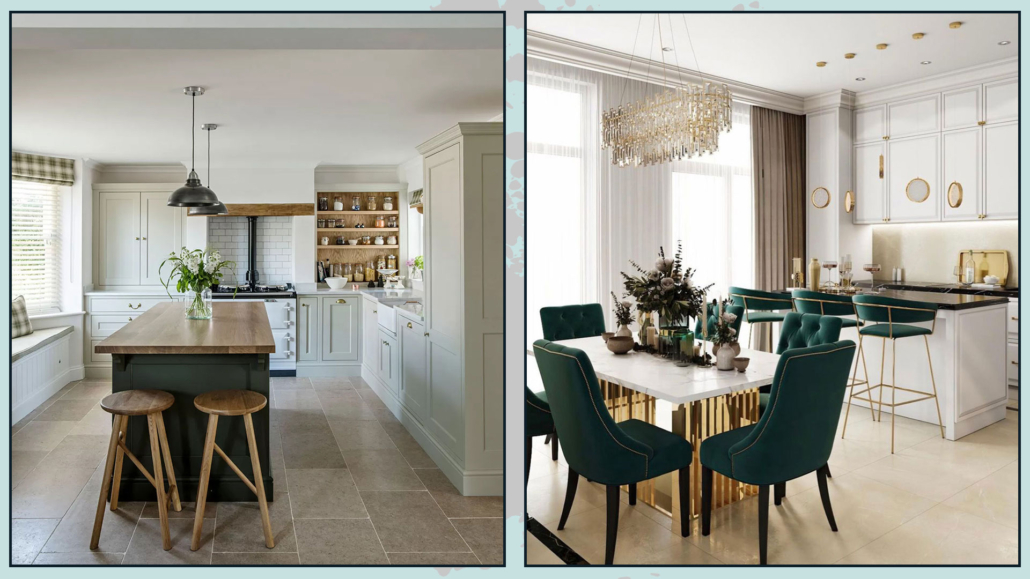 (credits: middleton-bespoke.co.uk; @obsessed4interiors)
– ROUNDED ISLANDS AND PENINSULAS
Soft, curvy shapes are a trend of recent years that will also enter the kitchen and will be seen mostly with islands and peninsulas but also in end units!
The rounder lines make the environment less rigid and impersonal, making the kitchen even more inviting and welcoming!
Curved shapes can also be introduced with chairs, which will also be more comfortable because they are enveloping, or with lighting and decorative objects!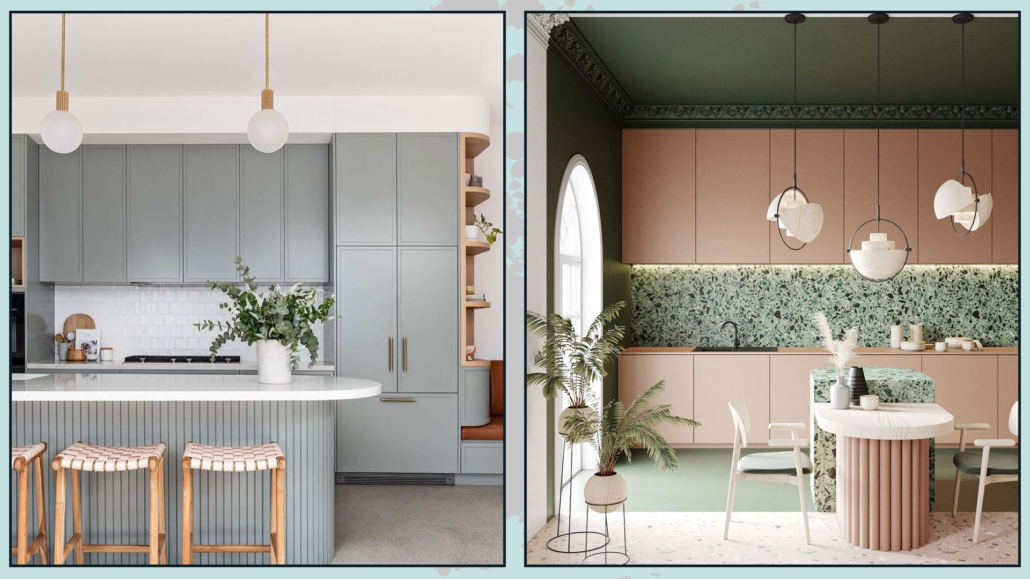 (credits: @the_stables_; @vymir_design)
– LEAVE THE COUNTERTOP AS FREE AS POSSIBLE
The kitchen is no longer just a place to prepare meals and eat, so the important thing was to have the necessities that were functional for that purpose.
Now the kitchen is one of those rooms that are also carefully studied in terms of aesthetics.
It is a shame, therefore, to have a beautiful kitchen, however on the countertop of which chaos reigns, and let's face it, it often happens: the coffee maker, the kneading machine, the knife set, the paper roll…
The trend for 2023 is to try to hide these small appliances, leaving out only what can also be decorative.
That is why you can bring the wall cabinets up to the countertop, inside which you can put all those things that you maybe regularly use (so it would be inconvenient to withdraw to the cabinets), but that can create chaos!
It will be enough to open the door, and voilà they are ready to use, but when they are not needed with the door closed, everything will be neater.
That will make the kitchen more elegant and sophisticated!
By the way, it is also much more hygienic because they will have less dust and also less grease if they are close to the fires.
On the countertop, you will leave only a few items that can be decorative and really give a plus!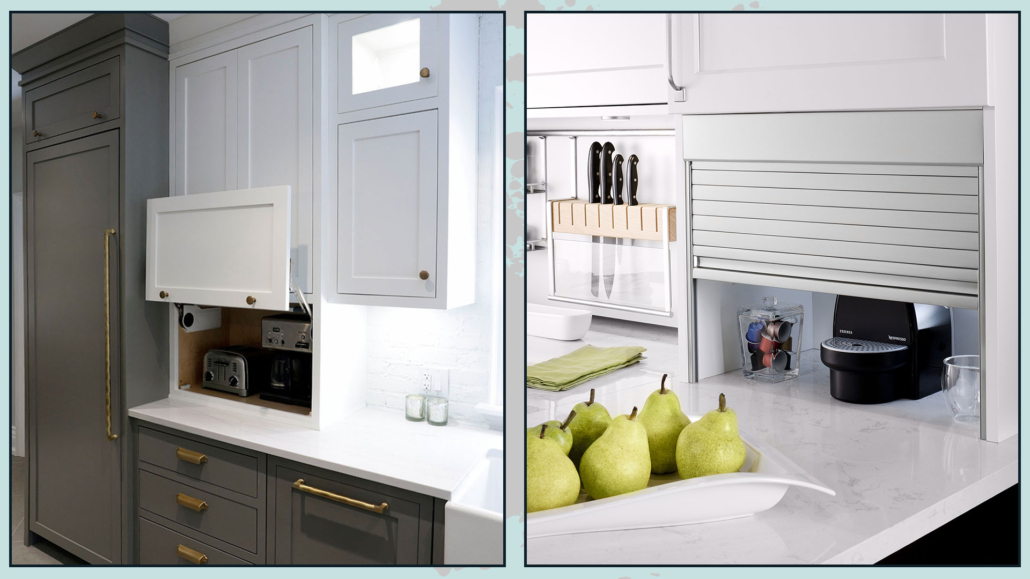 (credits: josephkitchens.com; leacraftkitchens.com)
– FEWER SHELVES
For the same reason, i.e., visual chaos, but especially hygiene, the shelves will decrease a lot!
You will definitely avoid shelves instead of wall cabinets to put dishes because precisely it is not very hygienic.
However, it is not mandatory to make the shelves disappear entirely; the important thing is to be able to decorate them simply and elegantly!
To do this, you can take a cue on how to decorate bookcases (you can find it here): the rules are always the same!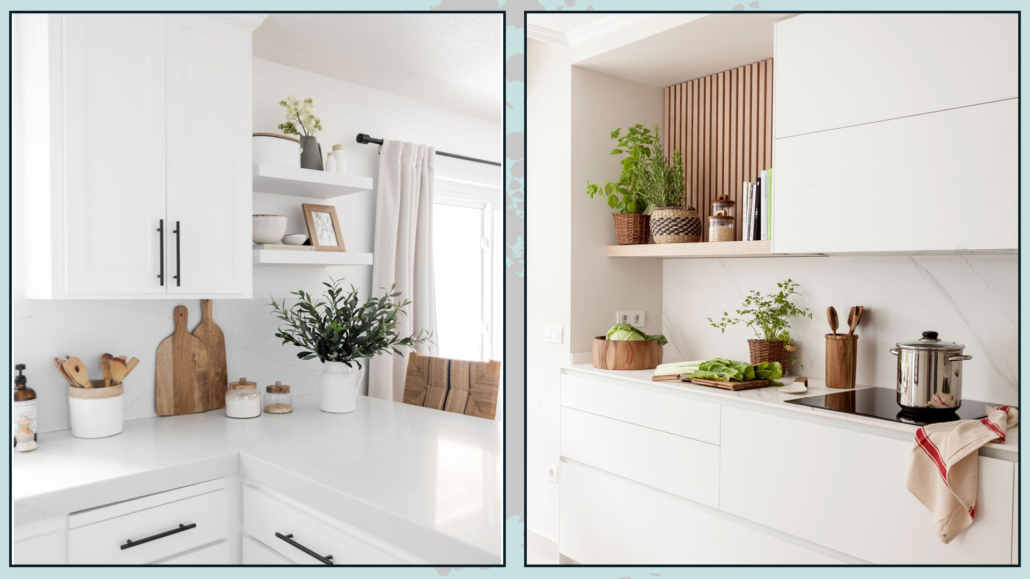 (credits: halfwaywholeistic.com; quefalamaria.com)
– LIGHTING
The lighting will also change a little bit.
We can say that we usually have a general light, often placed in the center of the room, and then perhaps the under-cabinet light.
Those with an island or peninsula could also have direct lights on the top, either as pendants or as a lowering with recessed spotlights.
Light will become a bit of a protagonist; that is also because well-designed lighting can change the face of a room, even the kitchen!
Once again, for those fortunate enough to have an island and peninsula, it will be easy to see pendant lights positioned only on one side: an asymmetry that will create visual interest.
But even for those who do not have an island and peninsula, it will be great to have multiple types of lighting, not only general lighting but also task lighting, on the table for better visual comfort when eating.
Under-cabinet lighting will also be designed even better in order to be able to see what you are doing when you are cooking, and if the cabinets are not there, you can use pretty wall lamps!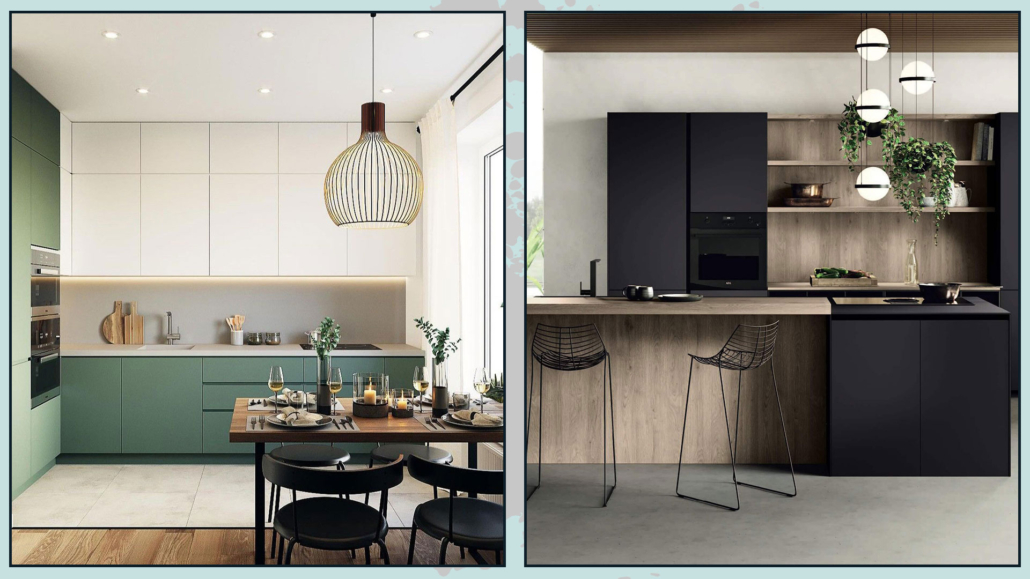 (credits: @nestmas-StudioRemi; Miton-Loto-Italian-Designer)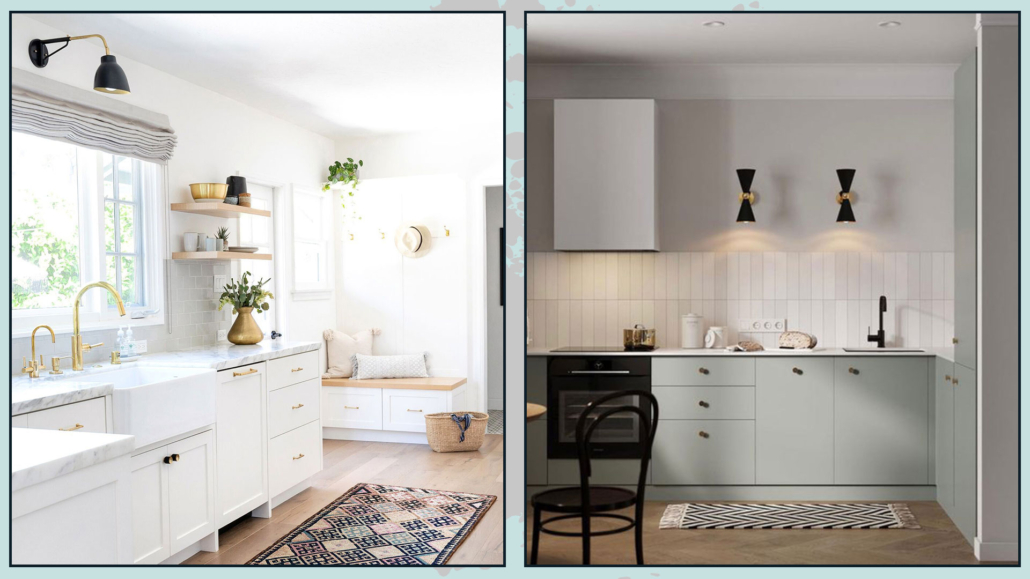 (credits: fireclaytile.com; @obsessed4interiors)
– PAINTINGS
It often happens that in the kitchen, as decorations, you put pictures that take up the topic of food or drink, or (and I admit I have them too) chalkboards with magnets; it is much more unlikely to see a beautiful painting or a gallery of photos.
Even in the kitchen we can and should bring some art!
Decorating the kitchen as you do other rooms will give your kitchen personality!
You can do it on the walls, but also on the countertop if you have the space; if it is true that we said to hide small appliances, it is not the same for decorative items.
As always, it should not be overdone, and it should be studied, but it will make a big difference indeed!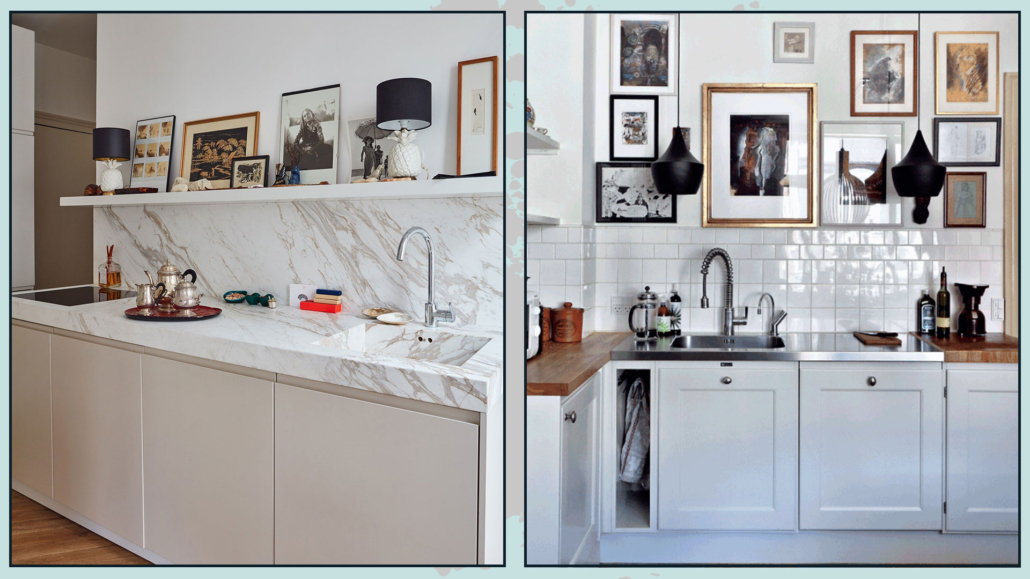 (credits: Sara Beltran; artofit.org)
– ANIMAL CORNER
I don't know if this will really become a trend or not, but when I saw this solution, I fell in love with it.
Creating a small corner with dog or cat bowls, with a faucet to fill the bowl with water, is just brilliant!
That is super functional, especially when you have a large dog; carrying the full bowl around is not the best, but size aside, there is always the risk of spilling some of the water on the floor!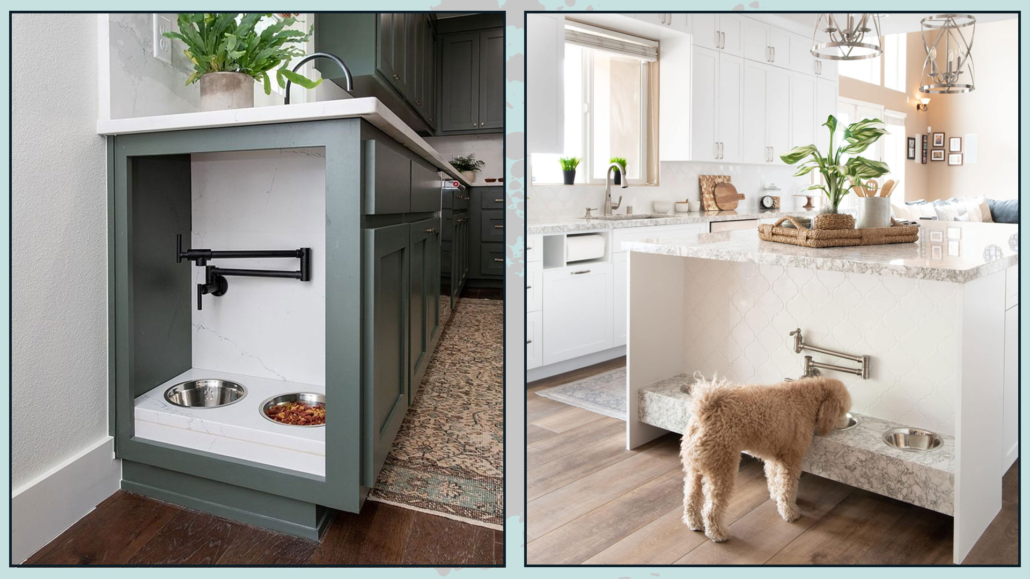 (credits: daveandjennymarrs.com; kingdomhome.com)
I hope this article was helpful and you love it; in case, let me know in the comments!
Feel free to share it with anyone you think might be interested, I will be honored, and it will help me get my name out there.
If you feel that your home, or some environment of it, does not reflect you enough, do not wait any longer and book your consultancy!
https://www.viverelostile.com/wp-content/uploads/2022/11/trend-cucine-2023.jpg
1828
2560
Virginie Simonet
https://www.viverelostile.com/wp-content/uploads/2021/02/logo_vivere-lo-stile.png
Virginie Simonet
2022-11-28 18:40:49
2023-01-14 16:53:39
Here are the kitchen trends for 2023