It is increasingly easy nowadays to find houses where you enter DIRECTLY into the living area and therefore it's important creating an entrance area where, in fact, there is none!
Let's look together at some ideas for doing this; it goes without saying that a lot will depend on the configuration of the room!
– USE FURNITURE
I've talked about this in other videos: we tend to place furniture against the wall, often missing out on incredible opportunities!
You may find that positioning the sofa differently so that it has its back, facing front or side, to the front door creates a more intimate conversation area.
The sofa at that point would act as a divider between the entrance and the living room, and behind it, you could place a console table that would serve as a countertop for the entrance!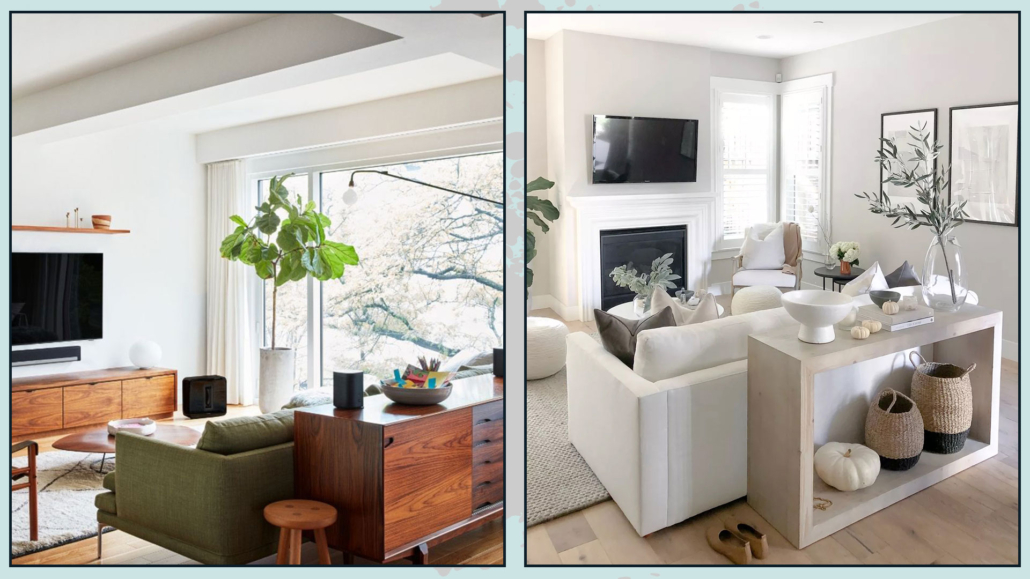 (credits: midcentury585.com; girlmeetsgold)
If the living room is developed right in front of the door, you could put a piece of furniture, maybe double-sided, right in front of the door, leaving the passage to the sides, obviously!
That will be functional for both rooms, demarcate the areas and screen the living room a bit!!!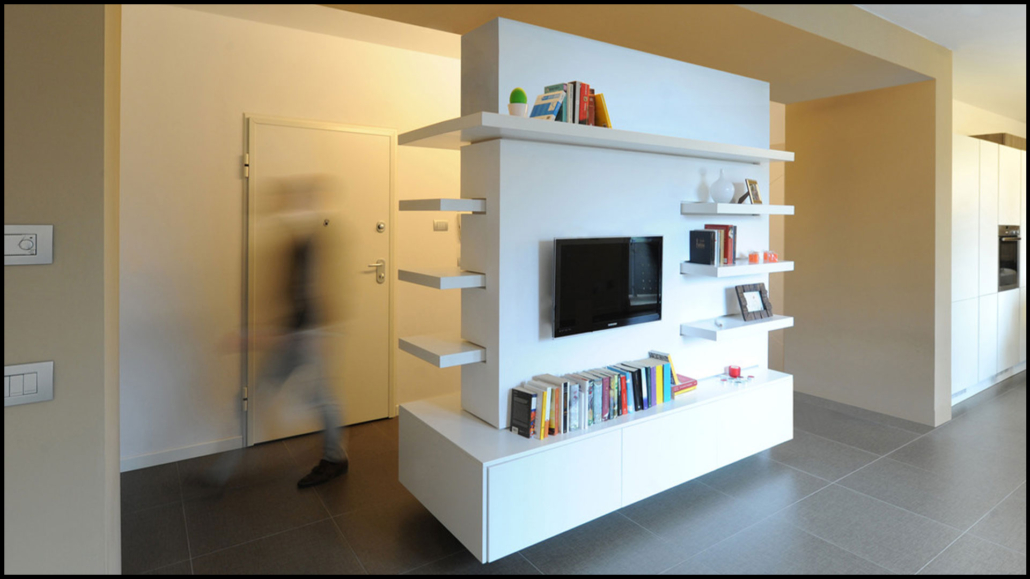 (credits: graziani-dicembrino)
When the living room should develop sideways, you can take advantage of the front or side wall for a console table and mirror, and perhaps, on the other side, an open bookcase, acting as a "broadside"!
You could choose it low so that it doesn't block the eye at all, and to have an extra tabletop, but you could also decide to get a full-height one to screen a bit more.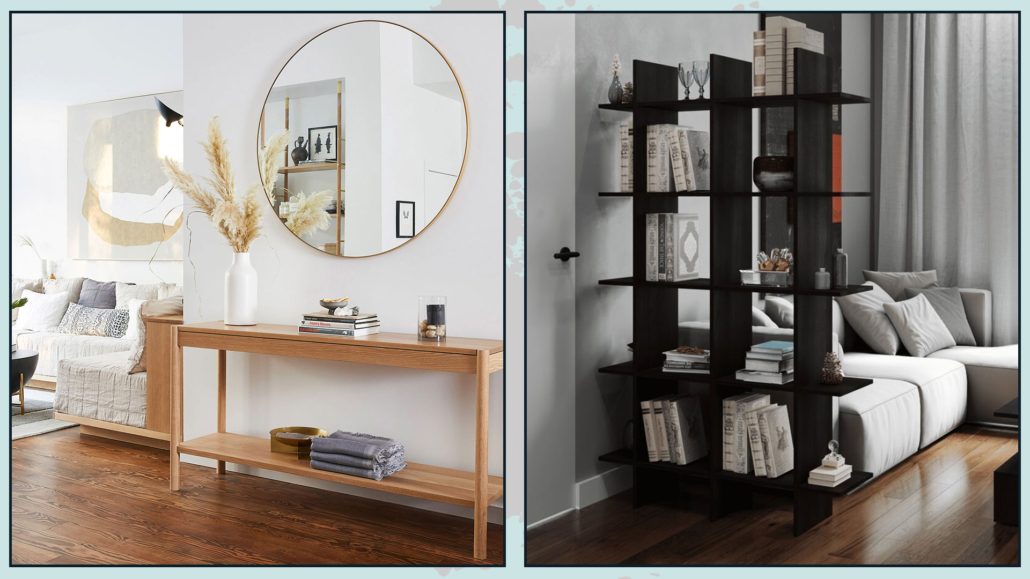 (credits: studioblitz.com; amiel.club)
– VERTICAL DIVIDERS
Still looking at separating the entrance a bit from the rest of the living room, it might be a good idea to use proper dividers.
It could be a small wall, perhaps drywall, at full height to act as a shim, and that is functional for the entrance, so with shelves or, if the depth allows, even with doors, to serve as a closet for coats and bags.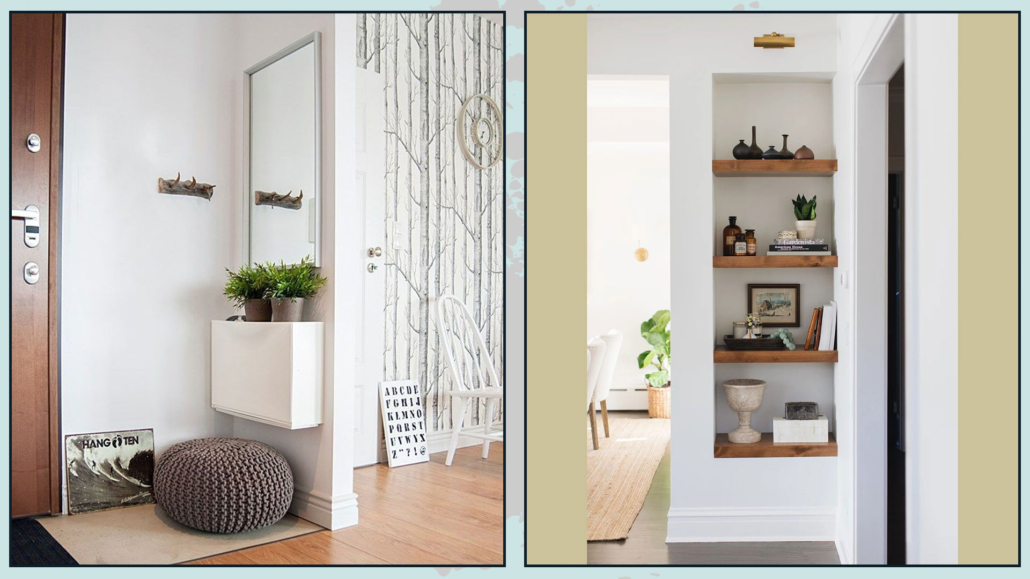 (credits: homebook.pl; redesignhome.co)
If you want something less invasive, you can think of small walls made of wooden slats or glass so that as much light as possible can pass through.
The latter perhaps surmounting a small wall at half height.
In all cases, you could put a small bench or console leaning against these dividers that will be very useful as well as decorative.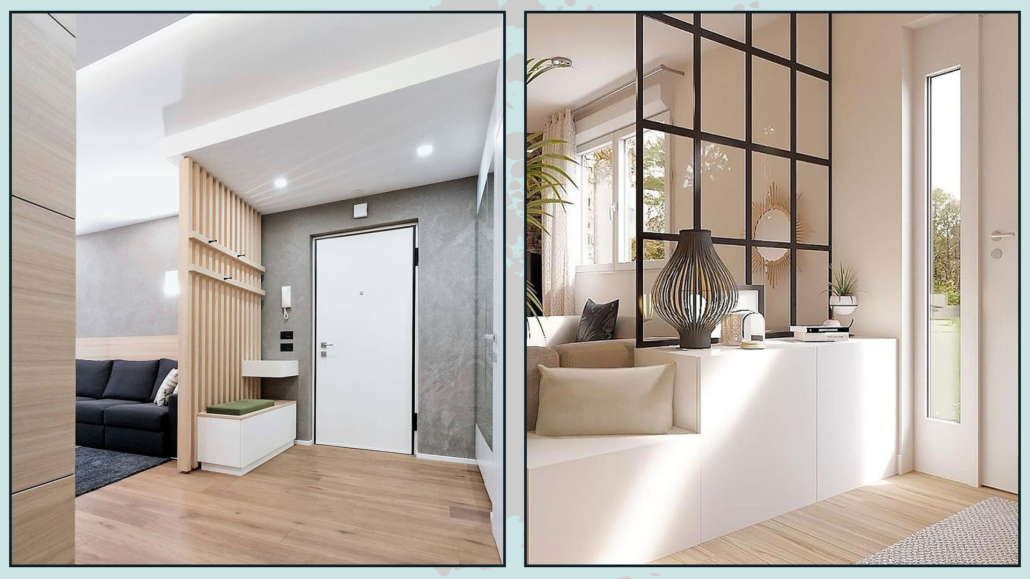 (credits: lemayr-thomas.com; teste.com.ar)
Do you have a pillar nearby? Why not take advantage of it?
Depending on the distance to the wall, you can put shelves or a cabinet or close it with sheetrock creating a niche!
If you want more ideas on how to hide or at least disguise a pillar, I've talked about it here.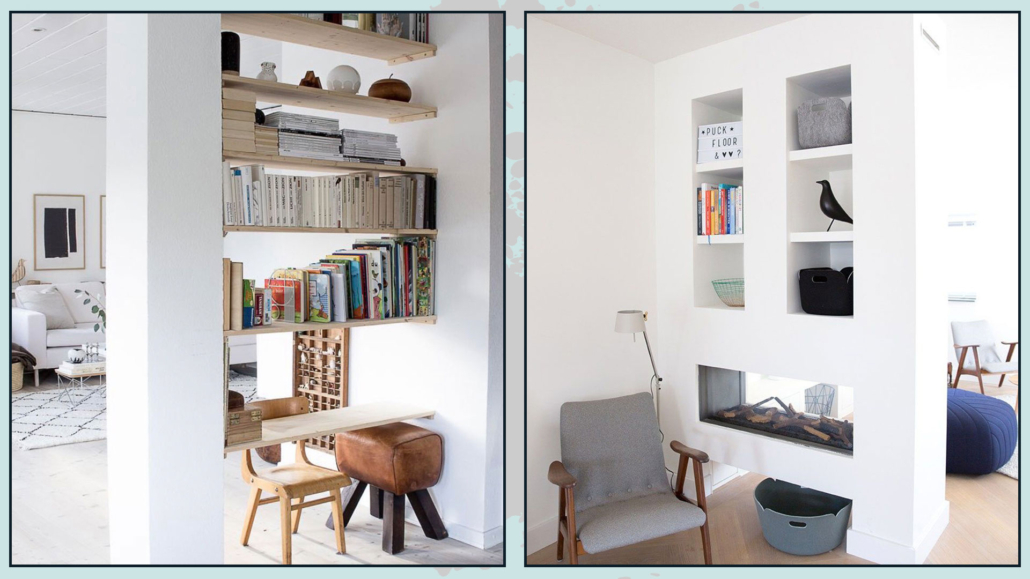 (credits: Heimai; femkeido.nl)
– USE COLOR AND MATERIAL CHANGE
Another good way to create an entryway when it gives directly into the living room is to have different flooring and/or make a small suspended ceiling, perhaps with spotlights.
The latter is also very functional for proper lighting of that area.
The change of material creates a barrier that unconsciously demarcates spaces.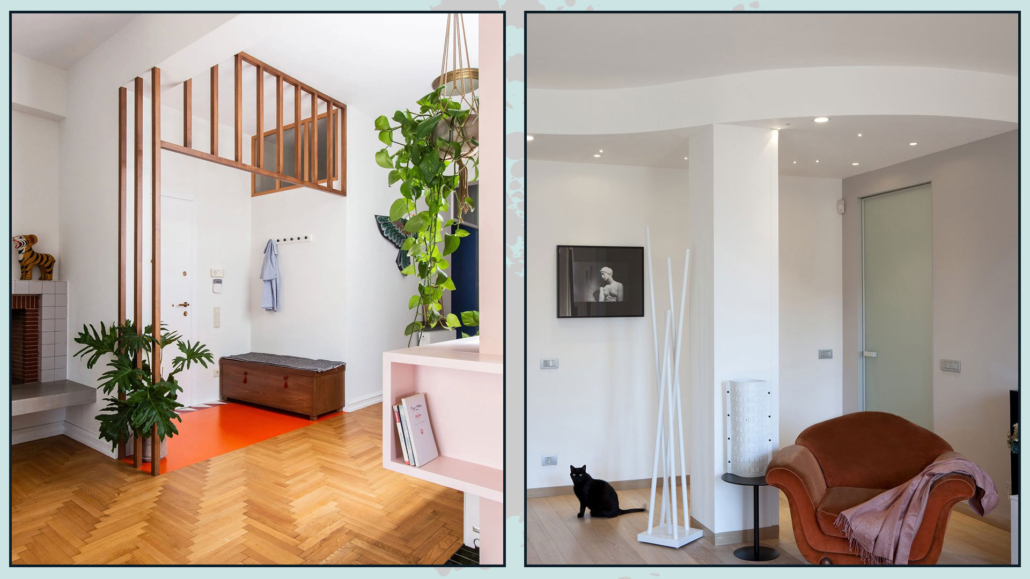 (credits:living corriere; cose di casa)
You may also decide to use the color-blocking technique and paint the wall or the piece of it that serves as the entrance differently from the rest.
All you need on that wall is a small shelf and a mirror, and you're done!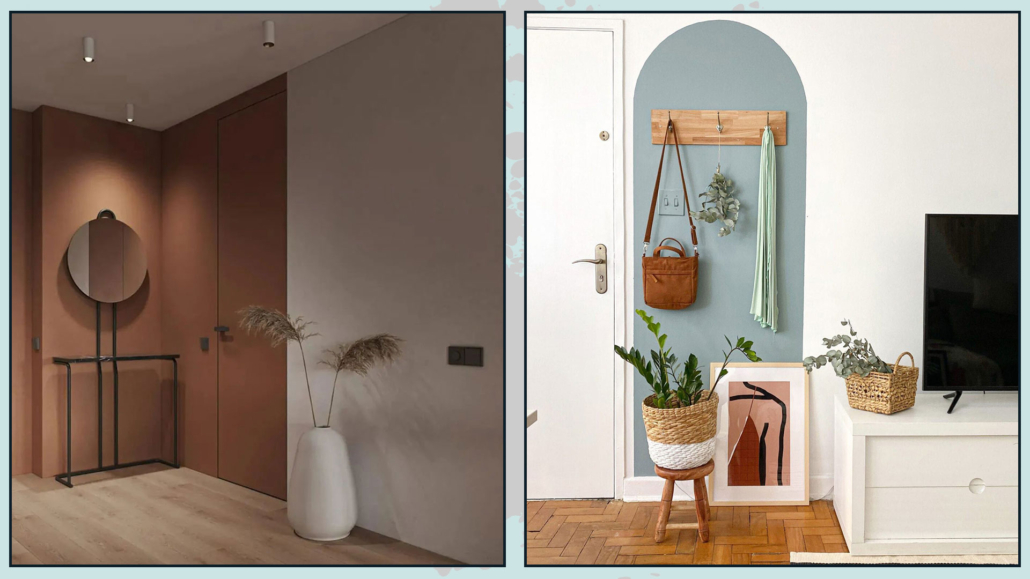 (credits: behance.net; @meu.alugado)
START FROM THE BASE AND PLAY WITH THE FLOOR PLAN!
The essentials for an entryway are a countertop so you can "empty your pockets" when you return, a mirror, and a couple of hooks for coats and bags.
That is the basis from which to start and for which a small portion of the wall is really all that is needed.
From there, depending on the size and shape of the room, you can add a closet or a bench to embellish and make the entrance even more functional!
(I talk in detail about entrance here!)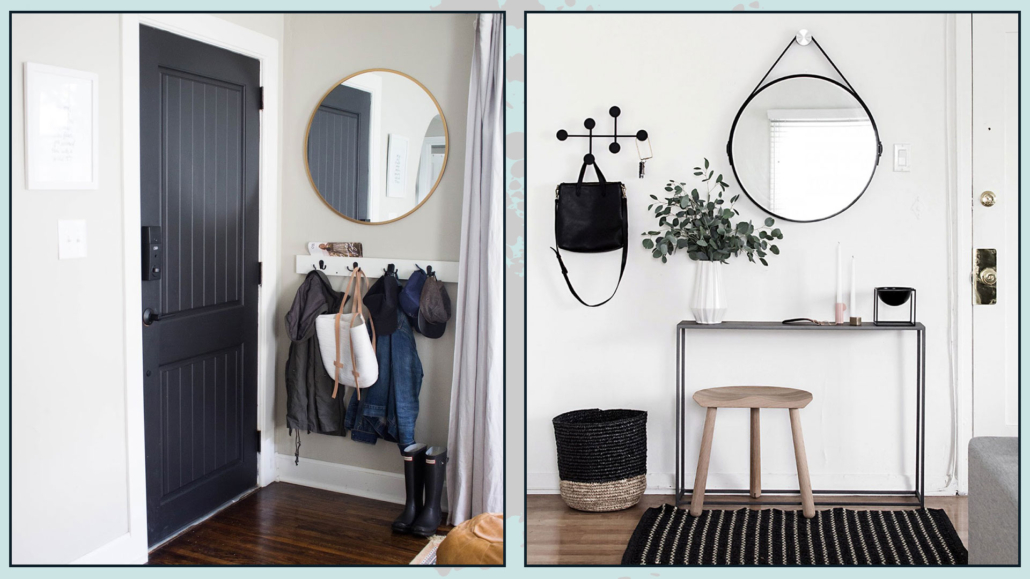 (credits: rooneyclothing.com; homeyohmy.com)
As always, what will make the difference is good design!
It is essential to evaluate the spaces and how to arrange the furniture so that all areas are functional.
As I always say thus, it is paramount to play with the floor plan by drawing furniture to scale or to use paper tape and drawing pieces of furniture on the floor!
Visualizing remains one of the best ways to avoid making mistakes and understand whether you are furnishing in the best way for your needs!
By trying and trying again, you might even discover solutions that, at first glance, you would never have thought possible!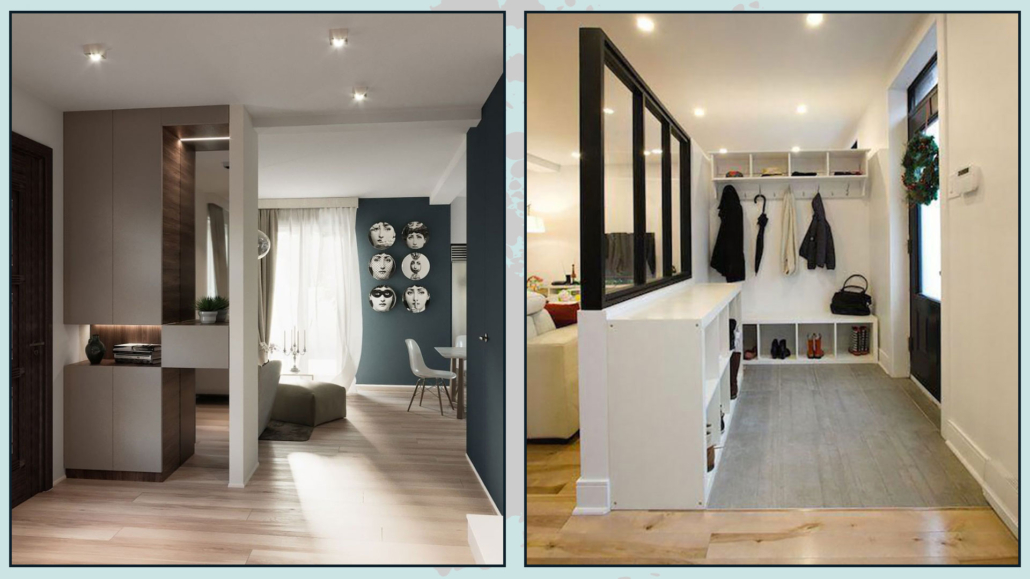 (credits: Gaia Miacola Architetto; TiredBee)
I hope this article was helpful and you love it; in case, let me know in the comments!
Feel free to share it with anyone you think might be interested, I will be honored, and it will help me get my name out there.
If you feel that your home, or some environment of it, does not reflect you enough, do not wait any longer and book your consultancy!
https://www.viverelostile.com/wp-content/uploads/2023/02/creare-una-zona-ingresso-dove-non-ce.jpg
1152
2048
Virginie Simonet
https://www.viverelostile.com/wp-content/uploads/2021/02/logo_vivere-lo-stile.png
Virginie Simonet
2023-02-06 19:31:37
2023-03-16 08:46:33
Creating an entrance area where there is no