I have said it many times, it is difficult for one style alone to represent your unique personality, but recognizing furniture styles is the first step to building your own!
Are you familiar with them?
Today let's look together at the main styles, their distinctive features, materials, and colors…
Let's get right into today's topic and let's see 12 of the most known styles:
1) TRADITIONAL
It is a timeless and elegant style, that often goes hand in hand with luxury.
Traditional is characterized by significant furniture elements, almost always handcrafted.
The furniture is solid wood, and the sofas and large armchairs are enveloping, all featuring traditional and precious lines.
In addition to wood, very present materials are velvet, satin, glass, and marble.
Colors that fit this style well are neutrals such as beige, creams, grays, and whites.
Accessories that complement this style of decor well are large chandeliers, mirrors, candles, and vases.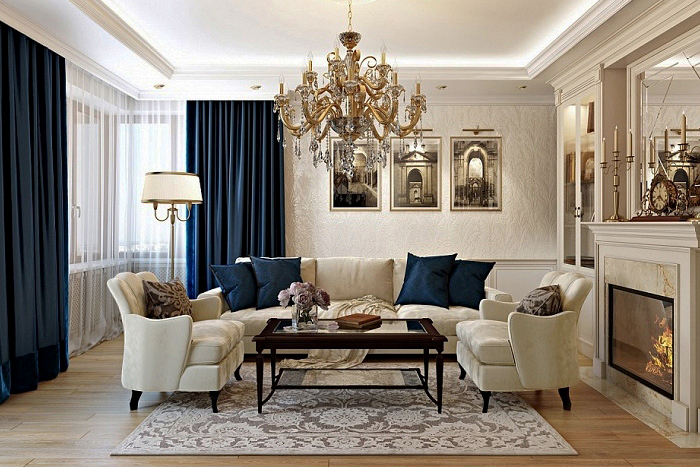 (elizahhome.ru)
2) RUSTIC
It is a style that brings back country atmospheres surrounded by nature.
And it is characterized by rough, wooden furniture elements with soft lines made by hand.
These are worn elements with a lived-in air.
In addition to wood, materials are stone, terracotta, exposed sandblasted bricks, wrought iron, and wicker.
A pretty fireplace, or at least a stove, can't miss!
As for furniture elements, other materials are also rough, or at least do not hide imperfections.
Parquet from very knotty wood, or even terracotta that looks worn by time, or, for walls, chipped bricks will be good allies.
The colors of this style are white, gray, taupe, beige, and yellow.
Accessories that complement well are large rugs, soft plaids, and large baskets.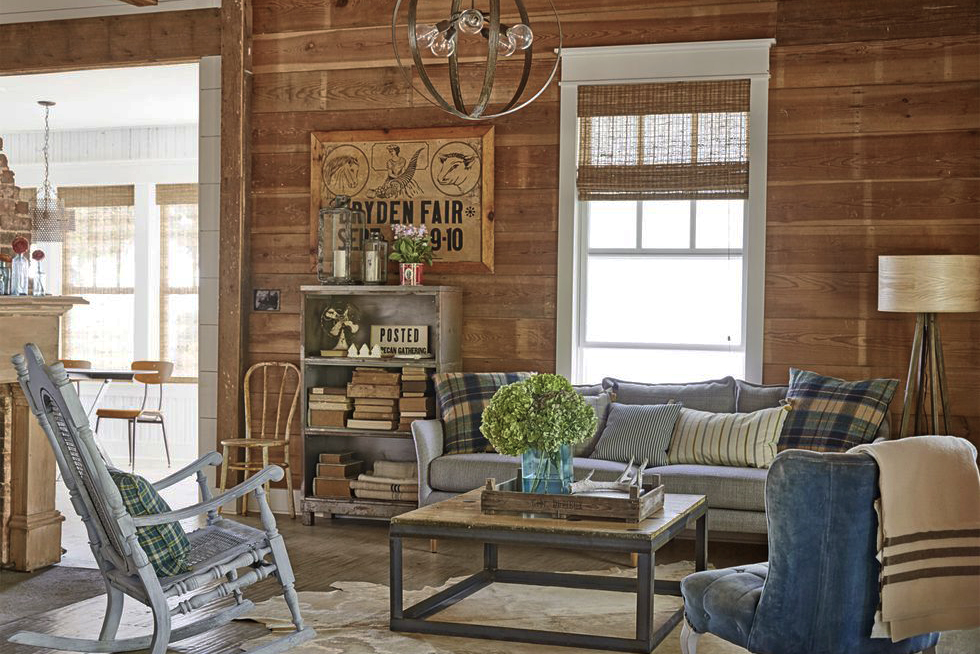 (Victoria Pearson)
3) MODERN
It is a style that expresses the desire for practical and functional environments and includes all design elements!
Born to break with tradition by introducing materials such as plastic, glass metals, and laminates either as actual furniture elements or to cover wood, giving it shiny and bright finishes.
This style is an unadorned and clean style with furniture that has a significantly less heavy and bulky impact, especially easy to clean.
The furnishings have clean, delicate lines with well-integrated technology to make everything more practical.
Materials found in this style are wood, ceramics, carpet, laminates, lacquered furniture, metal, and suitably treated leather.
The colors in this style are white, black, brown, and gray, brighter colors are also used and perhaps contrasted, but they are never the stars of the room.
They are used on the walls, as upholstery on furniture, and, of course, in accessories and decorations.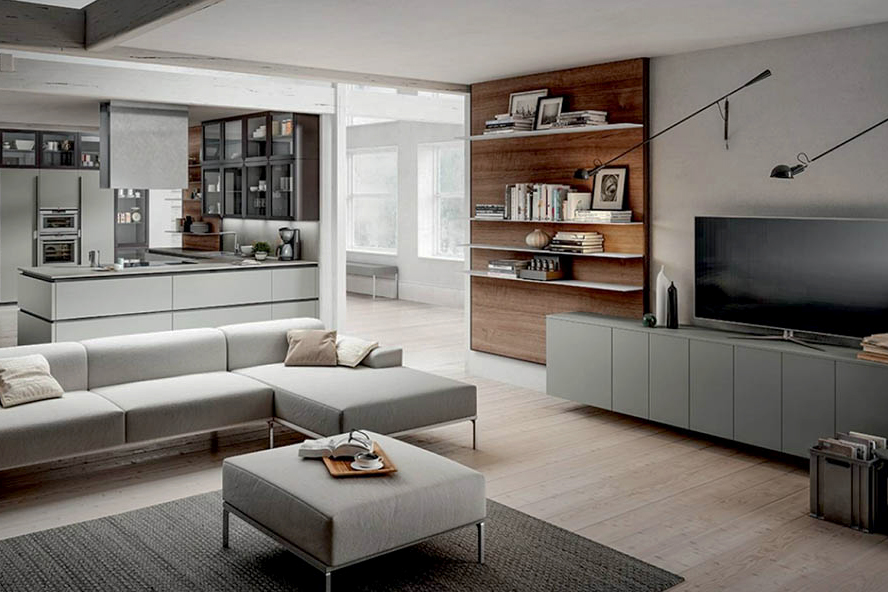 (meka.it)
4) CONTEMPORARY
Often confused with modern style because both styles are characterized by simple lines and shapes, contemporary style is defined by the continuous search for innovation.
Furniture is always highly functional, space-saving, and transformable to fit even the smallest spaces.
Characteristics of this style are simplicity, comfort, and attention to aesthetics.
The materials used are innovative but also valuable!
Resin is widely used in this style and also self-repairing materials (thanks to nanotechnology) such as Corian, Laminam, and Fenix.
The colors of this style are neutral, with a preference for black and white.
This style does not like frills, and decorations are kept to a minimum.
A contemporary style home cannot be without home automation for a smart home!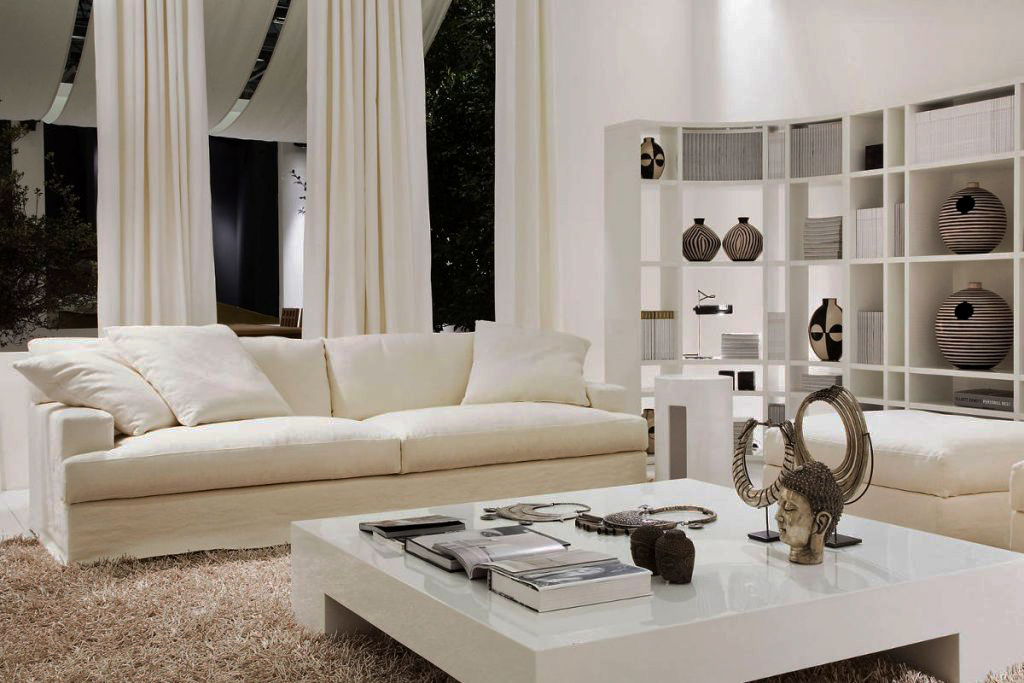 (tomassiniarredamenti.it)
5) INDUSTRIAL
Originated in New York City in the 1950s, when old factories, offices, and business buildings were converted to housing!
It is a style created to enhance those distinctive architectures with peculiar structural elements such as exposed pipes and concrete pillars.
The furnishings are simple and are often salvaged elements, made of aged-looking wood, leather, glass, metal, and copper.
Other typical materials of this style are exposed brick and concrete.
The colors are primary, with lots of white, blue, gray, and black.
Old metal signs and pendant lights of different sizes from the shape of old industrial lighthouses will give that extra something!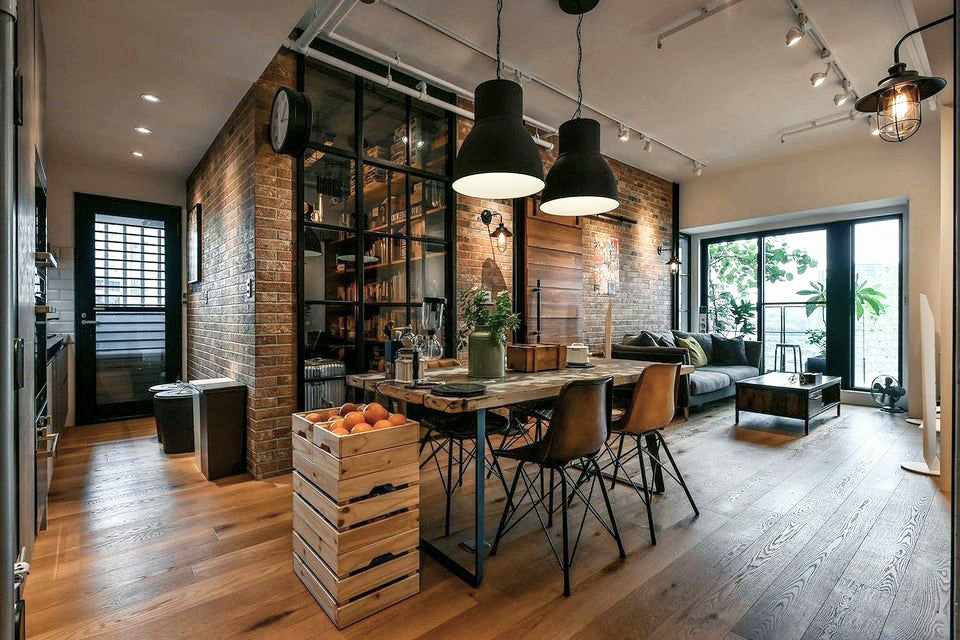 (myshambar)
6) SHABBY
It is a romantic style that harkens back to the Provencal countryside.
Shabby is characterized by pickled furniture that is worked to look ruined and give it the allure of lived-in.
They are often salvaged items revisited and redecorated, but even if new, they are worked with the pickling technique to look imperfect.
The most commonly used materials are wood, as we have seen possibly recycled, velvets, and lace.
The most suitable colors are white and pastel shades for a delicate and romantic atmosphere.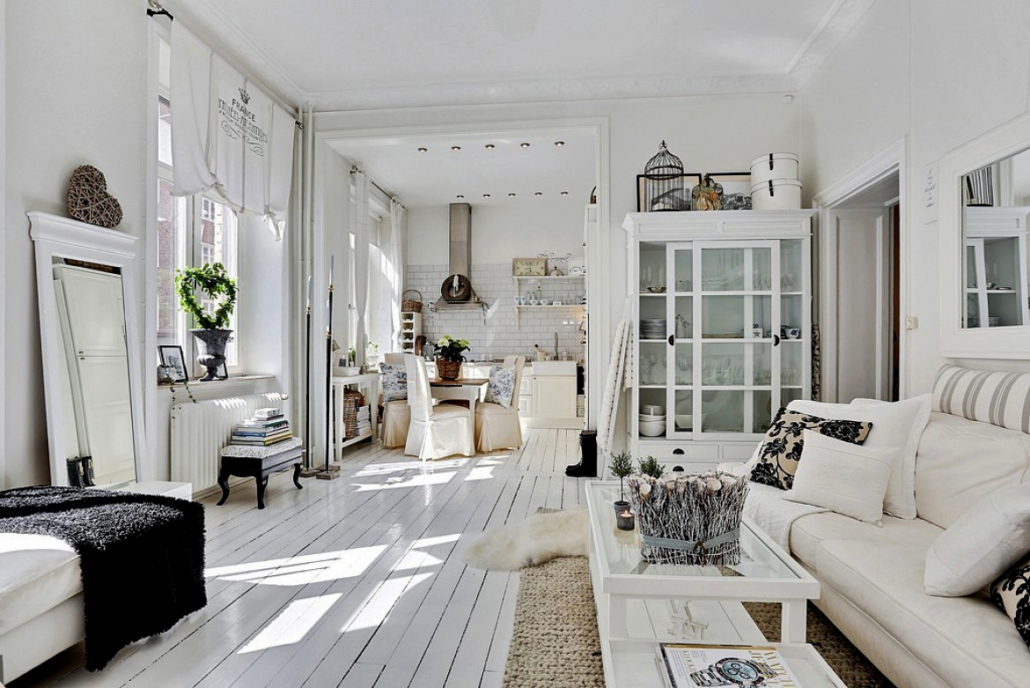 (bjurfors.se)
7) SCANDINAVIAN
It is a style very fashionable, thanks, in part, to a famous furniture distributor, let's not give names: Ikea.
This is a modern style, bright, cozy, simple, and no-frills, but never ordinary.
It focuses on the well-being and simplicity of the home and the pleasure of small things.
The design is simple and straightforward, with much use of natural and lacquered wood.
The colors are neutral and light with shades of pastel.
Candles, fur rugs, soft pillows, and blankets provide the perfect backdrop for this style.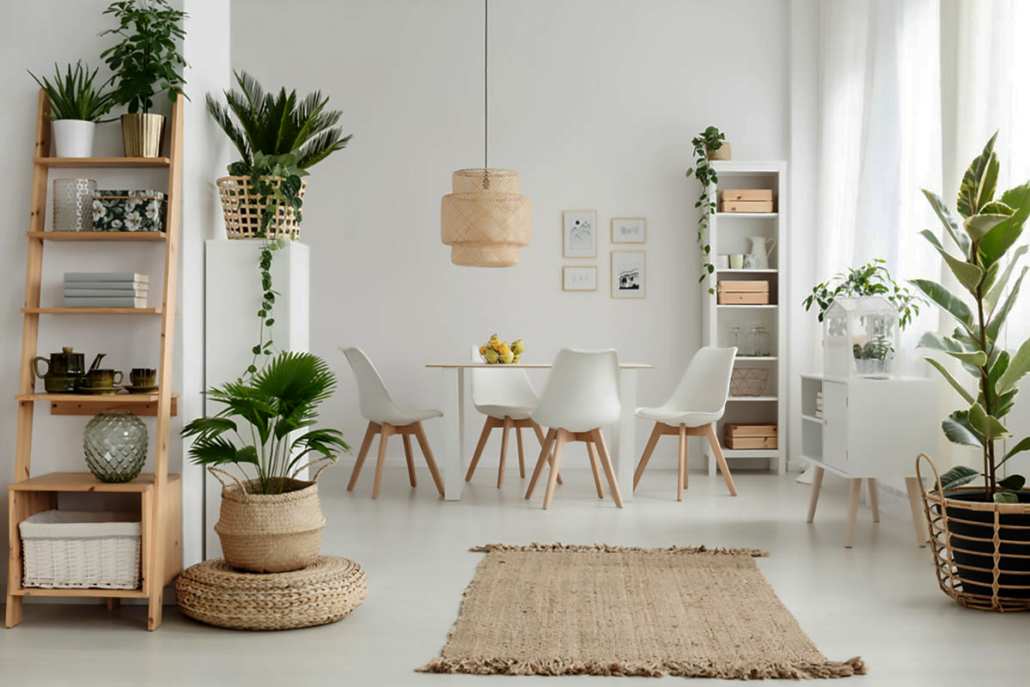 (shutterstock)
8) MINIMALIST
As with Scandinavian is a decorating style that loves simple, clean lines.
Here the unnecessary is absolutely banished, the rule of less is more applies, and even the decorations are few and very simple.
Order and quietness are the basis of this style.
The most commonly used materials are lacquered furniture, glass, steel, and concrete.
The colors are muted, with black and white serving as the base.
Small accents of silver in accessories brighten and complement this style!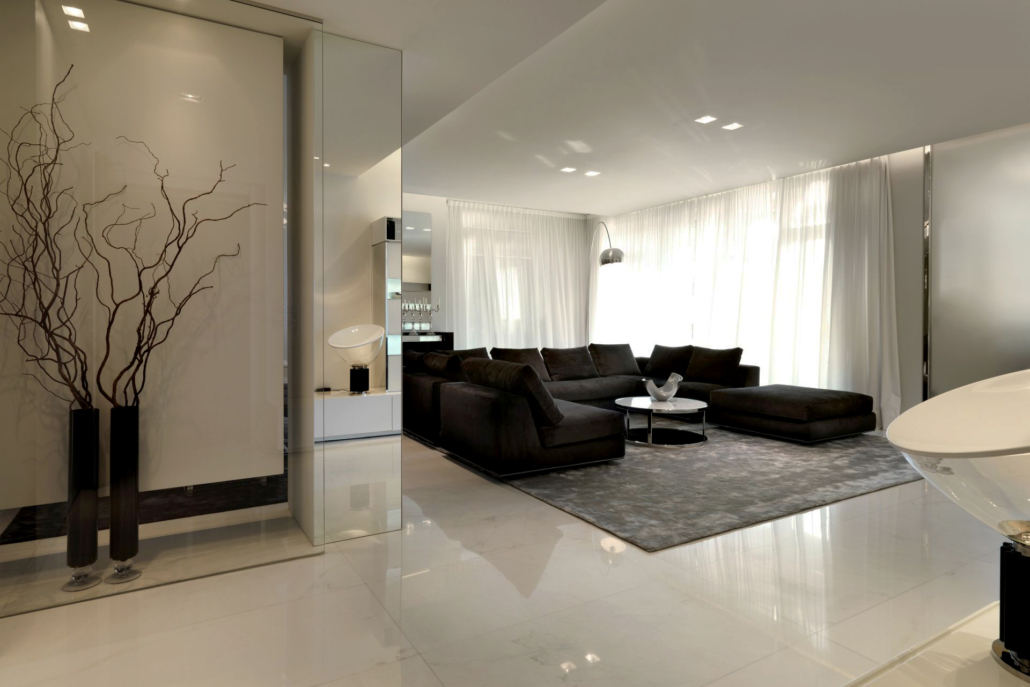 (magazine.designbest.com)
9) VINTAGE
It is a style that we could call nostalgic because there is a lot of use of modern antiques and salvaged objects from other eras.
Vintage is definitely a style that helps you express your personality because it allows you to mix shapes and stylistic elements from other ages.
It is a unique decorating style because what you have found and researched in the various markets is unlikely to be there for someone else.
Wood, enamel, velvet, and leather make the most of it.
The colors used are bold colors such as green, orange, and yellow!
Wallpaper, items found in various markets, and colorful decorations are the must-haves of this style.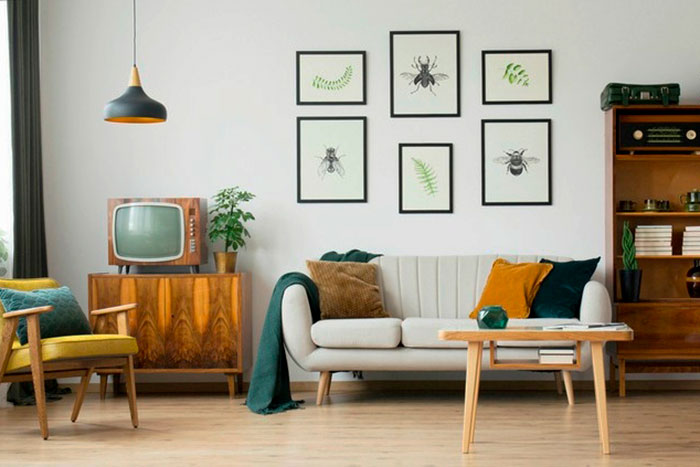 (shutterstock)
10) BOHO
It is the contraction of the word bohemian and is a "free" style; it is a style with a relaxed mood but also eccentric.
This style does not have many rules and loves the mix and match of materials, textures, and colors.
It has many exotic and extravagant elements combined with the idea of softness and coziness.
Materials such as wood, rattan, cotton, and linen are found in this style.
The colors are solid and bright but start from a neutral base.
Macramé elements, bangs, dream catchers, candles, and lanterns complete this style!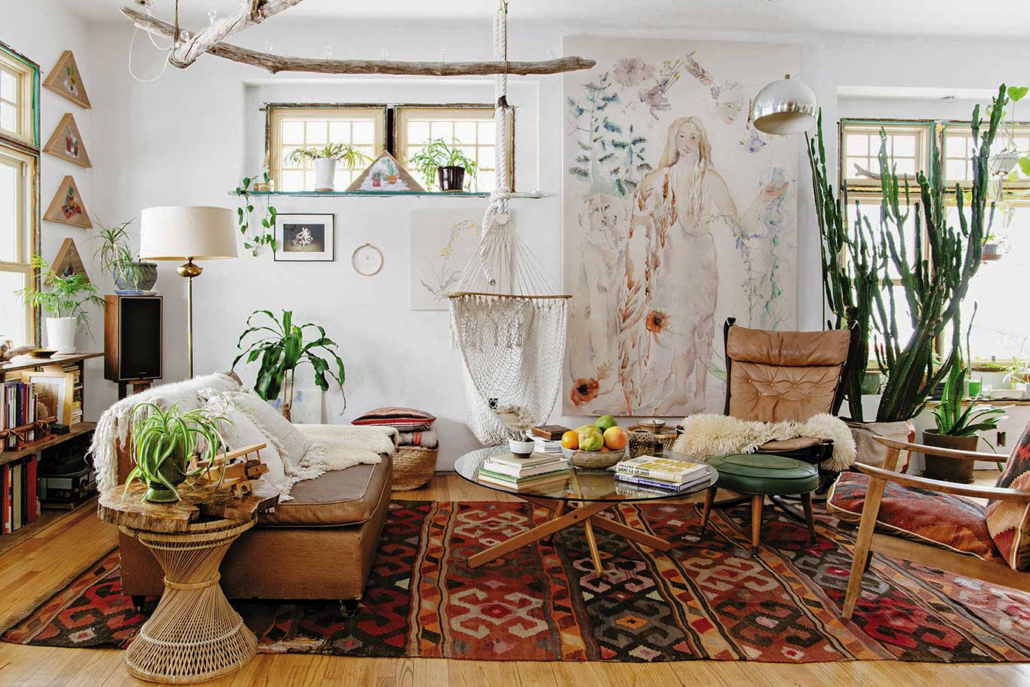 (interiorsonline.com.au)
11) ETHNIC
This style evokes distant lands, especially Africa, Asia, and Central and South America, giving the feeling of always being on the road!
Primary materials of this style are teak and mahogany wood, rattan, linen, rope, raffia, leather, and metals.
The colors are bold, reds, oranges, browns, and greens.
Souvenirs, masks, prints, and all objects reminiscent of that particular land reinforce this style!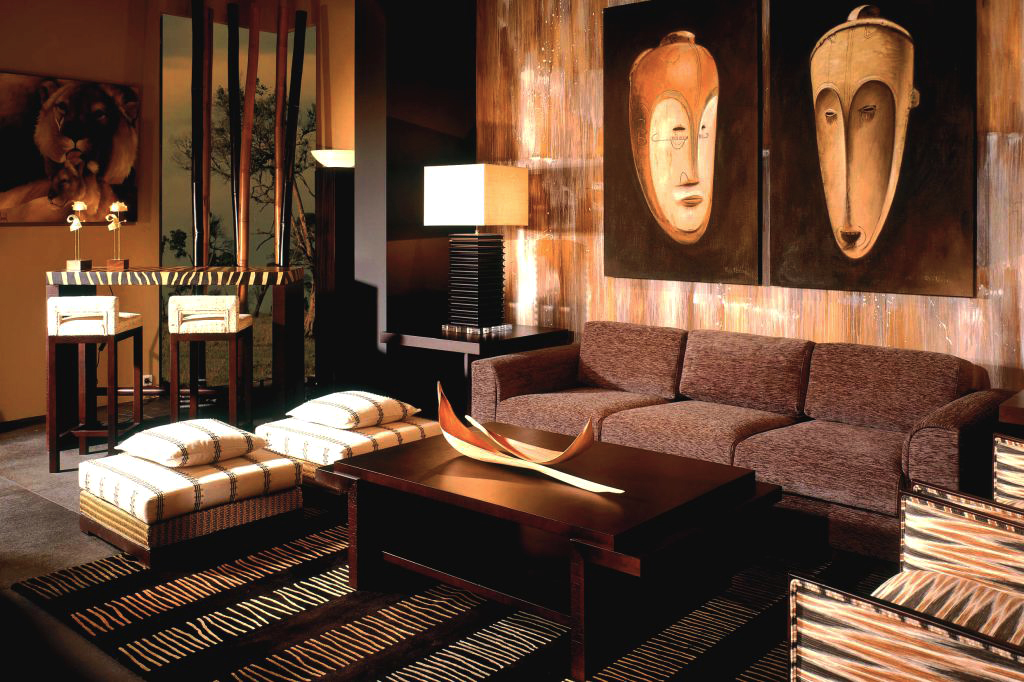 (rifaidate.it)
12) ECLECTIC
It is the style for which the watchword is DARE: the limit is imagination!
It is a style that finds inspiration in a multitude of styles, mixing different shapes, colors, and textures.
Diversity is the common thread of this style.
No materials or colors can define this style, and there are no proper "rules"!
But precisely because of the lack of rules, it is one of the most challenging styles because it is easy to fall into kitsch!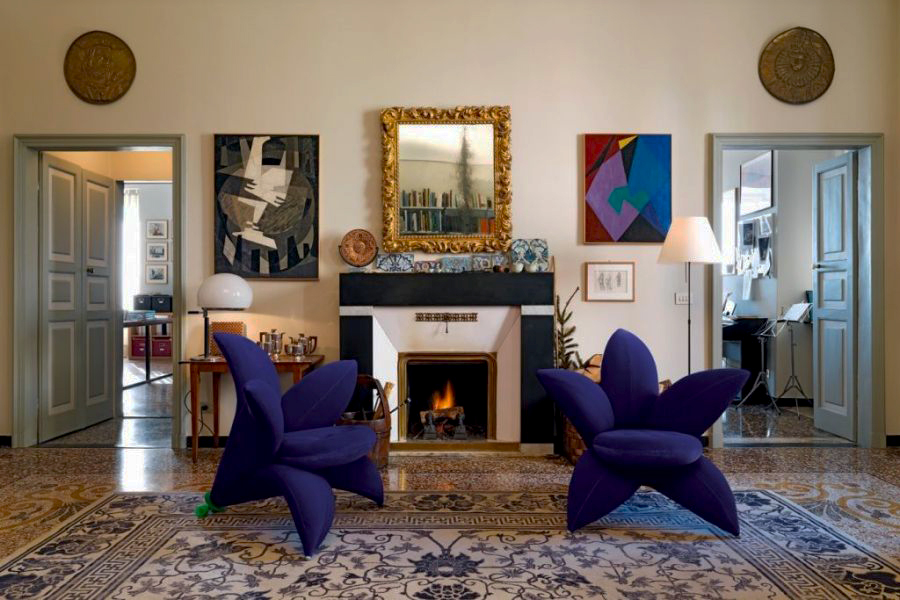 (tomassiniarredamenti.it)
These are among the most popular and widely used furniture styles, but they are not the only ones; the glamour style, or Art Deco, comes to mind!
Styles are also frequently divided by geographic areas, as might be the Mediterranean style.
Finally, there are new trends that are becoming popular and perhaps are a reinterpretation and fusion of other furniture styles, such as Japandi, which combines Japanese and Scandinavian!
As said before, it is difficult for one style alone to represent you, but knowing the basics of these styles will enable you to better make the style mix that represents you deeply.
In fact, start with the one closest to your way of being as a base and then add in minor percentage touches of other styles!
A modern traditional, for example, could be predominantly traditional with touches of modern or, conversely, a predominance of modern with small touches of traditional!
(If you want to know more on how to mix style, I talk about it here)
If you have any doubts about how to furnish or revisit your home or even some rooms, please do not hesitate to contact me!
https://www.viverelostile.com/wp-content/uploads/2020/10/corner-3569701_1920.jpg
1280
1920
Virginie Simonet
https://www.viverelostile.com/wp-content/uploads/2021/02/logo_vivere-lo-stile.png
Virginie Simonet
2020-10-26 13:31:57
2023-03-16 08:51:53
Recognize furniture styles to build your own