Paintings, prints, and photographs are decorative elements on walls that immediately catch the eye!
Deciding, on a given wall, which and how many paintings, taking the measurements, and planting the nails is not as simple as saying it!
It happens, in fact, that you spend time on this work only to see that:
– the paintings are badly placed,
– too close together or, on the contrary, too far apart,
– they do not all have the same distances.
– or perhaps there are frames that don't fit at all with the others!
Placing paintings according to specific criteria will have a different effect than arranging them randomly.
So what to do to get a good result? Here are some tips for you!
CHOOSE THE PAINTINGS TO PUT TOGETHER
The first thing you need to do is to group everything you would like to hang in specific groups such as frame color, frame type, or according to content (i.e., prints, photographs, graphics, and so on).
Exclude those paintings that have nothing to do with the style and furnishings of the house.
If they have a sentimental value better to keep them in a different place, the risk indeed is, if it is not the right place to put them, to end up "hating" them!
You can try to transform them by changing the frame or painting it, but even so, it doesn't mean that they fit the rest of the elements!
Or maybe you could also find a way to make it "the unique piece", giving it importance with proper lighting too!
However, it's better to not mix them with other paintings that are too different!
Made the groups, you have to decide where to place each of them based on the style and color of the room: in a rustic environment, for example, it is better to avoid pop art paintings!
HOW TO PUT PAINTINGS AND WHERE?
Once you have chosen the paintings and the room you will have to find where to hang them: if you have the impression that a wall is a bit empty and sad, it is undoubtedly the right place!
Now, you have to decide how to place the paintings to have an attractive and pleasant composition.
You can take a whole picture (from floor to ceiling) of the wall where you want to place your paintings and then use some graphics program (even a simple PowerPoint) and from there study your schemes.
Or you can measure the part of the wall you want to decorate, taking care to leave enough space around it, especially if you have other furniture on the nearby walls.
Mark this space on the floor, then, knowing that the eye has a tendency to look initially to the upper left and then go in search of a focal point that is usually central, start the composition right by putting the main picture in the center.
From there, put the other pieces always remaining in the dèsignated space.
If the composition sits on top of a piece of furniture center the picture in relation to it!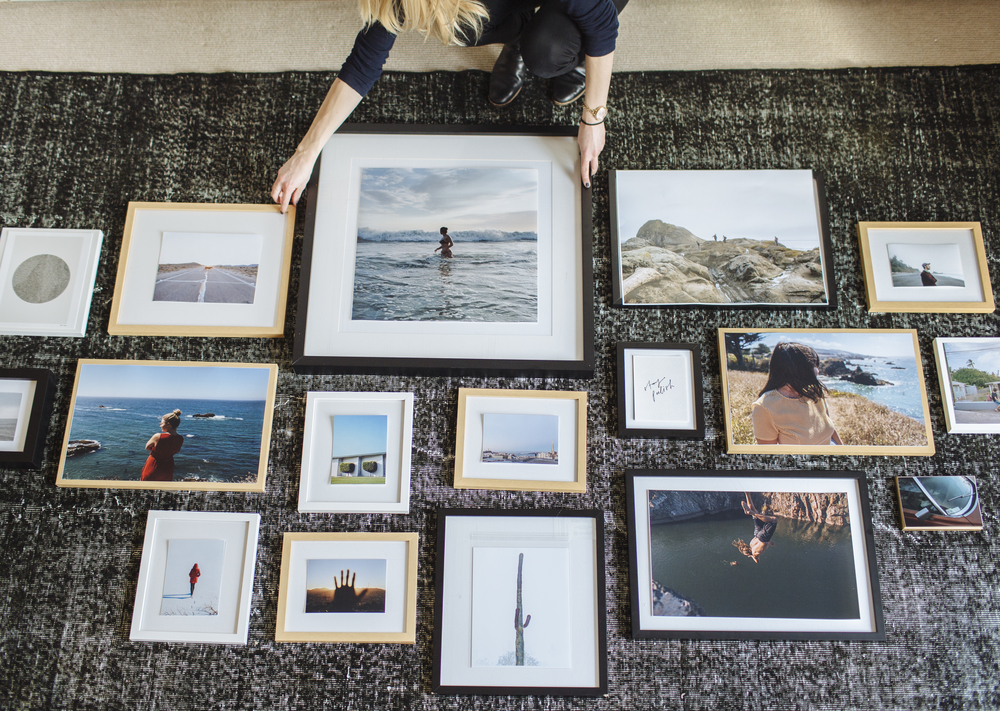 Of course, the scheme you make, whether you do it "on the floor" or with a graphics program, doesn't have to be made up only of paintings; you can also combine mirrors, letters, numbers, or other objects!
This could give your composition sparkle and personality.
LITTLE TRICK FOR A WALL WITHOUT TOO MANY HOLES!
Now… how to put the paintings exactly where you want, at the proper distances without puncturing all the walls?
Here is a little trick to avoid damages: take some sheets of paper and cut them according to the profiles of each frame, possibly from the back, to also mark the position of hooks.
Most importantly, to avoid forgetting the combination, you can write what picture it is.
After that, place your cutouts on the wall, following the composition you decided on the floor, or in your graphics program.
Fix these sheets of paper with paper tape (to avoid peeling off the plaster).
Also, I recommend using the level to be sure that all the cutouts are straight!!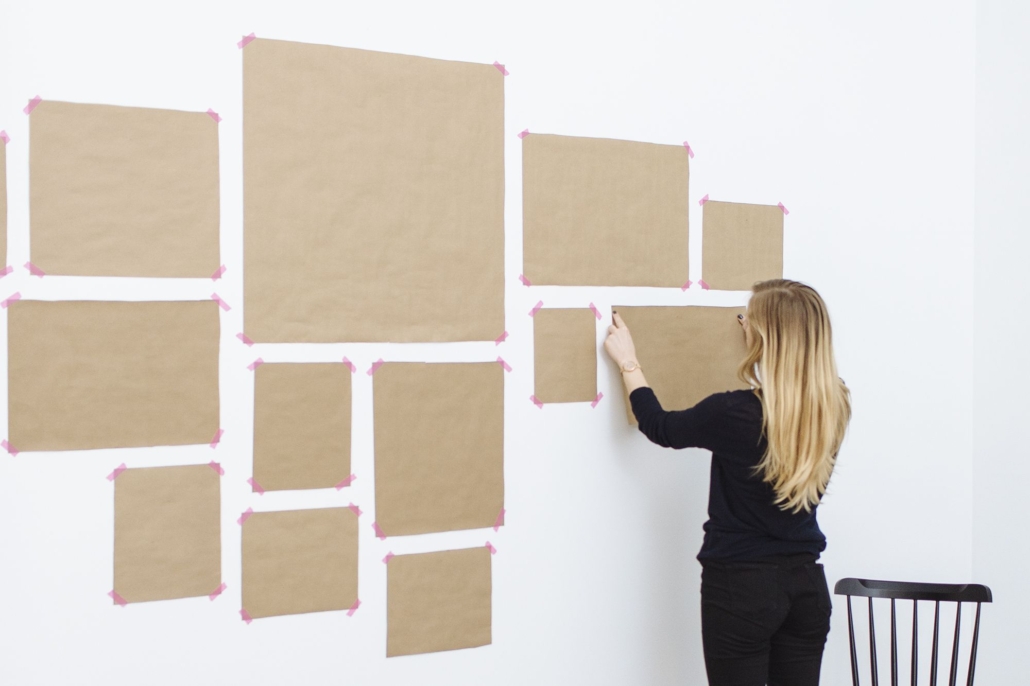 In conclusion, when you are sure that everything is in order, plant the nails in the points corresponding to the hooks.
And then replace the papers with the paintings!
And voilà, the job is done.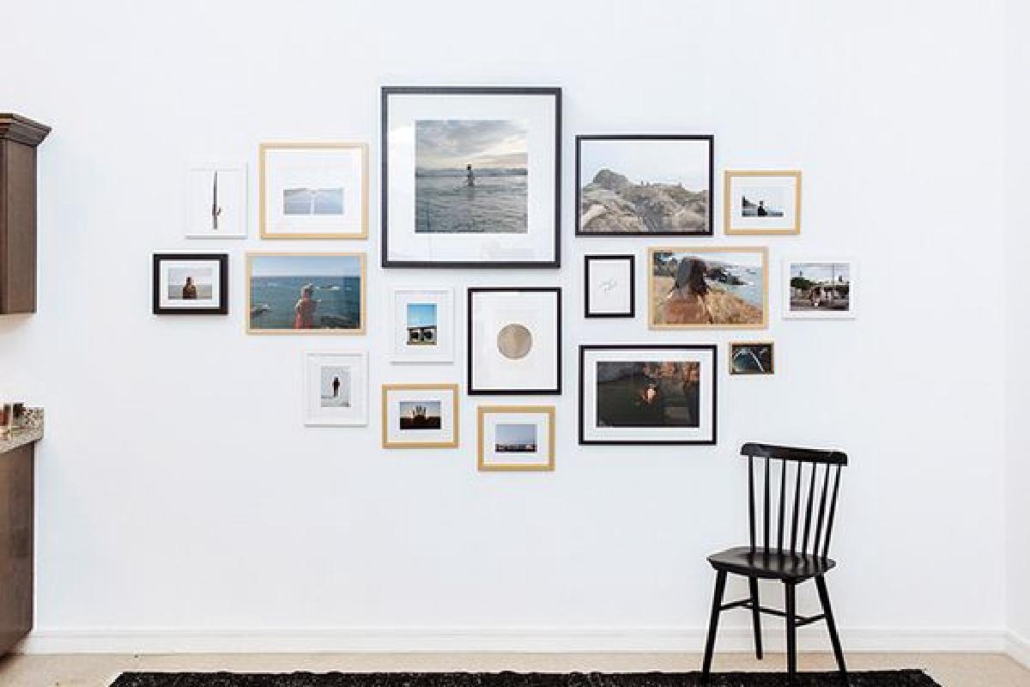 From now on, your walls will be real works of art!!
Do you have any doubt about how to hang paintings on walls?
Don't hesitate to contact me!
If you'd like more tips like this one come to see my YouTube channel!
https://www.viverelostile.com/wp-content/uploads/2018/12/copertina.png
1280
1920
Simonet Virginie
https://www.viverelostile.com/wp-content/uploads/2021/02/logo_vivere-lo-stile.png
Simonet Virginie
2018-12-10 18:29:15
2022-05-19 19:07:44
Paintings, prints, and photographs… here how to put them on walls!