A couple of weeks ago, we looked together at some tips for decorating a home in style (you can find it here),
Today I would like to give more tips on decorating a home like a real pro!!!
– AVOIDING VISUAL CHAOS
Avoiding visual chaos will definitely make a big difference in the perception of your space!
By visual chaos, I mean anything that is unnecessary or can be a disruptive element, one on all television and computer cables!
But not only that, any toys around if you have small children and all those non-purely decorative items like remote controls can be!
Try to hide, settle everything that is not "needed"!
For TV, computer, or video game cables, there are conduits that you can also paint with the color of the wall if needed.
For toys, you can put them away in boxes or baskets, the latter decorate and give warmth to the room, you would have the classic "two birds with one stone"!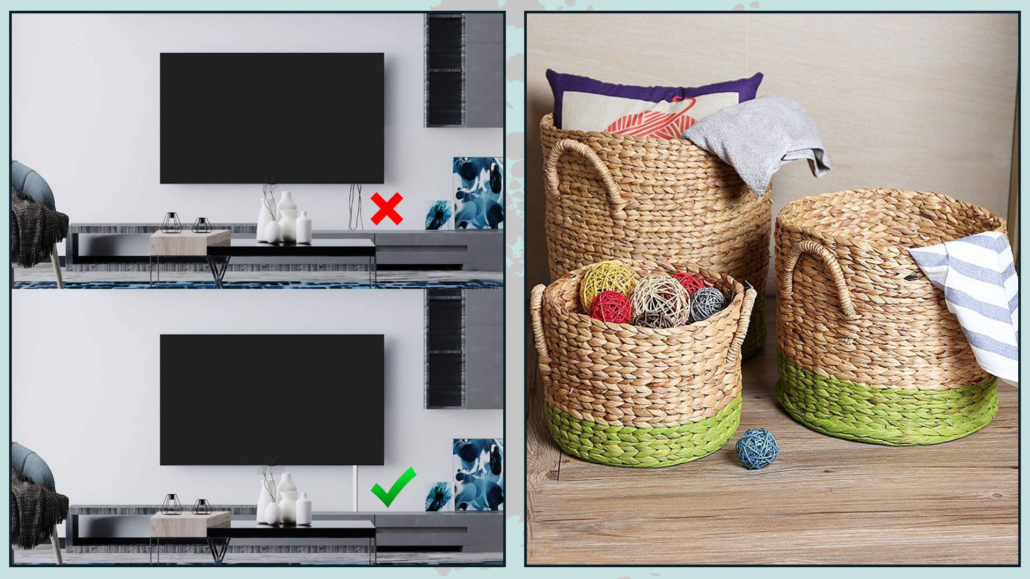 (credits: aliexpress.it; etsy.com)
Put the remotes arranged on a tray or buy those pockets that you can put on the sofa's armrest.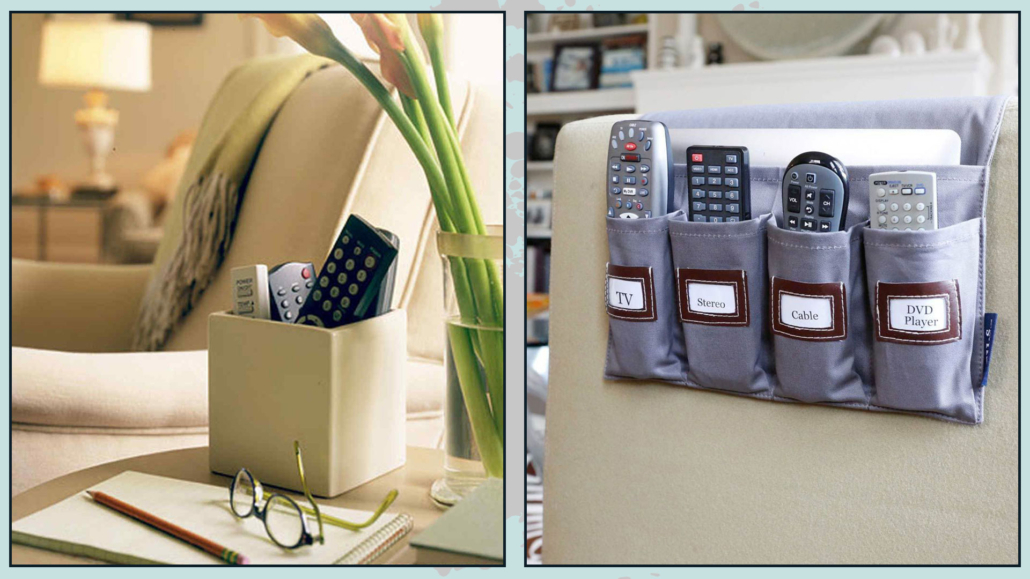 (credits: marthastewart.com; greatusefulstuff.com)
In the bathroom, you might think about getting all the same containers to fill with shampoo, conditioner, and liquid soap so that everything is coordinated and there are fewer colored bottles.
The same goes for the kitchen, for those products you may have on the countertop!
Doing this makes everything more intentional and studied like a pro!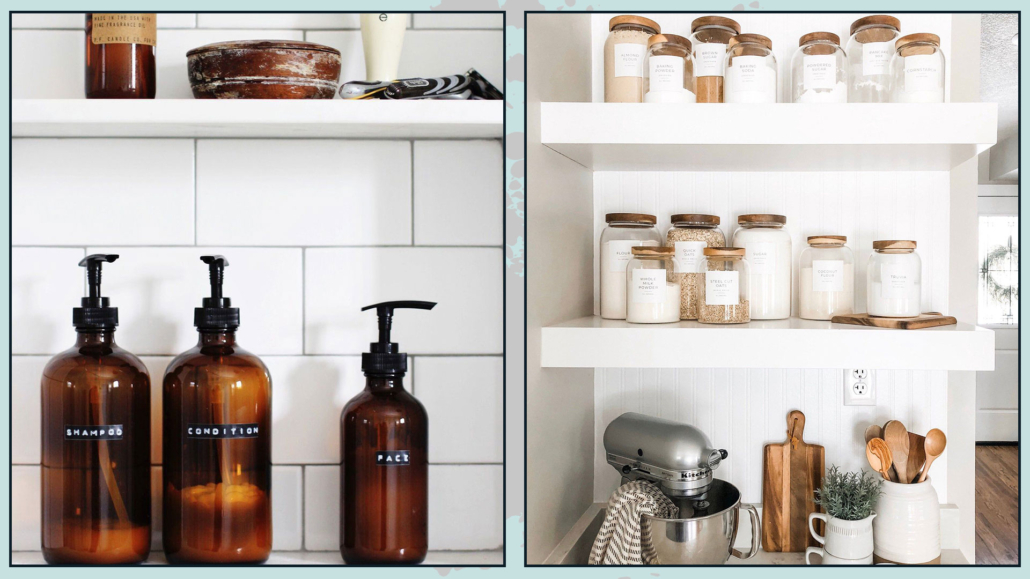 (credits: nestingwithgrace.com; etsy.com)
– USE PAINTER'S TAPE!
Does that sound like strange advice?
In fact, it may not be usual, but it could make a big difference in decorating like a real pro!
Now, if you were to do color blocking on some wall or decide to paint only a portion, you would use this tape to mark off the part to be colored, right?
Well, think about also using it to calculate the footprint of the furniture or to hang a picture or even a wall sconce.
It's a tremendous help because it allows you to really see what a piece of furniture might look like there, whether the rug is the right size, whether the picture is proportionate and at the right height…
All with an investment that could be called zero!
We talked about moldings and paneling to add sophistication to the room… Do you want to know how it would look? Well, draw it with the tape, and you will see it immediately.
There is nothing like seeing something with our eyes to see if it is for us or not, so draw your ideas with tape to see if it really works!
By the way, regarding paintings and wall sconces, if you poke holes in the tape, you will protect the plaster from those micro flaking, which can happen by driving a nail or using a drill.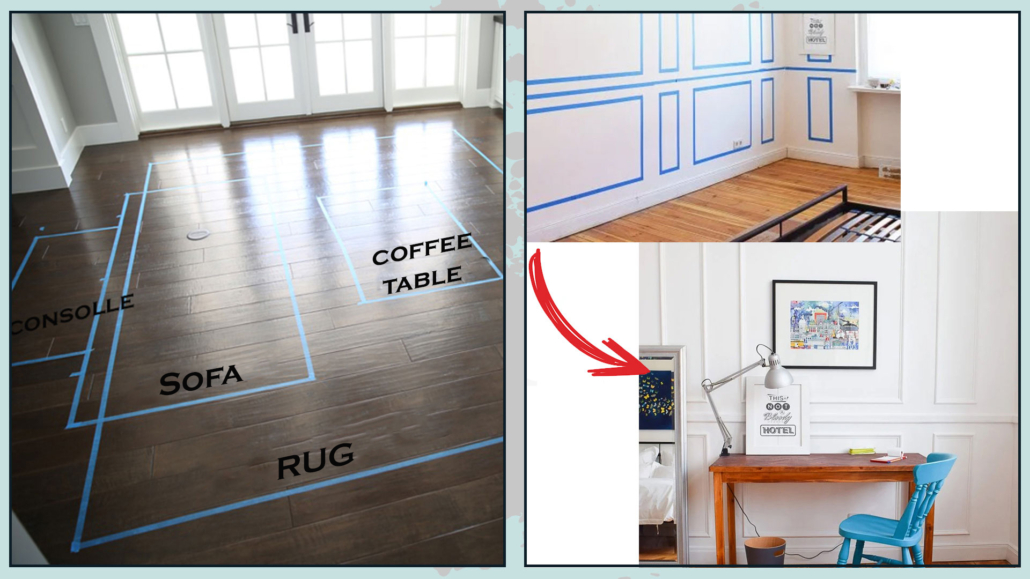 (credits: thesunnysideupblog.com; littlehouseonthecorner.com)
– DOUBLE-SIDED RUG TAPE
If you use rugs, this tape really becomes indispensable!
First of all, blocking the rug with tape will prevent it from shifting and thus moving from where you have placed it (this is avoided or at least greatly limited if heavy furniture or furnishings is blocking it)
The main reason is that you will prevent corners or edges from rising this way, making the rug less attractive to look at, but more importantly, risking then tripping over it!
That also applies if you put a rug on top of each other, as is very fashionable in America.
It is a double-sided tape that is really easy to remove and precisely avoids that unsightly twisting of the edge or corner!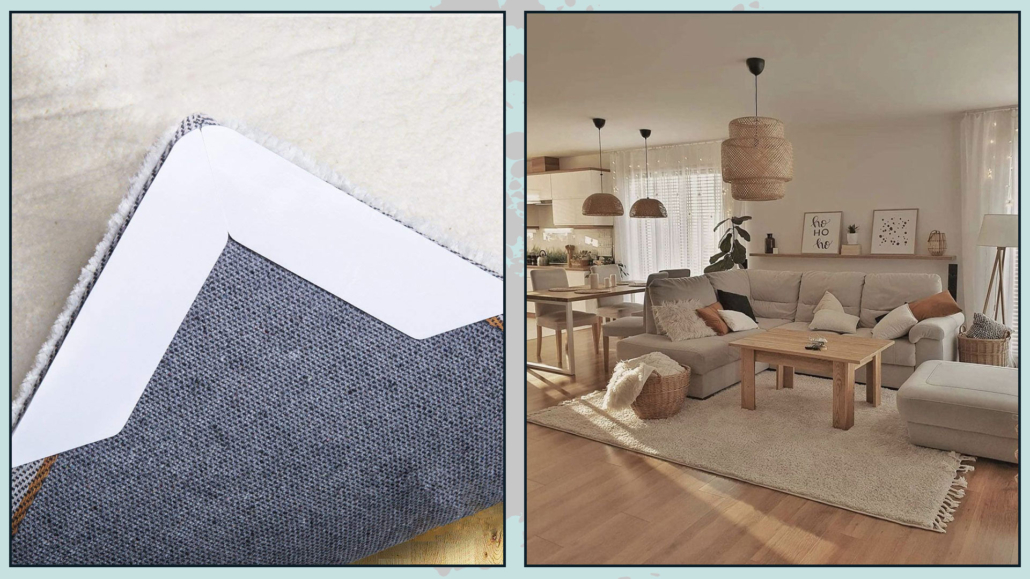 (credits: amazon; Home interior)
– VASES WITH FLOWERS AND BRANCHES
If you are not sure how to decorate a surface or what object to buy, the simplest and most impactful solution is to use vases with flowers or branches!
They bring color and vibrancy to the environment.
Adding something organic into the home is always a positive and stylish thing to do, and for decorating like a pro is really a must-have!
While it is true that in the case of plants these must be real, when it comes to small and potted arrangements, an exception can be made!
Let's face it, flowers are an investment you can't always make, not only financially but also in terms of time; going to the florist often may not always be feasible.
The same goes for looking for branches: if you don't have a garden (and even then), you may not have time to go search for them.
Nowadays, finally, there are also really well-made fake flowers and branches that look real, so if you don't overdo it, you can make decorations like that!
Then to give an extra touch of authenticity, if you put these flowers and/or branches in glass vases, add some water, and you're done!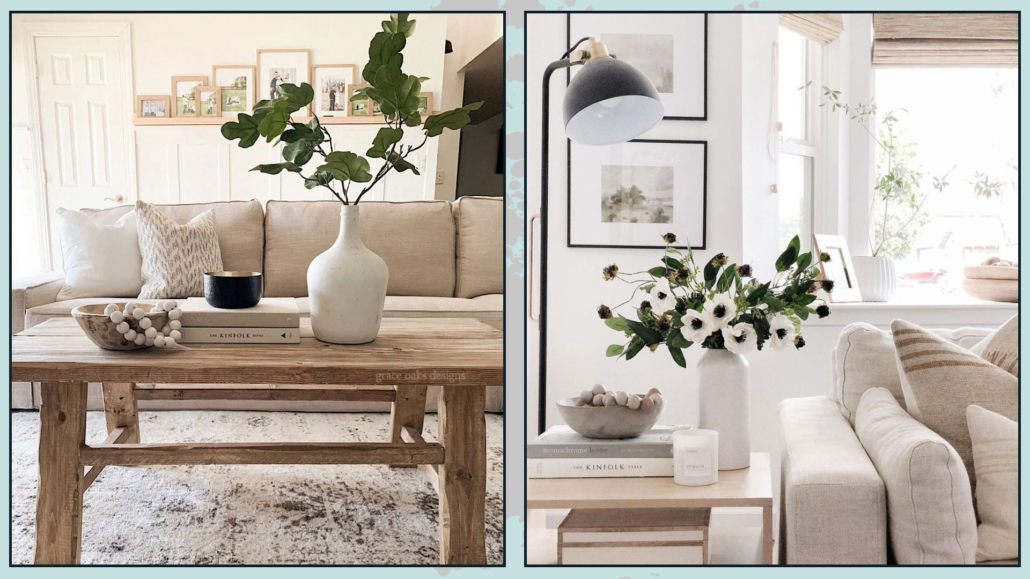 (credits: grace oaks designs; afloral.com)
– BLANKETS
Last time we talked about throw pillows, but don't underestimate the decorative touch of blankets!
Blankets give that touch of warmth and color to any room.
You can put it on the back of the sofa in case it isn't pretty to look at or, otherwise, to give it that extra interest.
You can lay it on the armrest either neatly folded or a bit like it was thrown for a more casual look.
Still in the living room, you could put one or more blankets in a basket beside the sofa.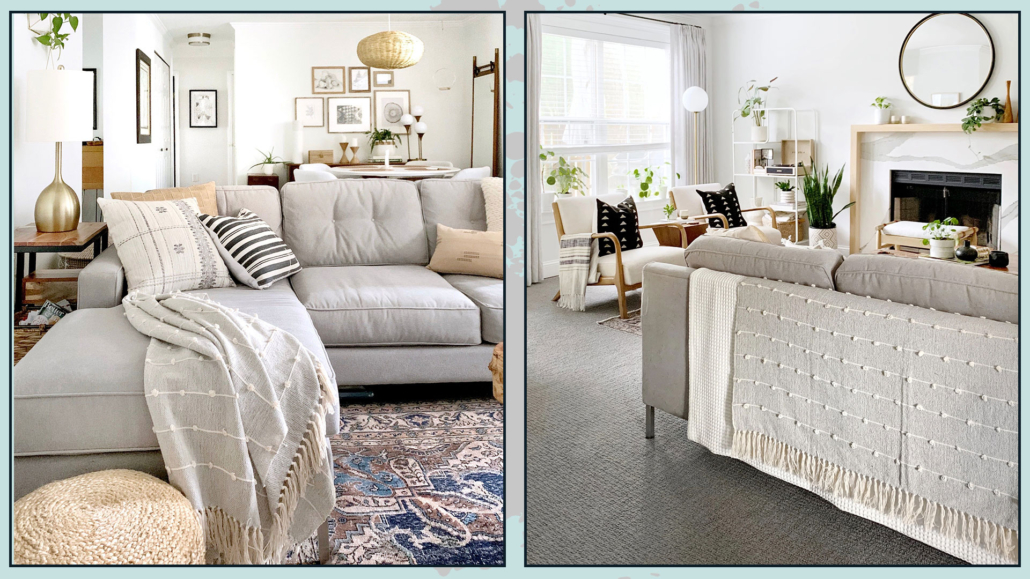 (credits: sigridandco.com)
Even on the bed, putting a blanket over the bedspread, more or less width and more or less folded or " thrown", will give it an extra touch.
Blankets are really a classic that a pro uses to decorate the home and give it warmth and elegance!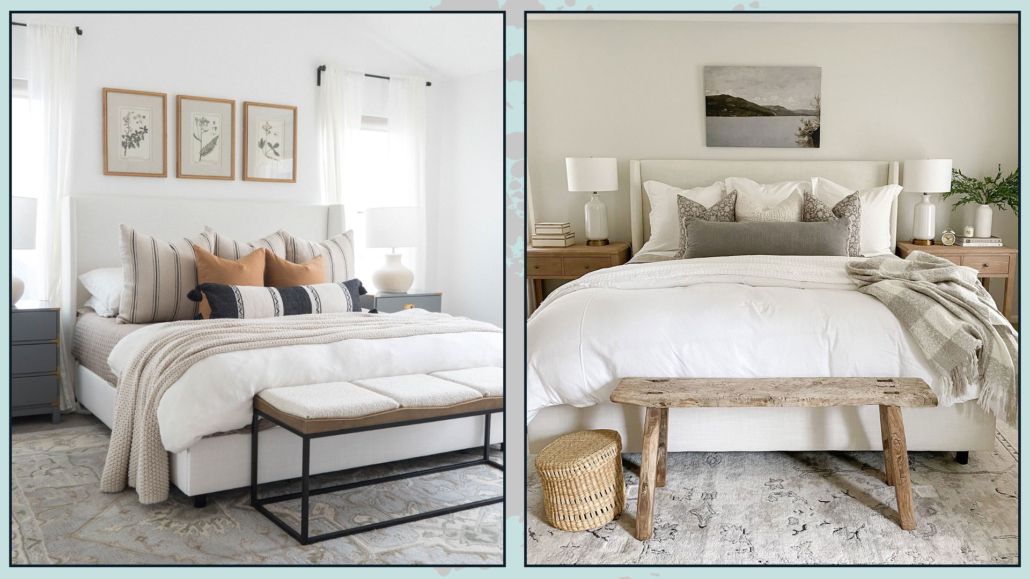 (credits: wovennook.com; sherricalnanhome)
– ATTENTION TO THE LOCATION OF FURNITURE
It is paramount to create a comfortable, as well as a beautiful, environment, and this can only be done by functionally arranging the furniture.
In the living room, arranging the furniture in such a way as to create a conversation area is particularly relevant.
If the seats are all facing the same side, there will be a sense that something is missing.
The excuse of the small living area is not valid, because we have seen that even there, you can still add a seat, even if it is just an ottoman!
Doing this will make the environment much more inviting!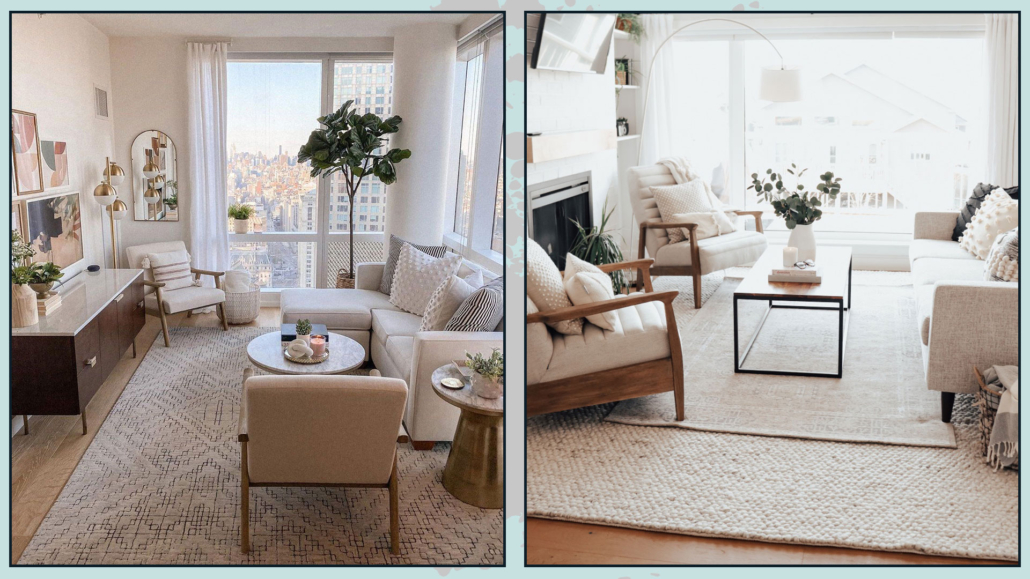 (credits: Margaret Boatner; theblushhome.com)
– EVERY ONCE IN A WHILE, GIVE NEW LIFE TO ENVIRONMENTS!
It might also be interesting to refresh your rooms, giving them a new life!
You can do this in essentially two ways:
– occasionally, try to move some furniture to give a new layout to the room; you could also find more functional solutions!
– If you don't want to twist everything all the time, however, you can decorate, for example, according to the season!
We've talked about it for fall, but it's not like you necessarily have to fill the house with decorations, as you maybe do at least at Christmas… in fact, you'll merely need to change colors, textures, and patterns here and there.
The simplest thing is to change the slipcovers of pillows and perhaps the blankets.
If you have double curtains, you could change the colorful ones, or have some paintings to which you could merely change the inside print!
These are all things that don't take up too much space but will give you different environments with delivered different feelings and emotions.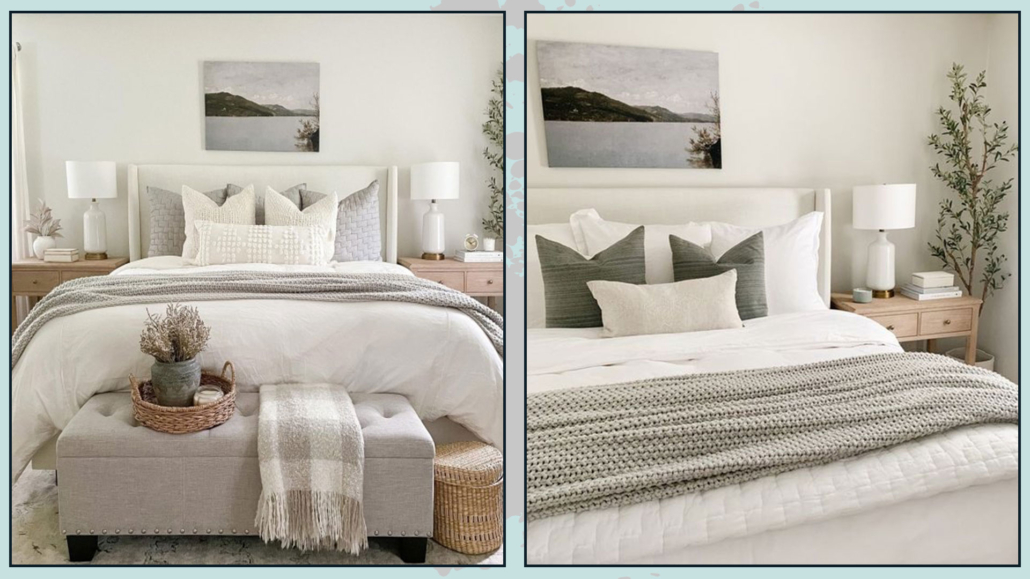 (credits: sherricalnanhome)
These are little tricks a pro uses to decorate homes, always making them dynamic and never ordinary.
I hope this article on how decorating like a pro was helpful and you love it; in case, let me know in the comments!
Feel free to share it with anyone you think might be interested, I will be honored, and it will help me get my name out there.
If you feel that your home, or some environment of it, does not reflect you enough, do not wait any longer and book your consultancy!
https://www.viverelostile.com/wp-content/uploads/2022/10/decorare-come-un-profassionista.jpg
1152
2048
Virginie Simonet
https://www.viverelostile.com/wp-content/uploads/2021/02/logo_vivere-lo-stile.png
Virginie Simonet
2022-10-24 09:39:53
2023-01-14 16:55:52
Decorating a home like a pro: 7 tricks