Some time ago, I had talked about 10 iconic lamps to know, but as you can imagine of famous designer lamps (here you can fine the Italian video), there are many more!
So today I'd like to introduce you to 7 more.
1 – FALKLAND LAMP
Designed by Bruno Munari in 1964 for the firm Danese Milano, produced by Artemide.
Also known as a stocking lamp, it was born as a hanging lamp; it takes shape from the tension of an elastic mesh tube and the weight of 7 differently shaped cylinders.
It has a single bulb with an aluminum reflector.
Munari took a cue from Japanese paper lamps to create this lamp, improving it, of course!
Unlike paper ones, the elastic mesh is less easily ruined, does not yellow, and most importantly, is washable!
Little curiosity the stretchy mesh is a real tights! In fact, Munari himself shared that one day he went to a sock factory to see if they could make him a lamp; these replied that they did not make lamps, and he said: "you will see that you will make them!"
This lamp now exists in three different sizes hanging 165, 85, and 53 cm high.
And it also exists as a floor lamp with a height of 195cm.
It is on exhibit at MoMa New York in the Architecture and Design department.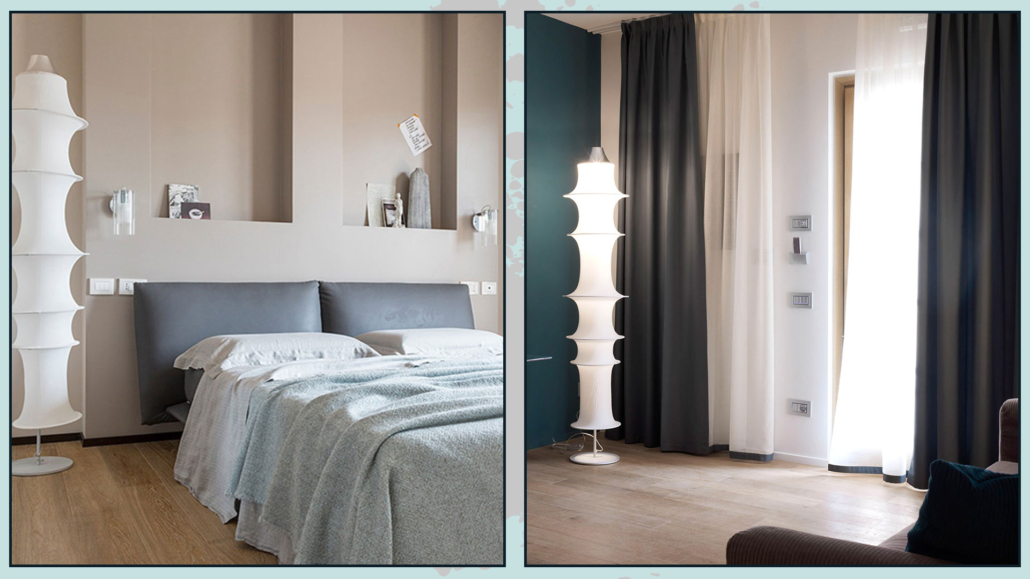 (credits: Artemide)
2 – BAT LAMP
Designed by Italian architect Gae Aulenti in 1965 and produced by Martinelli luce.
It is a height adjustable lamp and exists as both a table lamp and a floor lamp.
The diffuser, made of methacrylate, was obtained by molding techniques that were truly innovative at the time.
Also, the conical base spreads upward by widening into the ribs of the diffuser, just like the unfolding of bat wings.
And the telescope is in steel, and the base and knob are painted metal, now available in 7 colors.
With this lamp, Gae Aulenti returns to natural and organic shapes with a somewhat Liberty soul, moving away from the rigid and rational forms of the period.


(credits: Martinelli luce)
3 – BOURGIE LAMP
It is a relatively new lamp designed in 2004 by Ferruccio Laviani for Kartell.
It is a lamp with baroque shapes, but made of a decidedly modern material, polycarbonate.
This classic-modern mix makes this lamp appeal to people of even distant generations!
It exists in three versions that change according to the height of the shade, making this lamp very versatile and suitable both as a floor lamp and a table lamp.
Perhaps the best known version is the clear one, but you can now find it in different colors!
Fun fact: The idea of creating this lamp came to his creator while listening to a song!
This song is "Bourgie, bourgie" (after which the lamp takes its name) by Gladys Knight & the Pips, famous in the 1970s.
The song poked fun at the bourgeoisie of the time, described as sulky, ambitious, and contemptuous!
So here, Laviani decided to ironically reinterpret classic and formal shapes which have been untouchable until then.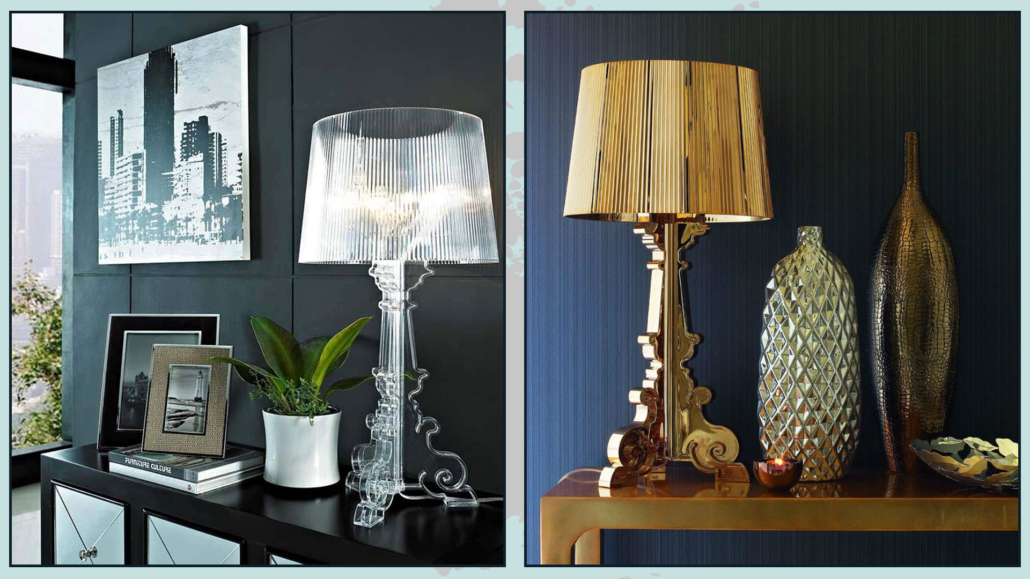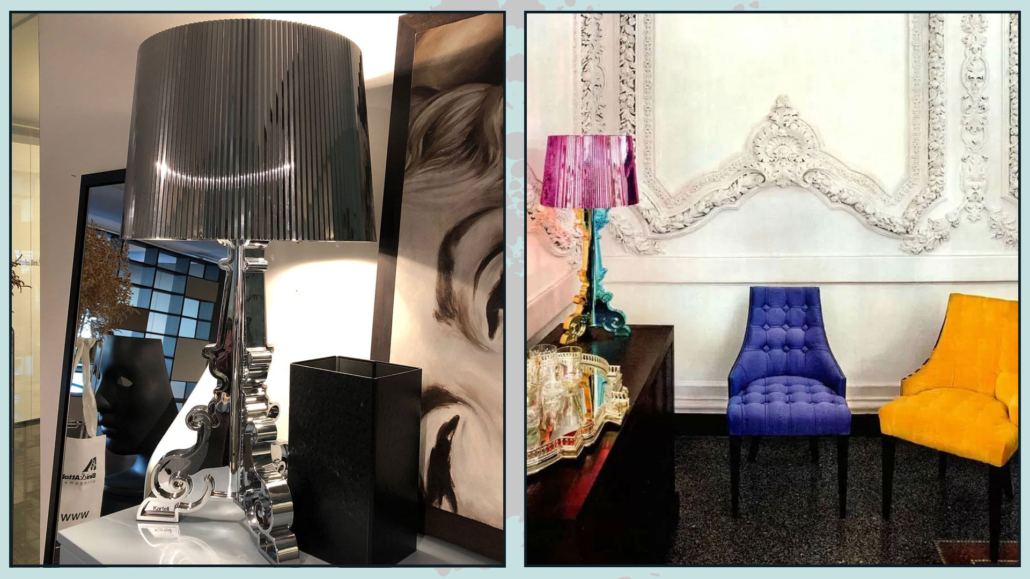 (credits: Kartel)
4 – CABOCHE
Designed by Patrizia Urquola and Eliana Gerotto in 2005 for the Foscarini brand.
The two designers take their inspiration from a Bakelite bracelet from the 1930s, creating a series of lamps consisting of spheres made of plastic material, the polymethylmethacrylate, blown glass, chrome-plated metal, and aluminum.
Even the name of the lamps harkens back to jewelry making; caboche, in fact, is a technical term for one of the cuts (the most well-known one) for diamonds and precious stones.
It exists in multiple models: as a pendant, table, and floor lamp, and as a wall sconce.
All these models are available in different sizes and two versions: transparent and golden yellow.
The pendant lamp is suitable as both an ambient and punctual light: in fact, it emits direct light both upward and downward, but at the same time projects it diffusely through a white frosted glass; its spheres then create a magical mosaic on the walls!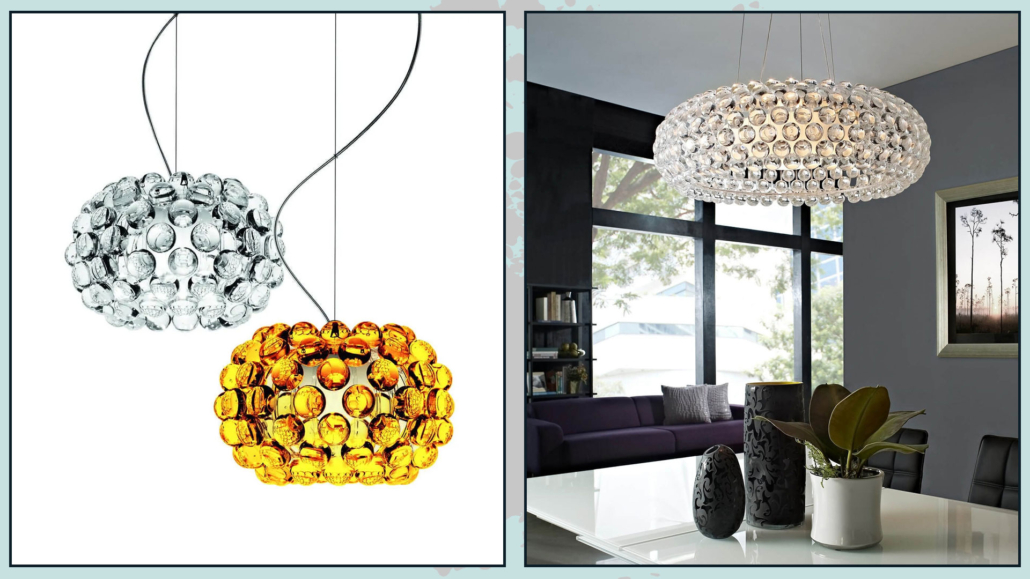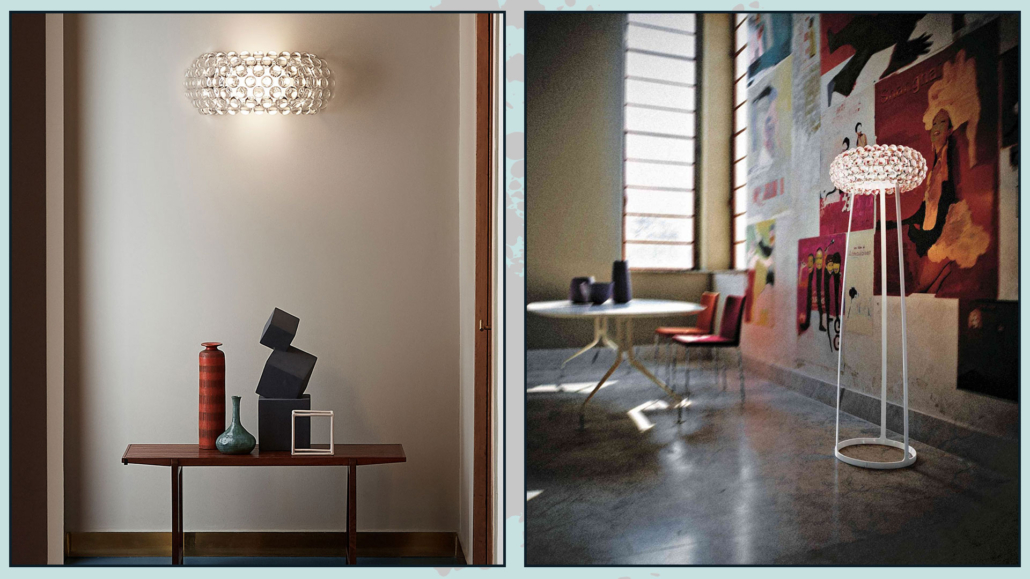 (credits: Foscarini)
5 – TOLOMEO
Designed by Michele de Lucchi and Giancarlo Fassina in 1986 for the Artemide brand.
The two designers want to innovate the classic pantograph table lamp by comparing themselves with two other icons of the period: the Anglepoise lamp and the Nasca Loris lamp (from the latter, Pixar takes inspiration for its logo).
They changed how the lamp can be balanced and stopped in the desired position by replacing steel springs with steel cables and joints that keep them in tension; they also used aluminum for the structure.
These two fundamental changes make the lamp very light, eliminating the need for additional types of treatment, thus reducing production costs as well!
Tolomeo desk lamp won the Compasso d'oro ADI award in 1989 and is the best-selling lamp ever: an icon of simple and elegant hi-tech furniture.
Little trivia: In an interview conducted on the occasion of the 30th anniversary of the project, De Lucchi tells a curious anecdote: "Tolomeo, at that time, was not yet called that because the name was decided the night before it was presented at the Salone del Mobile. Ernesto (Gismondi, ed.) used to make a list of names every year, and Tolomeo seemed to us to be the most suitable character to represent the lamp because he was an astronomer, and a mathematician, in short, he was the one who best fits the idea of a scientific mindset."
In its 30 years of life, Tolomeo also became a floor lamp, wall lamp, and pendant lamp, managing to adapt to new technologies, such as the switch to LED, while maintaining its essence!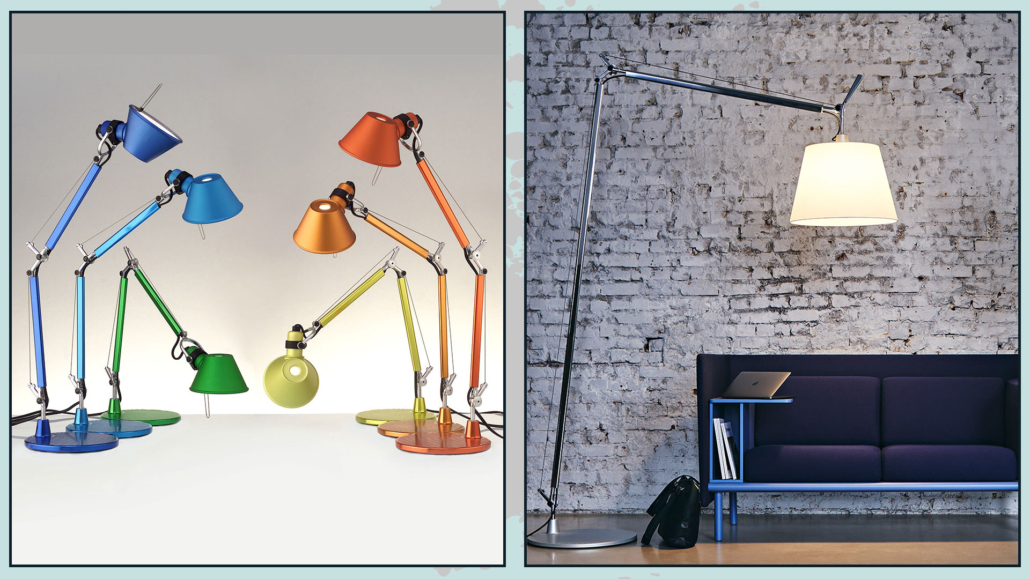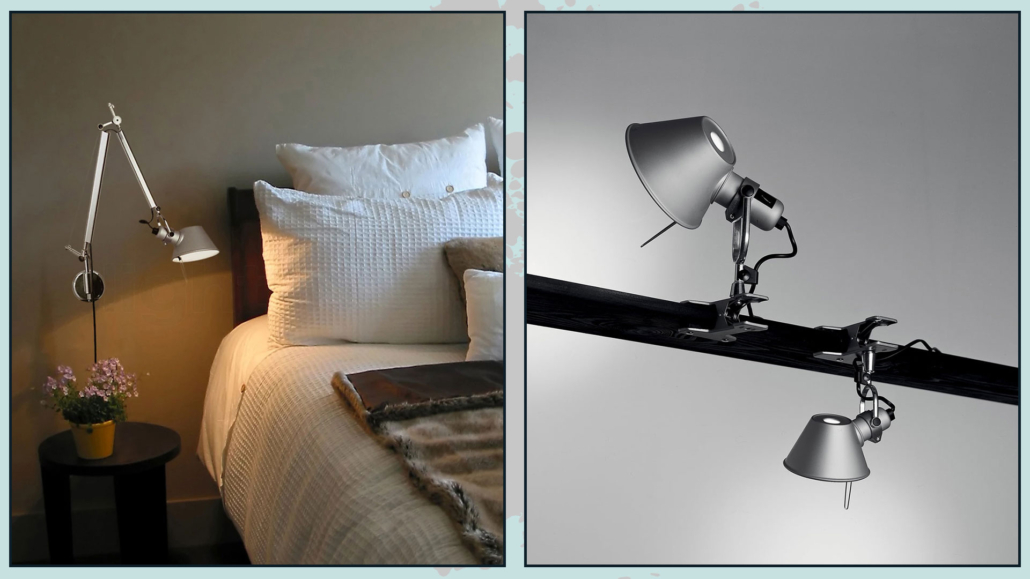 (credits: Artemide)
6 – FORTUNY
Designed by Mariano Fortuny y Madrazo in 1907 now produced by Pallucco.
The idea starts from the need for indirect and diffuse light in a scenic environment.
Mariano Fortuny studied lighting in depth, above all stage lighting, where he understood that the correct use of fabrics could create soft, diffuse light.
The rays of light are not projected directly onto the subject but reflect off the umbrella, returning a softer beam of light.
His knowledge then in photography led him to use the three-foot structure as a support for the umbelliform lampshade.
The lampshade is adjustable, which allows you to use the light according to your needs.
This lamp exists in three versions: Century, Moda, and Ornaments, each with different characteristics in terms of color and dimensional aspects.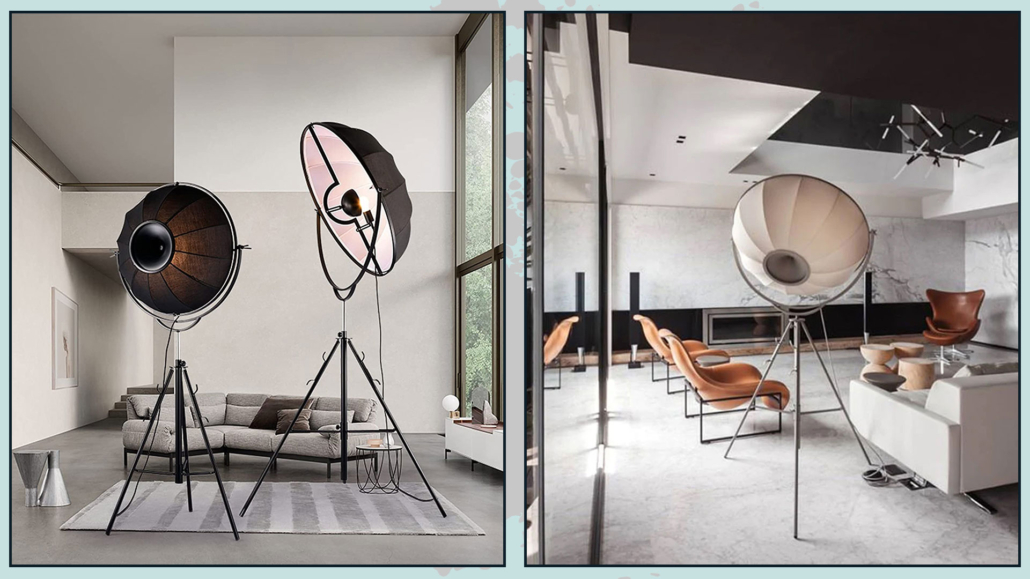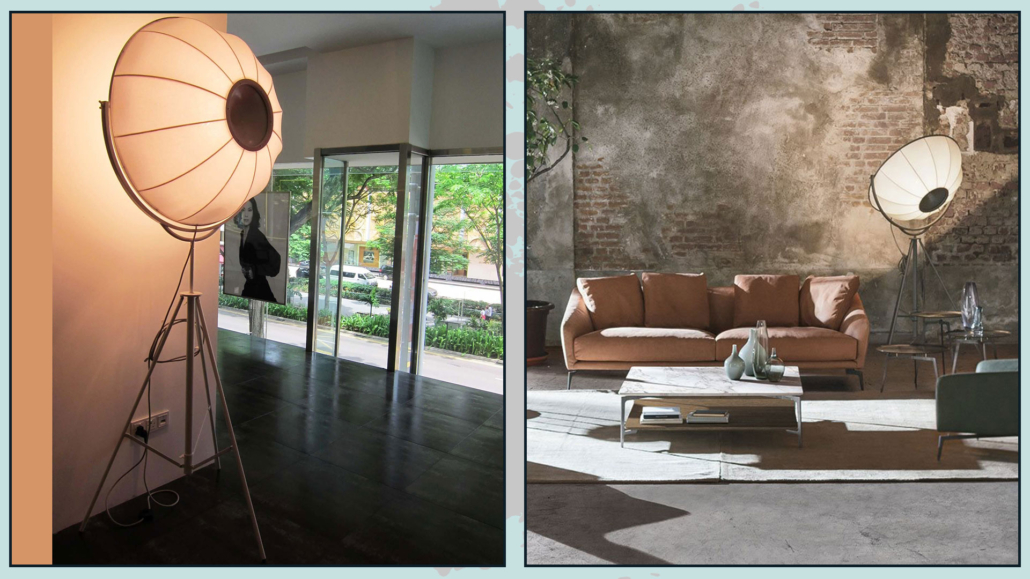 (credits: Pallucco)
7 – TETATET
Created by Davide Groppi in 2013 for the brand of the same name.
It is a portable and rechargeable LED lamp that is small and discreet, with a magnetic base.
It comes after Groppi's experience in the restaurant business, fulfilling the desire to see the light as one of the ingredients used in the kitchen.
Its small size allows you to put one at each table.
The designer considers it his best project, which is probably a shared thought since it received the XXIV ADI Compasso d'Oro Honorable Mention in 2016.
Little trivia: it is used for the mise en place of many starred restaurants, above all Carlo Cracco's in Milan!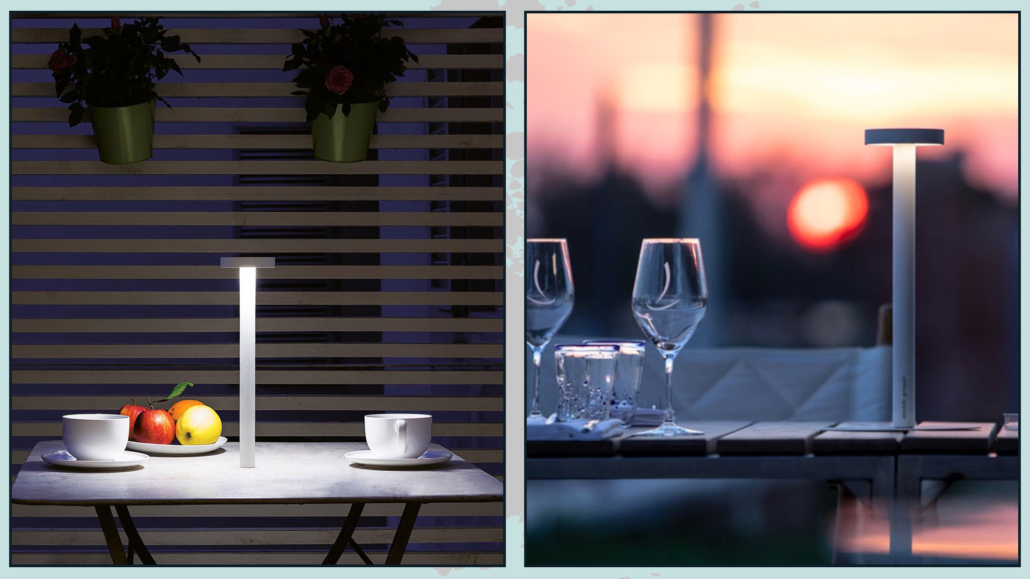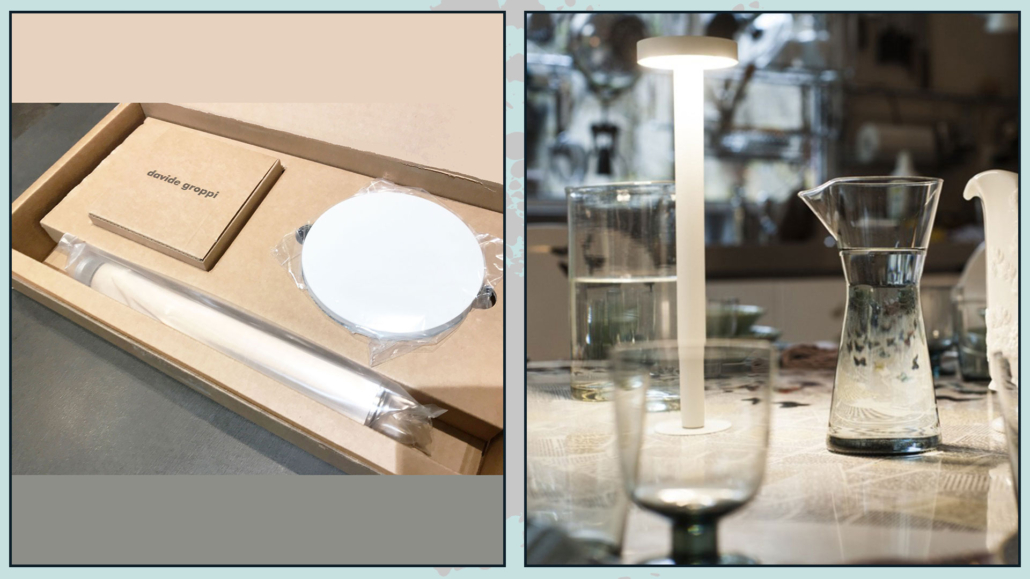 (credits: Davide Groppi)
I hope this article was helpful and you love it; in case, let me know in the comments!
Feel free to share it with anyone you think might be interested, I will be honored, and it will help me get my name out there.
If you feel that your home, or some environment of it, does not reflect you enough, do not wait any longer and book your consultancy!
This post is also available in: Italian
https://www.viverelostile.com/wp-content/uploads/2022/11/lampade-di-design-famose.jpeg
682
1023
Virginie Simonet
https://www.viverelostile.com/wp-content/uploads/2021/02/logo_vivere-lo-stile.png
Virginie Simonet
2022-11-22 12:58:43
2023-01-14 16:55:15
Design elements: 7 famous designer lamps to know