A year or so ago, I talked about 15 Ikea items that, while remaining affordable, could give that refined touch to the home without making it clear where they came from…
Well, today, I would like to add new products, always designer approved!
1 – APPLARYD
This sofa is relatively recent, and as you can see, it does NOT look like an Ikea couch at all!
It has a remarkably minimalist and essential line, and its black steel raised feet lighten it and make it modern and elegant.
Perfect for scandinavian, modern, and contemporary styles.
It exists in two and three seats, and there is the possibility of a three-seater with a chaise lounge.
In Italy, it exists in two versions, gray or beige melange, but abroad it is also found in terracotta red and blue velvet.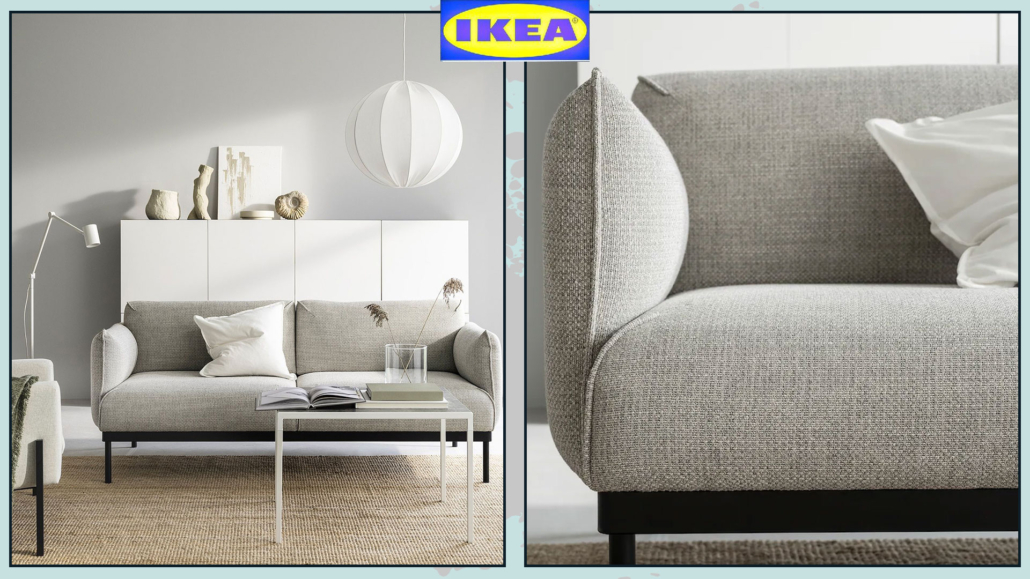 2 – REGISSOR
This sideboard exists both low and as a window cabinet, and there is a white and brown variant.
The lines here, too, are essential and clean, with a handle built into the door, and the raised legs give that light touch.
It really adapts easily to any environment.
Both the cupboard and the window cabinet turn out to be very spacious.
Small idea, which is presented in the store: add light to the window cabinet; this elevates the perception of the cabinet even more, especially if you have unique objects inside; by doing so, you can make it the focal point!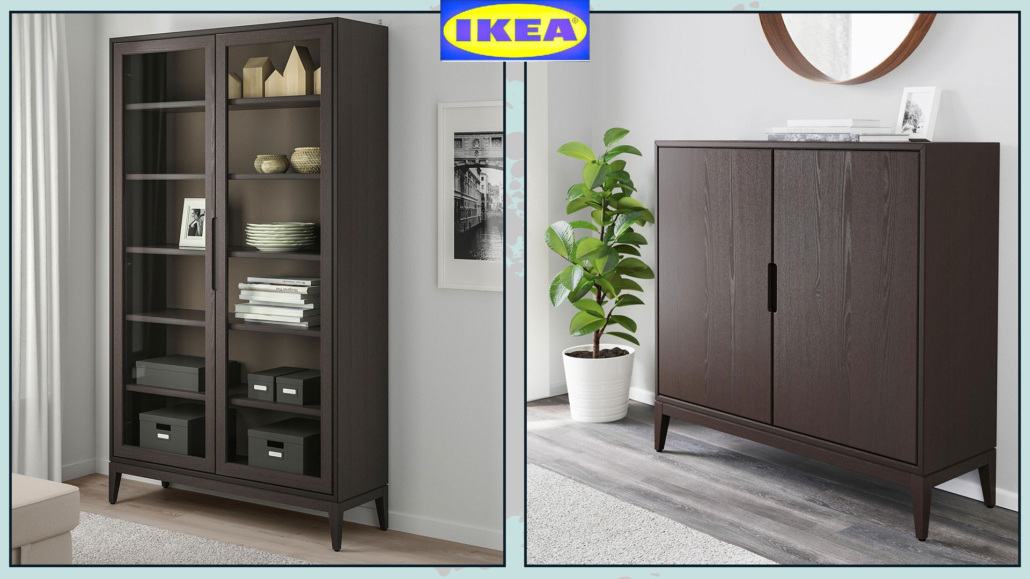 3 – FROSET
It is a really versatile chair, suitable for nordic, japandi, modern, and contemporary styles; it can be put in the room as an extra seat but as an armchair in the living room, too, especially if it is small.
Its organic, essential, and light line does not weigh down the environment; on the contrary!
It exists in natural wood, black, and red.
The black one could be the accent piece that creates some rhythm in the house!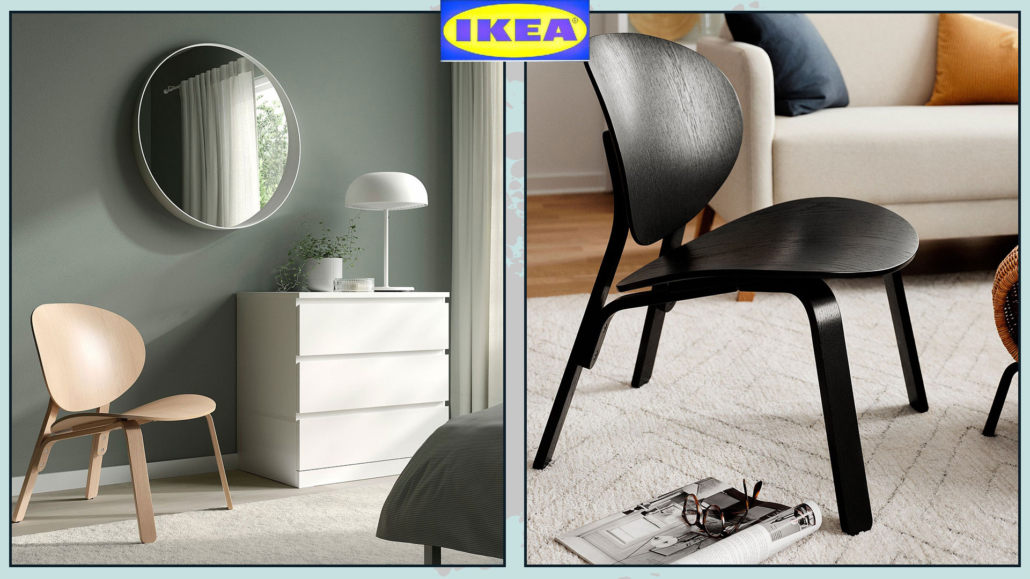 4 – SANELA CURTAINS
As you know for me, curtains are vital, because they dress the environment.
I have also often talked about double curtains, one filtering to let light through but protect the privacy and one blackout or semi-blackout for giving some contrast and rhythm.
If you like the idea, Sanela curtains can really go for you: they have a nice texture and are beautiful to look at.
They exist in a wide variety of colors; undoubtedly, there will be one that suits your home.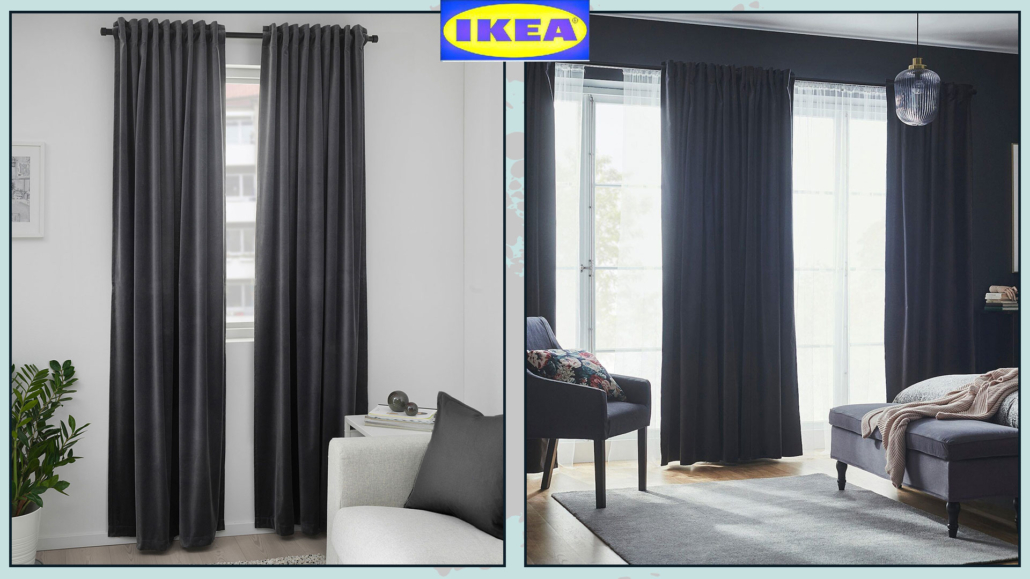 It is a versatile tent because it easily fits on both rods and rails.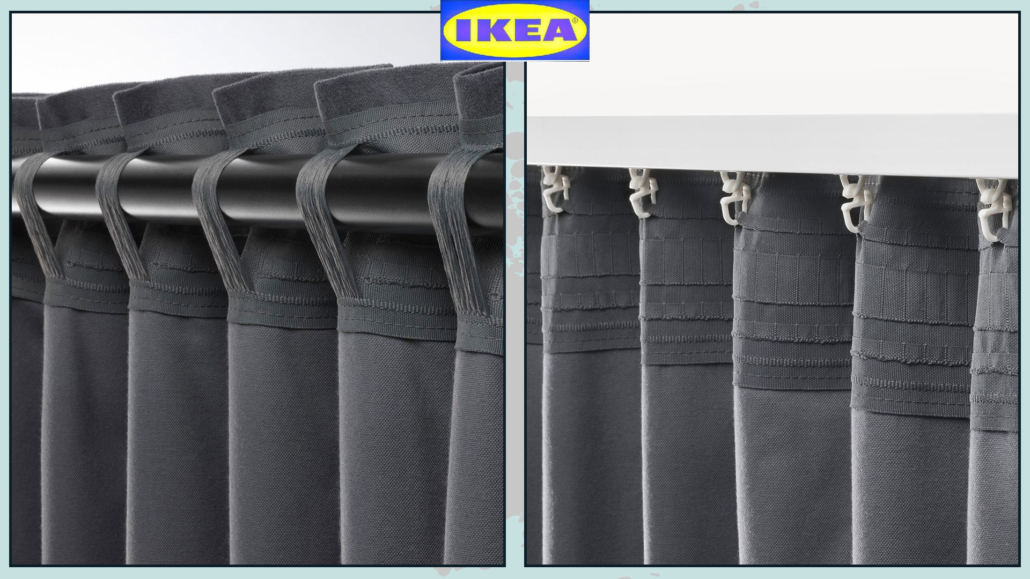 Of this same fabric, then there are also pillow covers, so both in the hall and in the room, it might be a good idea to get at least a couple of pillow covers in the same color as the curtain to make a reminder!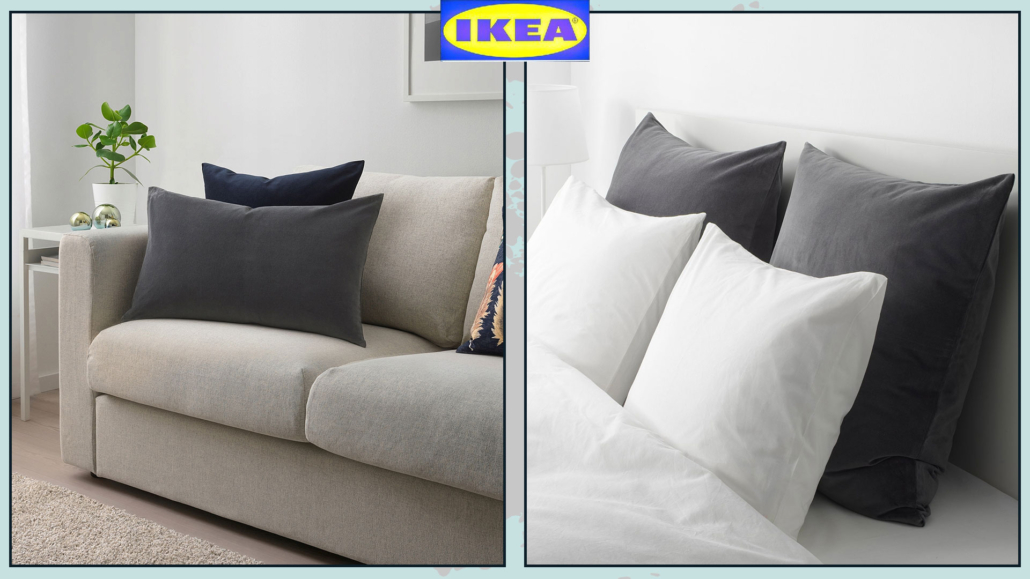 5 – MANALG
The nod to nature is now a growing trend, so Ikea has added pieces made of natural fibers like this wall lamp!
It is a handmade lamp that radiates light up and down and lets it filter through its fibers.
Basically, it is suitable for rustic and japandi styles.
And it brings warmth into the home and is undoubtedly an original piece!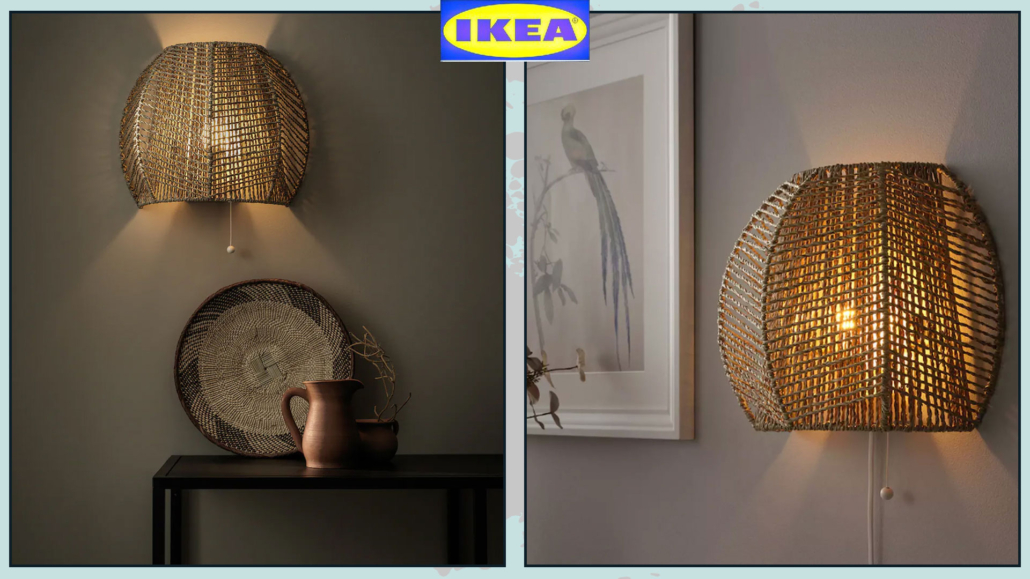 6 – TUFJORD
This bed frame has an organic and enveloping shape!
Its steel legs lighten the structure, which already has an essential line anyway.
It exists in sugar paper color and green velvet.
It is adapted to modern, contemporary, glam, and art deco styles!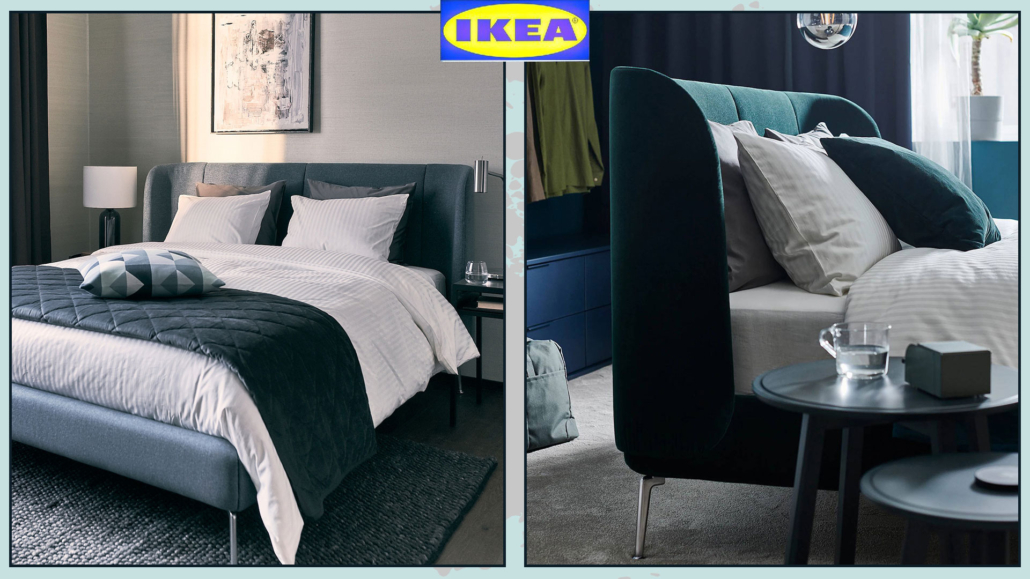 7 – EKOLN SERIES
A few weeks ago, I mentioned how important it was to have dispensers all the same in the bathroom instead of a thousand colored bottles!
Here Ikea offers a series in which there are not only dispensers but also other bathroom accessories.
This series is really very elegant with opaque colors, and can be the right solution and at an affordable price to decorate like a pro!!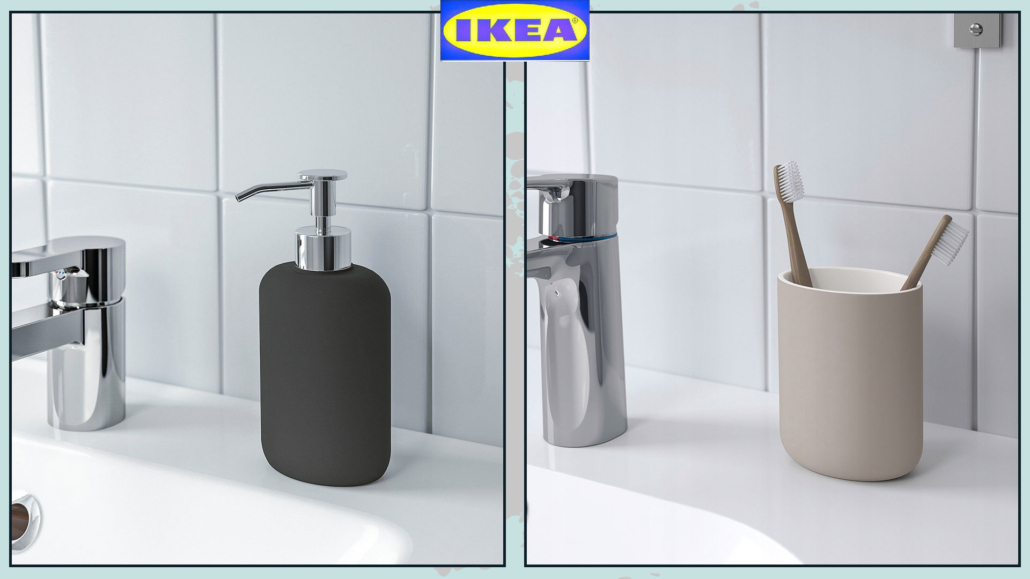 8 – HULTARP
To stay on topic, this series can really elevate and make the kitchen super functional!
Once you've chosen the rails (which exist in black, brass, and steel), then all you have to do is look for the right accessories that allow you to have the things you often use on hand but displayed stylishly!

9 – KONSTFULL
Again in the video a few weeks ago, I talked about the importance of small arrangements of flowers and branches, even if they are fake!
Here Ikea offers a stunning vase for this purpose!
The shape is original, but what makes it distinctive is the frosted glass work that allows you to glimpse inside but giving it an abstract effect.
That is perfect precisely if you have fake flowers because it is usually just the stem that betrays artificiality, so however it will show and not show!
Adding a little water will really make a difference!
From the same series, there are also cylindrical and spherical shaped vases with very natural colors such as smoky and forest green… it can be a lovely and elegant idea to create a composition of these vases!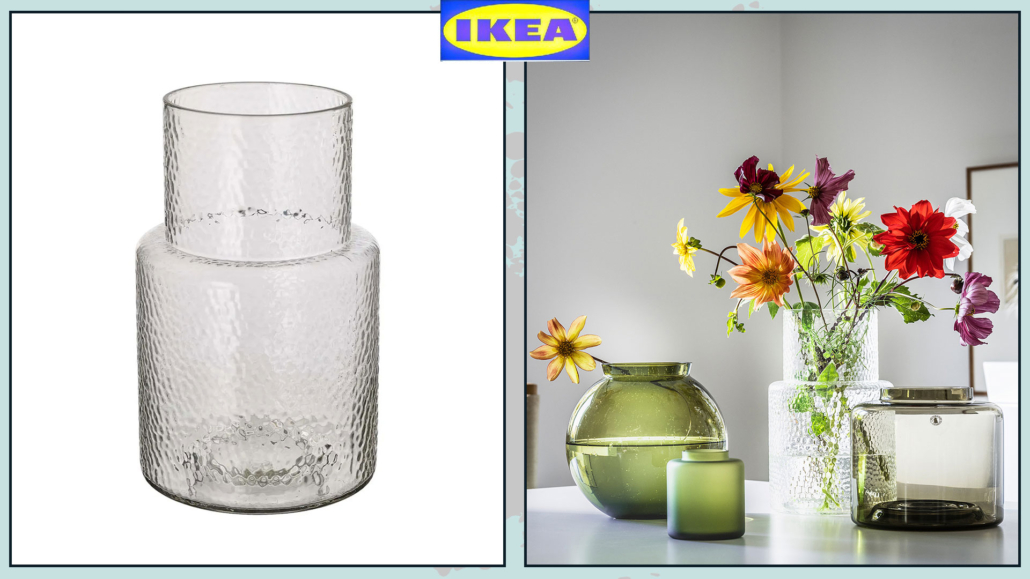 10 – GLASSES
When you get to the glasses section, it is good to stop for a moment because some pieces are quite beautiful!
In particular, I point out storsint, which has glasses for all kinds of drinks (even beer) and a nice decanter too. Of the series, I find the cocktail glass and the champagne glass particularly interesting.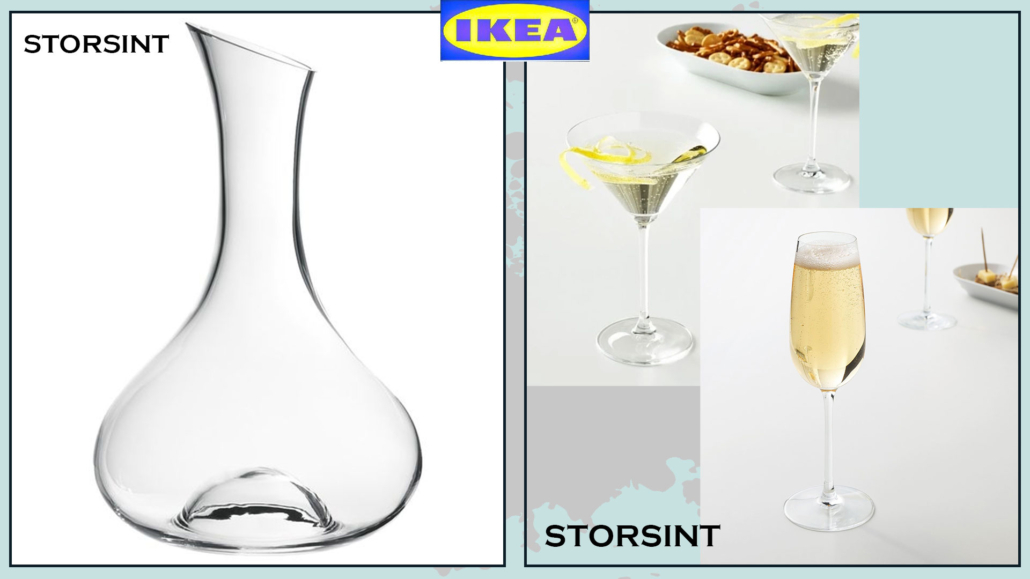 For water, are lovely Ivrig and dyrgrip, which also has captivating red and white wine glasses!
As a champagne glass, I still report storhet!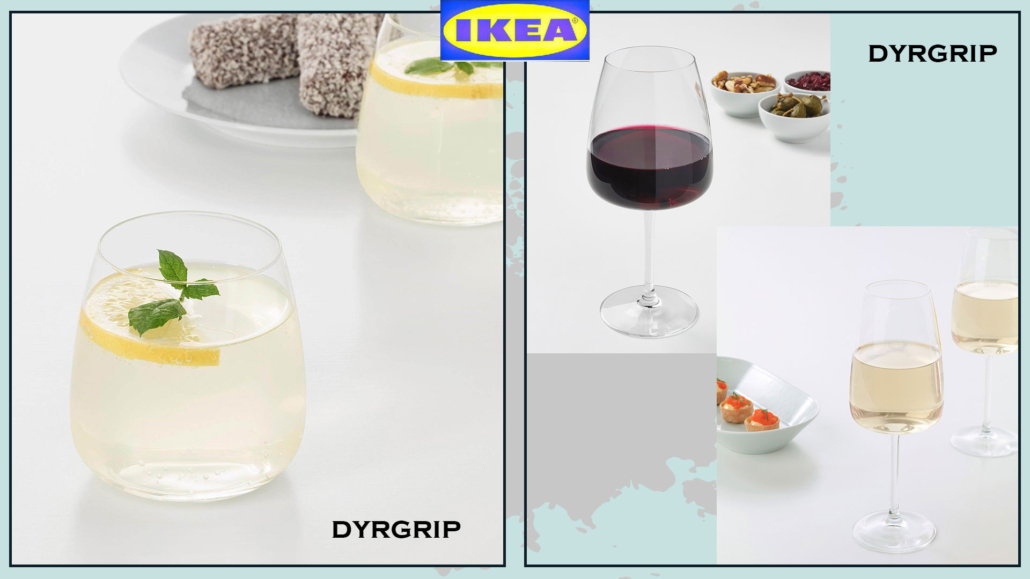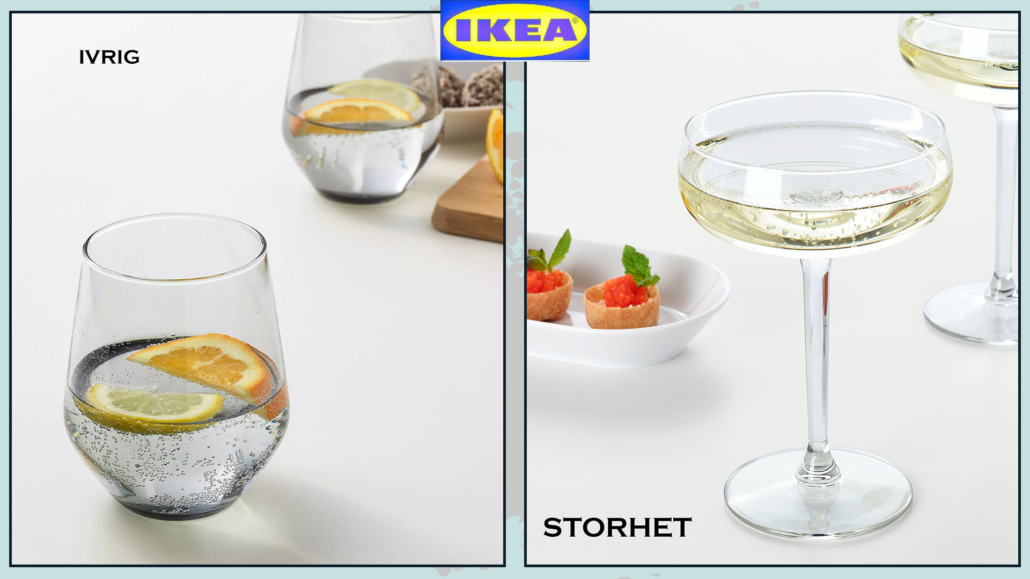 I want to say one more word about Ikea furniture… Don't disdain those pieces of furniture we all know by now because, with a pinch of imagination, you can change them into something unique and original!
There are many ideas online on how to "hack" Ikea furniture: a simple Besta, for example, with different feet and knobs, can really become unrecognizable at a price that is always affordable!
I hope this article was helpful and you love it; in case, let me know in the comments!
Feel free to share it with anyone you think might be interested, I will be honored, and it will help me get my name out there.
If you feel that your home, or some environment of it, does not reflect you enough, do not wait any longer and book your consultancy!
This post is also available in: Italian
https://www.viverelostile.com/wp-content/uploads/2022/11/10-prodotti-ikea.jpg
1152
2048
Virginie Simonet
https://www.viverelostile.com/wp-content/uploads/2021/02/logo_vivere-lo-stile.png
Virginie Simonet
2022-11-14 21:51:36
2023-01-14 16:54:28
10 Ikea items that are designer approved!