Designing the living room seems like a piece of cake, but in reality, it hides little pitfalls that can create settings that seem to lack something!
Today I would like to talk about the big little mistakes often made when designing a living room!
– ATTENTION TO THE DISTANCES BETWEEN THE VARIOUS ELEMENTS
That is a mistake that happens especially when the room is large enough: there is a tendency to arrange the various elements against the walls, even if they are far apart, to fill the space.
The furniture seems scattered here and there, creating dispersion; the room will really look a bit sad and without personality this way!
A living room should be cozy and inviting, encouraging conversation and activities around a central point.
This central point can be the television, the coffee table, or if you are lucky, the fireplace.
However, if you are too far from this central point, or if the various elements are not arranged to emphasize it, the space will look a bit "coarse"!
So try to arrange the main elements to make them somehow linked to each other, perhaps by the rug!
If the space is really that big, you might think about creating different zones, such as a music or reading corner or an even more intimate conversation area…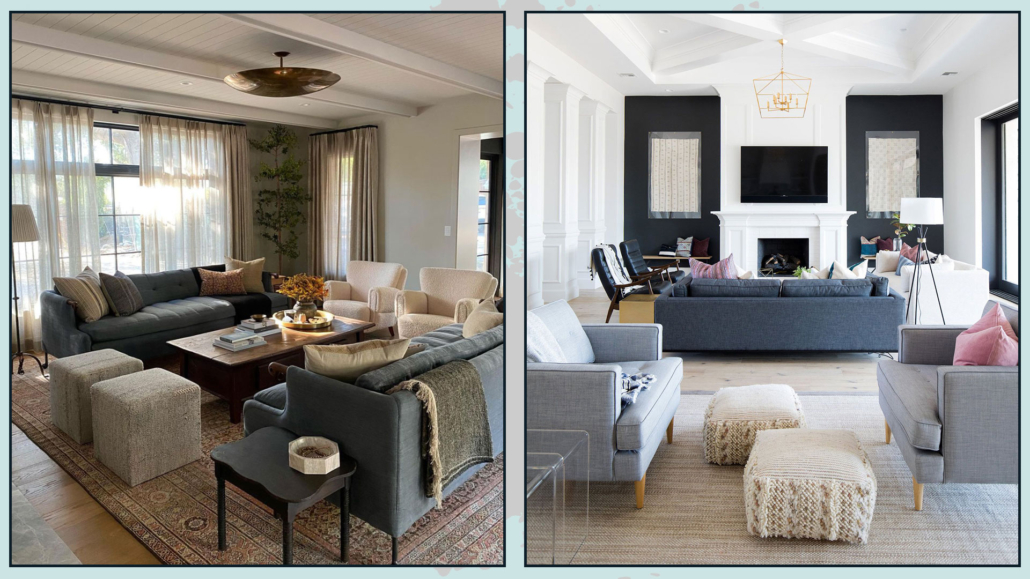 (credits: @amberinteriors; thisisnick.com)
So divide the living room into several areas and remember not to be afraid to put the sofa "in the middle of the room", leaving some passage behind; on the contrary, this is a pretty way to visually expand the space!
If you are lucky enough to have precisely that much space to go around the sofa and armchairs, I recommend decorating the backs!
There are many ways to do this: behind the sofa could be a console table or a beautiful blanket to add warmth and texture!
These small details will make your living room more complete and sophisticated!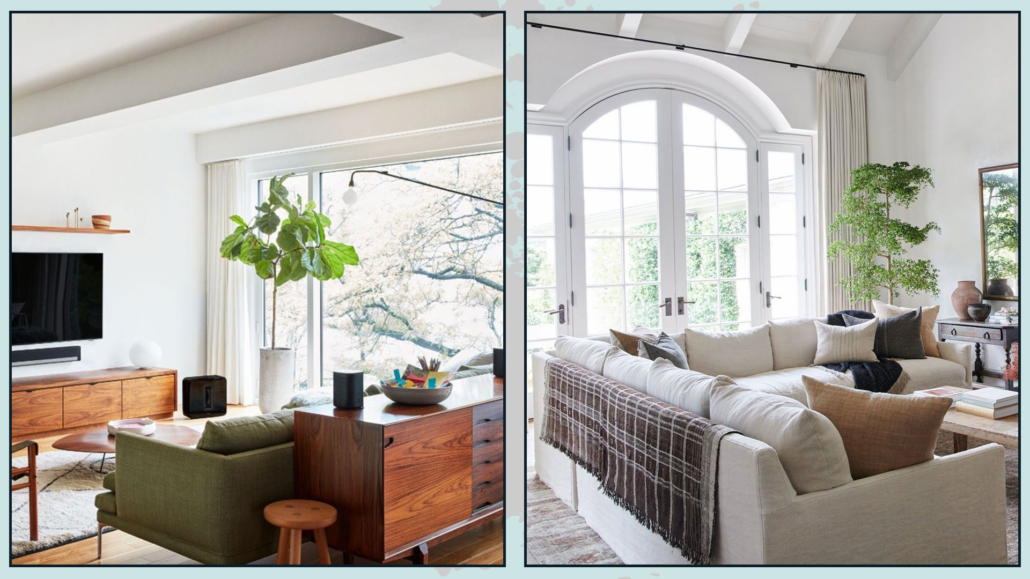 (credits: midcentury585.com; shoppe.amberinteriordesign.com)
– PAY ATTENTION TO THE SIZE OF THE COFFEE TABLE
The coffee table is the element that somehow, along with the rug, links all the others in creating the conversation area.
It is, as well as decorative, a very functional item because it allows you to put down your things, such as your phone, or trays with food and drinks if you have guests!
The mistake that is often made is to get a coffee table that is too small; this definitely ruins the living room furniture design!
Not only does it somehow shrink the space visually as well!
The coffee table should be proportionate to the other elements and should be about two-thirds of the sofa.
A large table, however, could be expensive, but more importantly, it could be inconvenient if you wanted to, for whatever reason, move it…
So here is a simple but effective idea: buy 2 side tables!
It can be two identical coffee tables to place side by side, or you can take a set of 2 or 3 coffee tables of the same shape but different sizes and heights!
That will make it much easier for you to maneuver them, even if it's just for cleaning, and it will give some rhythm to the conversation area!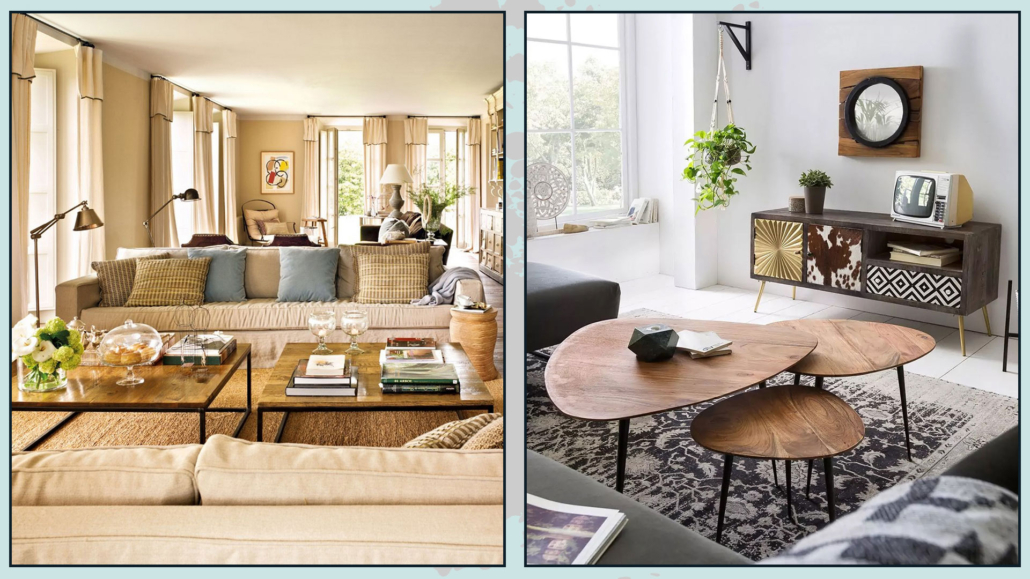 (credits: Isabel López-Quesada; vemzu.sk)
– PAY ATTENTION TO THE POSITION OF THE RUG
If I tell you that when getting a rug for the living room, it is paramount that it be large enough to fit under at least the front feet of the various elements to create a cozy conversation area, I am not telling you anything new.
However, there is another aspect to take into consideration, namely orientation!
The rug, which is most often rectangular, should follow the space's shape.
If you turn it in the opposite direction, you will create a kind of barrier and visually shrink the space!
The rug should really be large and cover the floor abundantly and tie together the main elements such as the sofa, armchairs, and coffee tables!
It is, therefore, paramount first to consider the layout of the room, take a rug that follows this shape and arrange the various elements to create something functional and harmonious.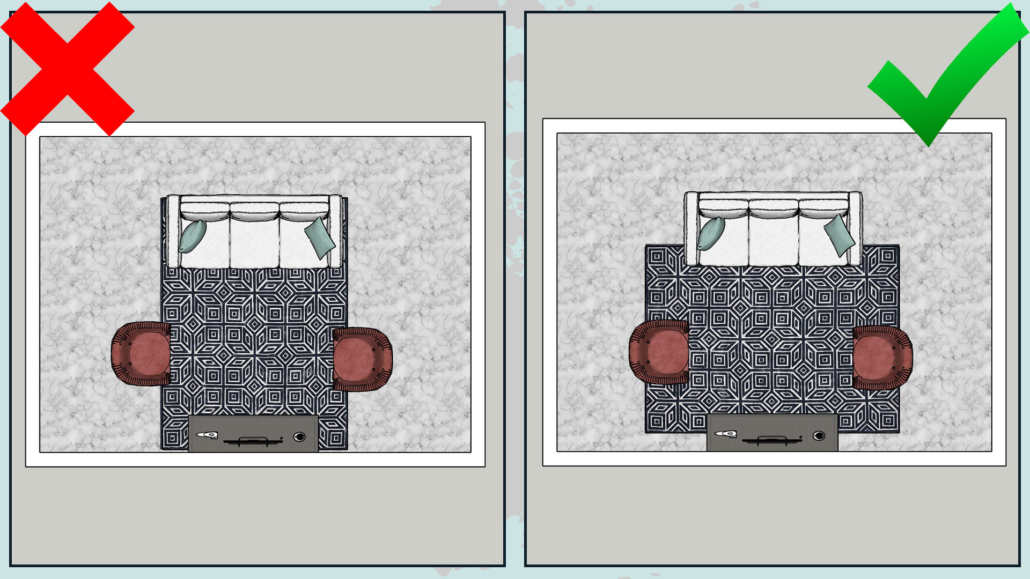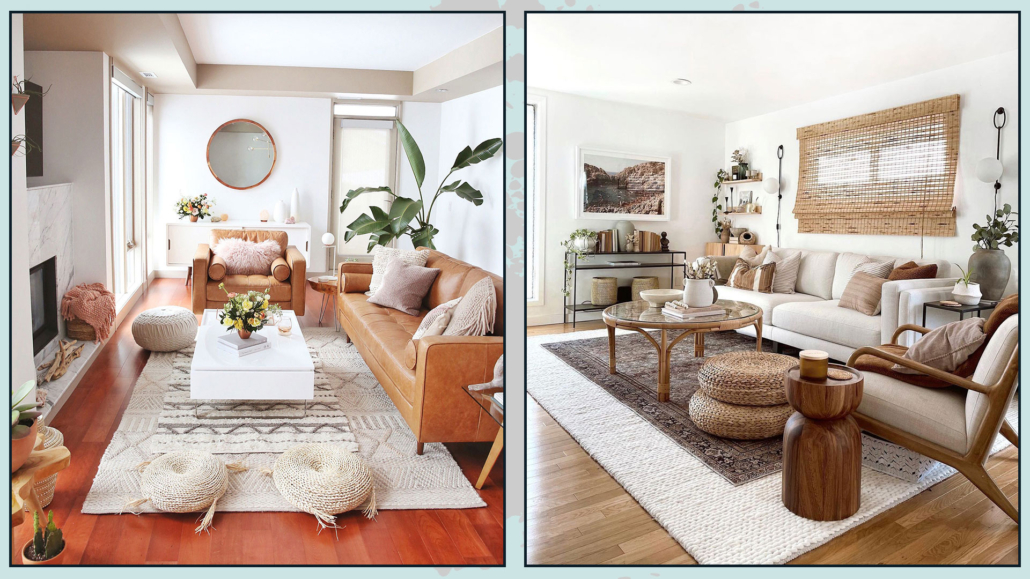 (credits: justinecelina.com; @indiebohonest)
– THINK ABOUT STORAGE!
Another mistake in living room design is not thinking enough about the elements to contain!
For functional and comfortable rooms, it is really essential to have storage elements to arrange everything that is not purely decorative.
For this reason, it is better to have closed elements to make the environment more linear and clean.
If the space is small, you can think of a storage coffee table or, directly, a storage sofa.
Of course, you can add baskets, which will also, as we have seen other times, give a warm touch to the living room!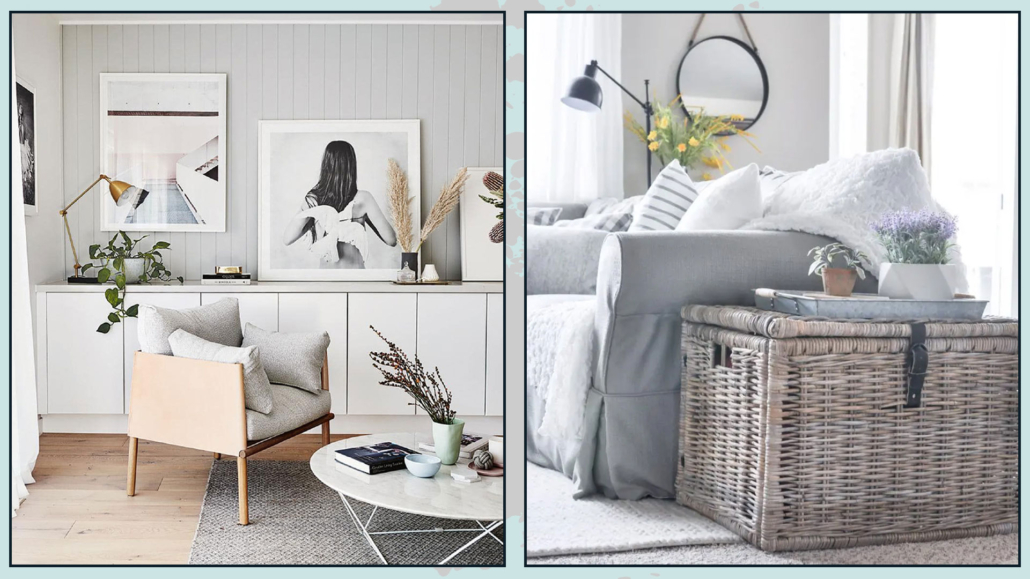 (credits: homestolove.com.au; cherishedbliss.com)
– DO YOU HAVE TWO SOFAS? BE CAREFUL HOW YOU POSITION THEM!
You may have two identical sofas, perhaps a three and a two-seater, and when you have these two items, it is actually common to see them placed angularly, perhaps with a small table or lamp in the corner.
Now, this is not a literal mistake, and sometimes you can't really do otherwise; but it does make the living room a little monotonous and unbalanced.
When you have two identical sofas, it would be much better to put them facing each other and possibly add seating on the sides; it would make the living room look more sophisticated!
On the other hand, if you are forced to put the sofas perpendicularly, think about the possibility of taking a single corner sofa, it would make everything a bit more harmonious!
Or choose two sofas that are different because the play of different colors and shapes will break the monotony and look like a design choice!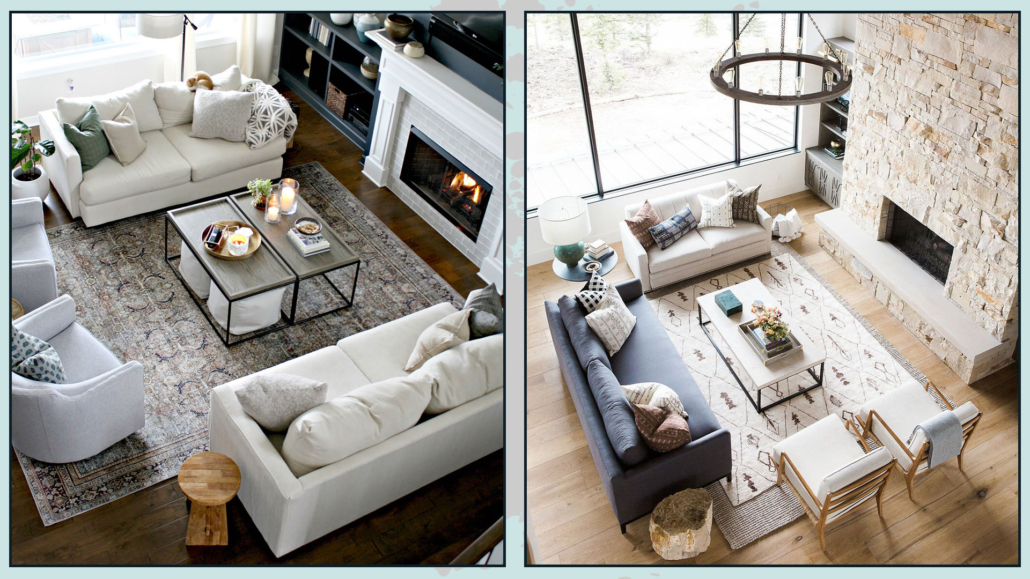 (credits: thriftydecorchick.com;studio-mcgee.com)
– BEWARE OF VISUAL WEIGHTS!
Another thing to pay attention to, when designing a living room, that is not always done is correctly balancing the furniture's visual weights!
What do I mean by that? I'll tell you right now!
There are huger and visually heavier pieces of furniture than others: for example, a sideboard and a sofa versus a seat and a lamp…
That is also true when it comes to heights!
It is a mistake to put "heavy" furniture grouped together on one side and the others on the other.
Instead, it is paramount to balance and alternate weights and heights for an environment that is truly harmonious and inviting!
So, if, for example, you have a large piece of furniture on one side, it is essential to balance it on the other, perhaps with the sofa and a lamp or a beautiful tall plant.
To balance, also color theory can help: colors like red and yellow have very powerful visual weights, and small doses of that color can help balance a somewhat massive element on the other side!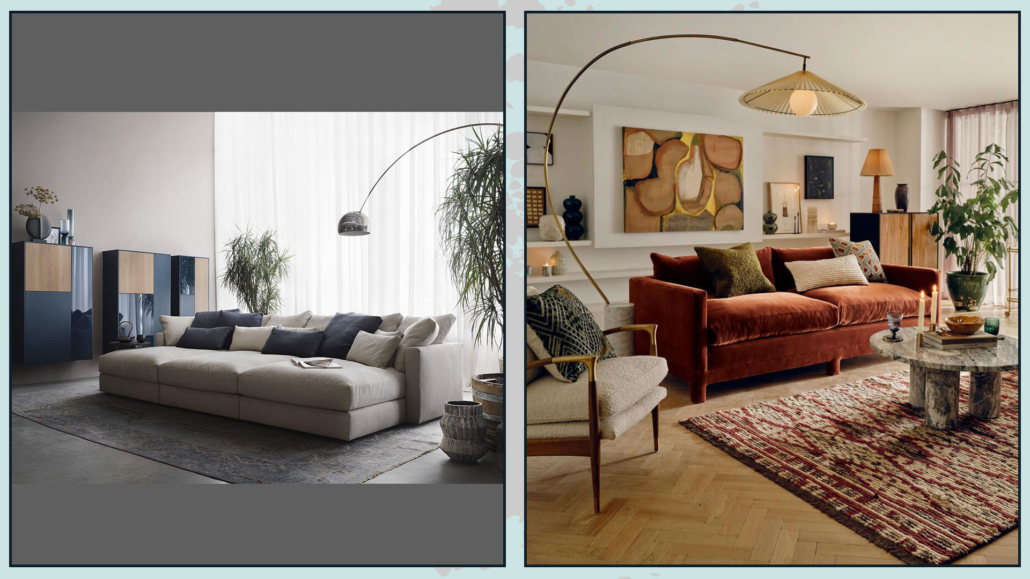 (credits: lemamobili.com; sohohome.com)
– ATTENTION TO LIGHTING
By now, you've heard me say it many times: the light is what makes the difference in a good design project!
It is s always important to have multiple lighting points, but it becomes even more so in the living room to create the right atmosphere!
Even if it were a beautiful chandelier, general ceiling lighting is absolutely not enough!
When designing a living room, it is also good to consider floor and table lamps.
That is to provide depth and create some atmosphere making the space inviting and comfortable, as well as functional!
In fact, you can turn on the light(s) you need depending on the activity at hand!
Earlier I talked about decorating the back of a sofa when it would be away from the walls, and I talked about console tables… there it might be a great place to put a beautiful lamp.
Of course, you have to be careful about the wires: you should not see them, so if you have to renovate, you might even think about putting an outlet on the floor!
(This is one of the reasons I am so insistent that it is paramount to do a detailed project, including the furniture, when remodeling your house).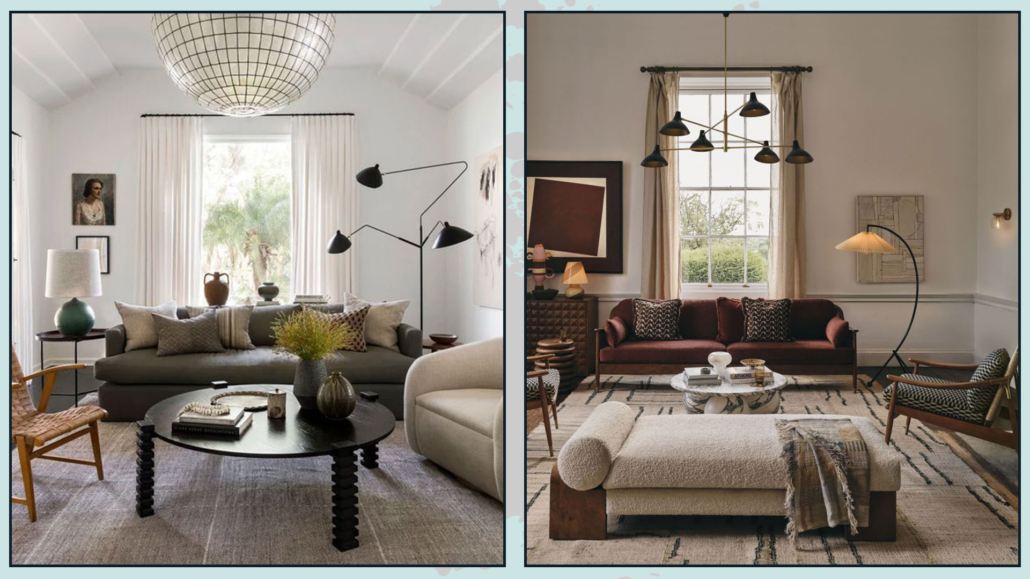 (credits: katiehodgesdesign.com; Soho Home)
I hope this article about the mistakes one can do designing a living room was helpful and you love it; in case, let me know in the comments!
Feel free to share it with anyone you think might be interested, I will be honored, and it will help me get my name out there.
If you feel that your home, or some environment of it, does not reflect you enough, do not wait any longer and book your consultancy!
This post is also available in: Italian
https://www.viverelostile.com/wp-content/uploads/2022/12/errori-profgettare-soggiorno-scaled.jpg
1707
2560
Virginie Simonet
https://www.viverelostile.com/wp-content/uploads/2021/02/logo_vivere-lo-stile.png
Virginie Simonet
2022-12-26 12:42:39
2022-12-29 12:53:23
7 mistakes you make when designing your living room!