The blind bathroom, i.e., without windows, is provided for by Italian regulations if it is a second bathroom or the only bathroom if the house is small with only one bedroom.
Today I would like to share with you some tips on making this type of bathroom beautiful and functional.
– AERATION
The first and most important thing to think about for a blind bathroom is to provide proper aeration.
That is required by regulations to prevent the accumulation of bacteria and viruses, unplesant odors, and mold in the air, which would make the environment unhealthy.
There are multiple types of aeration:
– through aerators;
– forced mechanical ventilation.
The aerators can be of different types; usually, it is activated by turning on the light.
They have a suction unit, with a fan, inside the bathroom and an evacuation duct with a backstop damper so that not only the air does not go back, but no insects can enter.
In new-generation houses, forced mechanical ventilation is used, which has much the same function, but also has vents for fresh air to enter from outside: this helps to create less condensation.
Especially in the case of normal aerators, you could also use dehumidifiers and even specific paints to prevent mold growth due to moisture.
If you decide on a suspended ceiling, remember to use drywall specifically for wet environments, i.e., the green one!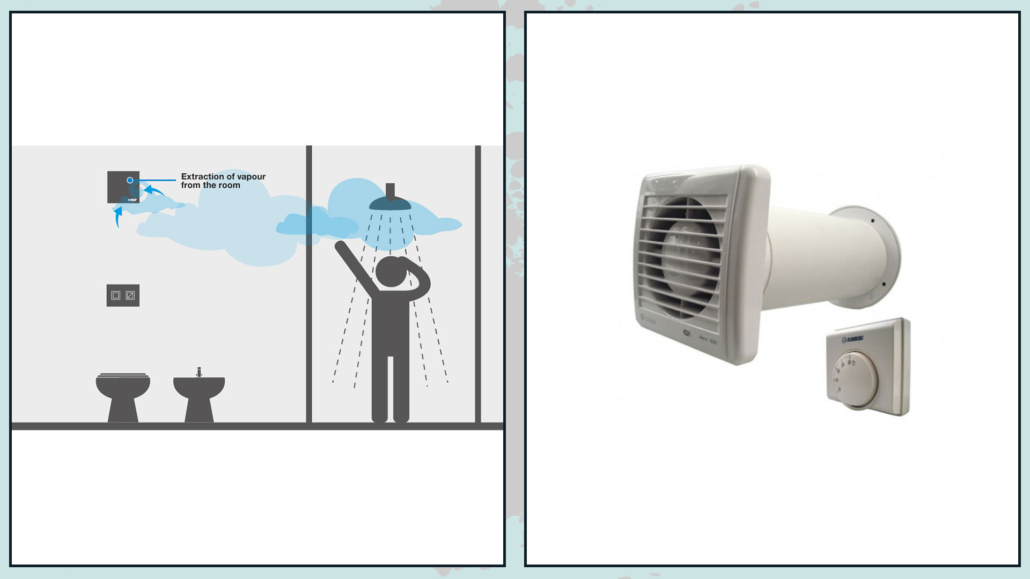 (credit: stilebagno.com)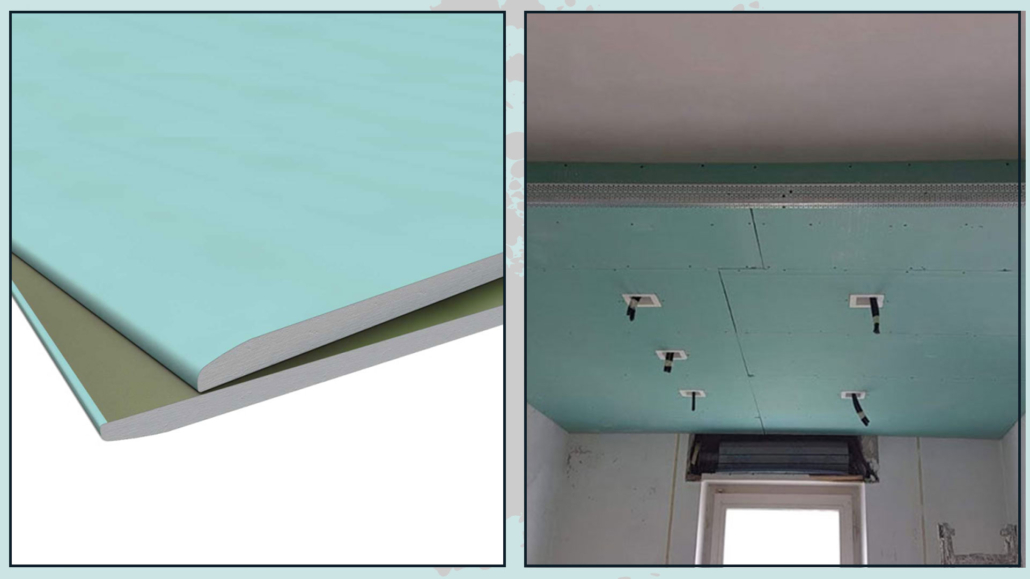 (credit:Knauff; imbiancaturedipipimirko.it)
– LIGHTING
Once you have thought about aeration, you will need to think about proper lighting!
In this case, more than ever, it is paramount to have multiple sources of lighting which you can manage as needed.
If you can do a suspended ceiling, you will obviously have more leeway, perhaps putting in recessed spotlights!
You will also need point lighting at the mirror anyway; perhaps think about the possibility of getting illuminated mirrors!
You can think about light cuts on the walls to give that extra touch or create niches with integrated lighting.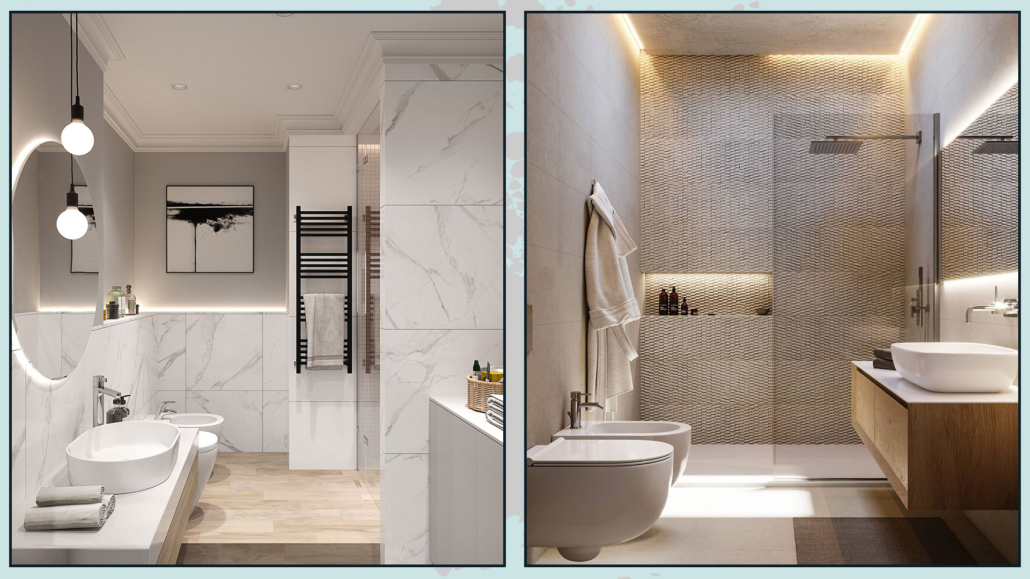 (credits: behance; ernesto.it)
Also very scenic is the lighted shower: color therapy has been catching on a lot in recent years and is a way to bring light and movement.
Finally, if you have the vanity unit raised, you can think of adding the light under it to give it some depth as well!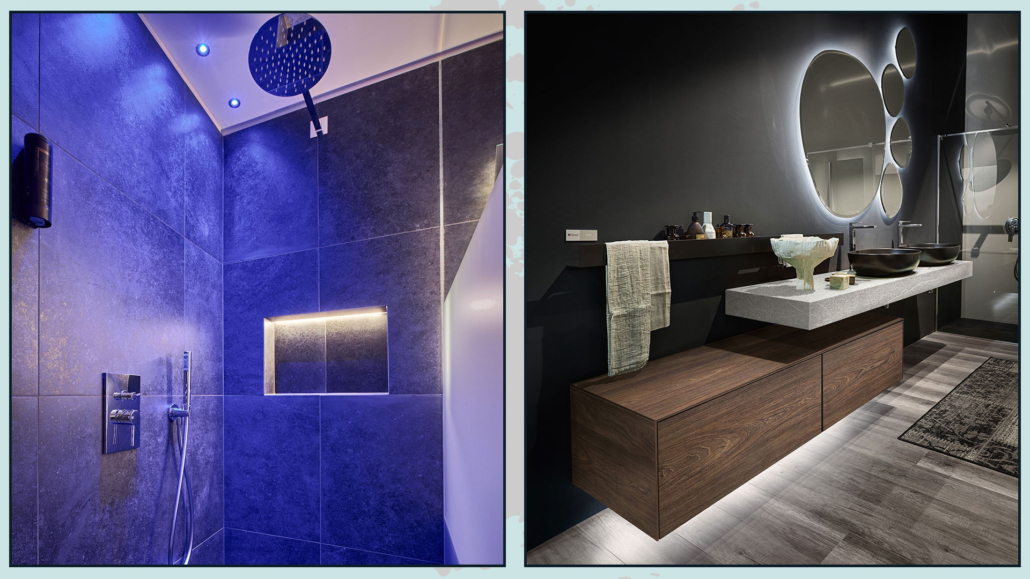 (credits: sanikal.com; deghishop.it)
– FURNISHINGS
Usually, the blind bathroom is also tiny, so it will be vital to take measurements correctly to place the various fixtures and fittings properly!
Therefore, the ideas about small bathrooms I shared apply; find the video here.
Being dark, I suggest using reflective surfaces, if not in the actual furniture, at least in the handles: this is to help increase the light, even if it is artificial.
Try to use furniture with simple, light shapes to avoid weighing down the room, and if by chance you also have a washing machine, try to enclose it in a cabinet, again, to maintain visual simplicity.
For the same reason, a shower stall or bathtub should have no framing, or at least it should be minimal and thin.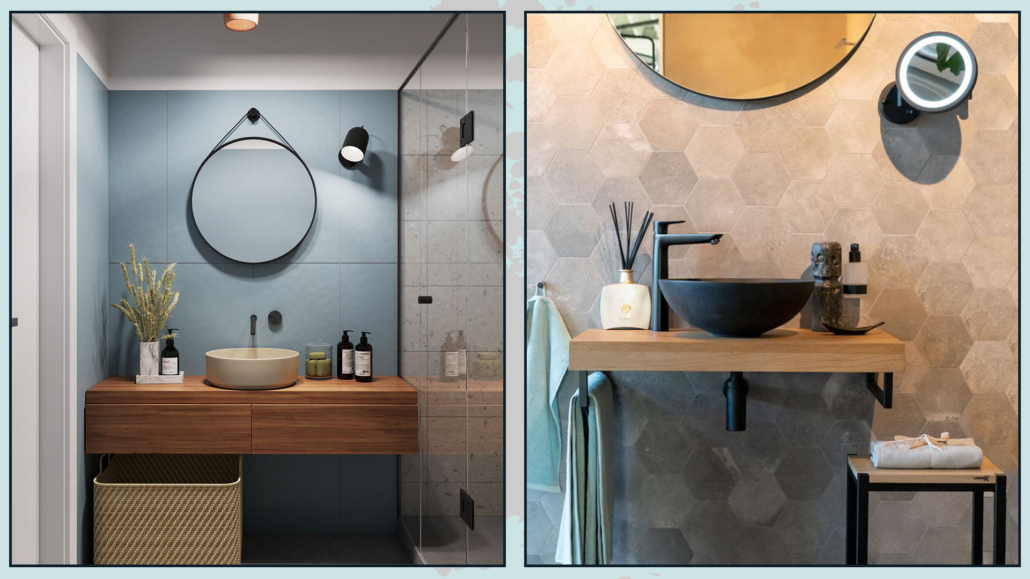 (credits: Sonia Meneghin; looox.nl)
– COLORS
In a blind bathroom, light colors would be preferred to give breath due to the fact that they will reflect artificial light better.
But, as we have seen for small bathrooms, indeed, dark colors will help give depth!
The decisive thing actually will be to avoid strong contrasts as much as possible!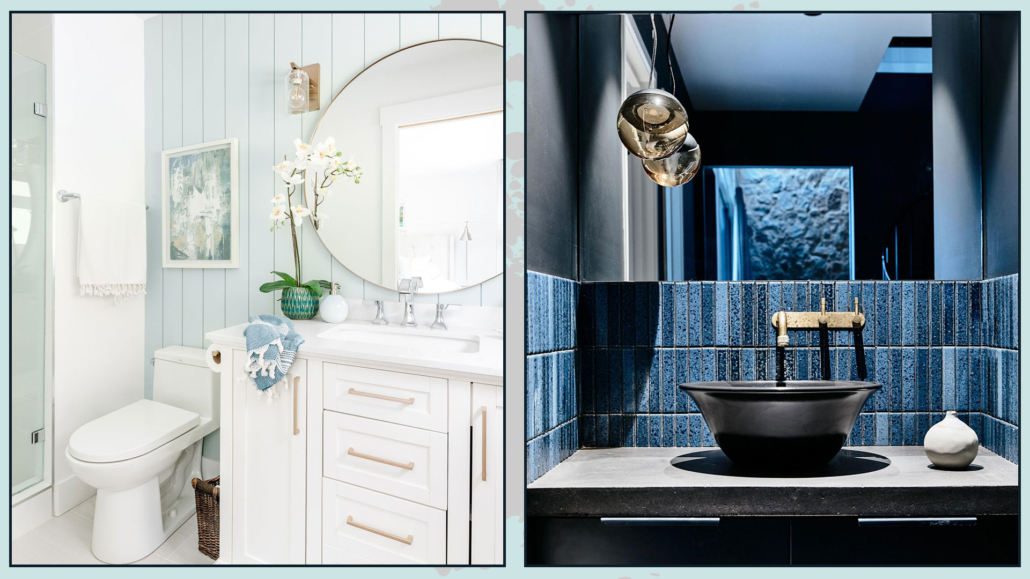 (credits: thehappyhousie.porch.com; homedit.com)
– COVERINGS.
It will be paramount, in a blind bathroom, to use durable and water-repellent materials such as ceramic and porcelain tiles.
In order not to weigh down, again, as also suggested for small bathrooms, it is good to use large pieces to limit the sight of joints that create visual clutter!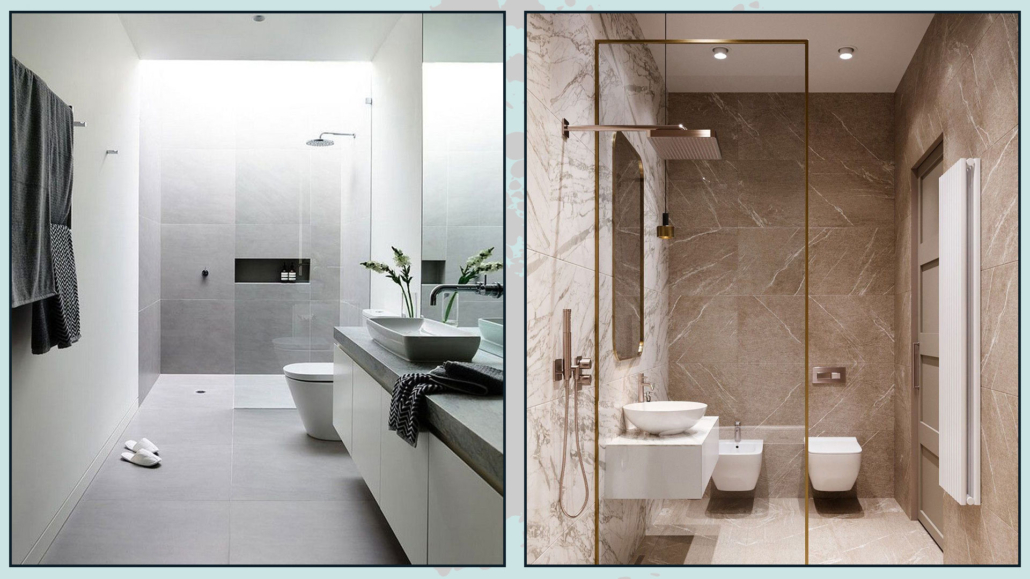 (credits: hupehome.com; redefineinterior.com)
– MAKE IT SCENOGRAPHIC
The blind bathroom, due to the lack of light, could be a bit sad: make it scenographic!
One of the easiest and most practical ways is definitely to play with light!
We've seen it before: LED strips on the walls, under the vanity unit, in the niches, and even in the shower!
Of course, if you don't have the possibility to false ceiling and put spotlights, you can choose an original chandelier in the center of the vault; the same goes for the light at the mirror.
But you might also decide to use a nice wallpaper, perhaps in the shower; there are suitable papers for this environment as well!
That especially is true if the shower is right in front of the door and is the first thing you see!
That could be, always paying attention to strong contrasts, a great way to make this bathroom particular and pleasant, despite not having a window!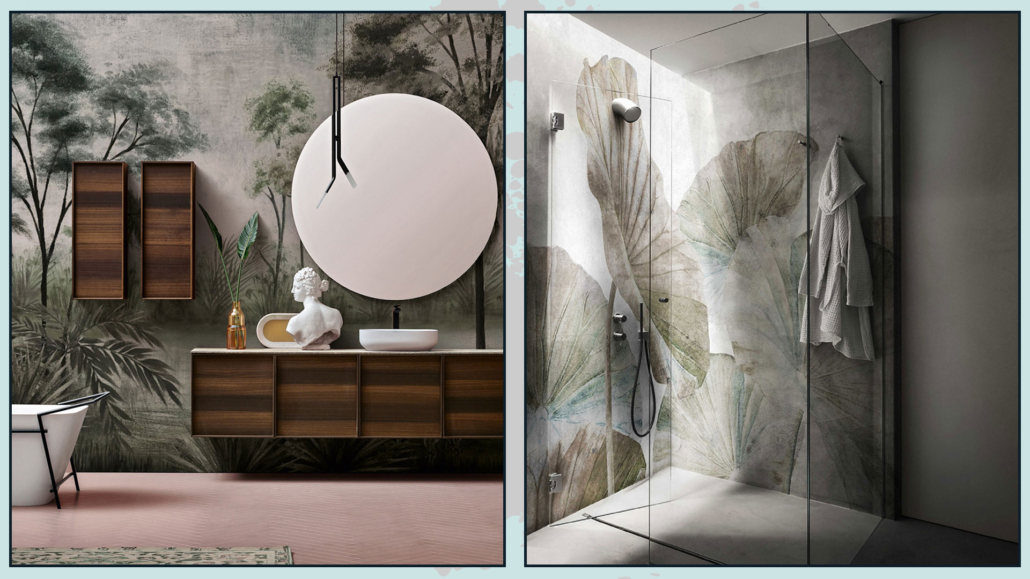 (credits:Inkiostro Bianco; london-art-naiadi-wallpaper)
I hope this article was helpful and you love it; in case, let me know in the comments!
Feel free to share it with anyone you think might be interested, I will be honored, and it will help me get my name out there.
And if you need advice for your home, do not hesitate to contact me!
This post is also available in: Italian
https://www.viverelostile.com/wp-content/uploads/2023/03/bagno-cieco.jpeg
1600
2400
Virginie Simonet
https://www.viverelostile.com/wp-content/uploads/2021/02/logo_vivere-lo-stile.png
Virginie Simonet
2023-03-27 09:49:13
2023-04-24 09:58:13
Blind bathroom: here are some tips